Tucked amongst some of the highest motorable passes lie the plateau of Ladakh, some 3000m above the sea level, the terrain so rough and yet so beautiful. It's in this terrain that Leh hosts its flagship Ladakh Marathon event in Sept, just before the onset of winter. This year, more than 6000 runners flocked to the region to run either the Silk Route Ultra(SRU) (122 km), Khardung La Challenge (KC) (72 km) or Ladakh Full and Half Marathon. All walks of runners have something to savor to. I was here last year in 2022 to run the marathon distance. While the run was as challenging, if not more, as any marathon distance, it was impossible to miss that the most famous of all is Khardung La Challenge, a 72 km long ultra run which boasts crossing the mighty Khardung La Pass at 17,618 ft. In fact, locals of Leh and the running community refer to the marathon distance as a "short run". It was at the finish line of the Ladakh Marathon in 2022, that I promised myself to come back again next year, this time to run the marquee KC!
Date: 8 September 2023
Start time: 3:00 AM
Start point: Khardung Village, Ladakh, India
Goals:
Goal: To Finish Strong
Achieved : 9h:44m (KC) ; 3h:52m (Ladakh Marathon)
Shoe:
Nike Pegasus 40
Puma Deviate Nitro Elite
Training
I have run a few ultra distances and trail runs so I have the experience of training for longer distances, but KC is a different beast altogether and had to be planned differently. The biggest challenge is to run at a height more than Everest Base Camp. More than 80% of the run is on more than 4000m above the sea level. Oxygen levels reach less than 50%, your lungs have to work harder to get even that level of oxygen. Weather can swing from sub zero's to 20C within the same day.
A few important challenges which needed special attention while I started planning my training were, running in the high altitude above 4000m; tackling the crazy elevation gain of 1370m; and most importantly, running under midday sun, and running on tired legs.
I had enough and more help from Vineet, my running partner, who had completed the race in 2022. I had seen him training up close last year and had good company in him as he was running the 122 km Silk Route Ultra this year.
Preparation for the 72 km distance started in June, once I finished with TCS World 10K. It was a ~20 week training block. I started the training by gradually increasing the mileage and focusing on the long weekend runs. By the month of June, I was clocking almost 100 Km per week. Most of the runs were easy paced with a few workouts of 4-5K tempo mixed with 1K of jog intervals. June onwards, I was running marathon distance on alternate Saturdays with 20-25K easy runs on Sundays. I took this approach to achieve two objectives: to feel comfortable running on tired legs and to get my body to recover faster. During the peak of training, I also did morning and evening runs 2-3 times a week.
To simulate the elevation gain, I did hill repeats on Nandi hill of about 45 Km (3 loops to the top from base of the hill). However the longest run was of 50K in the 3rd week of August post which tapering started. In the taper period, I lowered the mileage gradually to about 70K a week before flying out to Leh on 30th Aug, about 9 days before the event. Overall, I put in 3 marathon runs, one 45 km and one 50 km run during the peak of the training block.
I supplemented my running with mobility and core workouts. To work on my strength, I took personal training sessions twice a week. During the peak, I did a few mobility sessions right after the long run to simulate long and high intensity workouts. These sessions helped me in faster recovery.
Pre-Race
The most unique aspect of this race is to acclimatize in the region. The race organizers emphasize to reach at least 9-10 days to acclimatize well to the surroundings. Training in Bangalore means you cannot simulate this altitude and hence the last leg of the training was to run for a few days in Leh and on KhardungLa pass.
Vineet and I landed in Leh on Thursday, 31st August (9 days before the race day) and rested for 24 hours. On Friday, 1st Sept, we went for an easy 10K run in Leh city and felt fairly comfortable. During the day, we visited the Expo and picked up the race kit. We met Chewang Motup, the race director who is a very influential figure in Ladakh. Motup motivated the SRU and KC participants and asked everyone to acclimatize well and strategize the race according to the cut off times.
Weather was very conducive with temperatures around 12C during the mornings with no overcast. We all felt good and prayed for the weather to remain that way till the race day.
On Saturday, we rode on a motorbike till Khardung La and North Pullu to get acclimatized to even lower oxygen levels. On Sunday, 3rd Sept, we did a 15K run on top of Khardung La alternating on either side of the top to remain around the lowest oxygen levels for about 2 hours.
During the next few days, we were joined with other friends who were planning to run the Ladakh Marathon on Sunday.
Race Day - Start
Khardung La Challenge needs strategic planning in terms of layering, extra pair of clothing and shoes to ensure you are covered for any weather swings. Temperatures can drop to -10°C at the start point. Race allows runners to drop layering/off layering bags at three junctions: North Pullu (14 Km), Khardungla Pass (32 Km), and South Pullu(47 Km). I had carefully packed the bags with enough tees, thermals, gels, and a pair of shoes at each of these 3 stops.
On Thursday, 6th Sept, we gathered at NDS stadium in Leh for the roll call and debrief by army medical doctors. Post that we were ferried to Khardung village (start point of the race, 72 Km from Leh). We reached there at 1:00 PM and were put up in rooms as a group of 4. The arrangements were humble but very well planned with excellent help by the villagers. I rested for about 2 hours and then got my medical done (BP and SPO2). I recorded 93 SPO2, all good to run!!
Dinner was arranged at 6 PM (pasta, rice, vegetable and soup). I hit the bed at 7:30 PM and was lucky to fall asleep by 8: 30 PM. I woke up at 1: 30 AM and reached the start area at about 2 AM. I dropped my bags in labeled buses for all the stops and was done by 2:30 AM. It was an enthralling atmosphere with about 200+ runners, many of them were running KC for the first time. I mostly kept to myself and mind-mapped a high level strategy to try finishing the race in about 10 hours; without taking any pressure. I was in a very positive mindset and was ready to start the race. We waited for all the Silk Route runners to cross and were flagged off at 3:00 AM sharp.
The Race
The first 32 km of the run is all uphill from the start point to the Khardung La top and then goes downhill for the remaining 40 km finishing at Leh market. It has 3 intermediate cut off points with an overall cut off time of 14 hours.
Run started in pitch dark under cloudless starry skies. I was dressed in light but warm layers and felt in the zone right from the start. I had planned to start the race conservatively and had aimed to reach the top (first cut off) in 6 hours. I started my race with run/walk strategy averaging at a pace of about 9:30 min/km. I was feeling strong during the first few hours and maintained the positivity throughout. Within a few kms, runners were spread out across and most of the runners were on their own. It became extremely quiet very early and all I was hearing was the sound of my heavy breathing and rhythmic footsteps. I crossed a few brave Silk Route runners with their bright orange windcheater jackets.
As for fueling, I used Fast n' Up gels every 9th km and sipped water almost every 3rd km. There were well stacked hydration points every 6th km with chikki, boiled potatoes, peanut butter sandwiches, etc. I leveraged those a few times but was mostly on gels, jaggery and water.
I crossed Khardung La in 5 hours; saving 1 hour from the plan which gave me a lot of boost. I thought, I will cruise the remaining part of the race, it being all downhill. I was immediately put back into my elements in the first km itself. As I sped up downhill from Khardungla top, I felt light headed. I slowed down immediately and knocked back sense into myself to not do anything silly.
I had started my run in Nike Pegasus. After reaching South Pullu (47 km), I changed into Puma Deviate Nitro Elite with the hope of getting some speed but my legs could not cope up. Overall, I treaded downhill at about 7:30 min/km. South Pullu to Mendak Mod (last interim cut off) felt very tough with illusions being played by hairpins as you see downhill. You could literally see the Mendak Mod landmark from above and felt so near just to know that it's still more than 6 km away.
Cheering got louder as I got off the highway into Leh city. I felt very strong entering the last 6 km leg with a lot of support from school kids in the city. One of the kids kept me going and ran along with me all the way into the market. As I approached the market, I spotted my crew at the turn. Their cheering on top of their voices, cameras all around, my name getting called out by all bystanders made me run the last leg as strong as I could. Last I know, I heard my name getting called out as I crossed the finish line at 9th hour and 45th minute.
Post Race
Finish line is probably the highlight of the event. Run ends at the iconic Leh market and it feels like the whole market is there just to cheer you on to complete the race. I couldn't help getting a tad emotional as I heard my friend Aravind calling my name continuously as I crossed the finish line.
After the run, I was immediately catered by army medical staff and they took my vitals before signing me off as good to go. Felicitations were accorded and the finishers' medal was presented by Motup himself. I congratulated my fellow runners and joined my crew at a cafe where they waited patiently and greeted me with a loud cheer and endless claps.
Key Stats
Rank: 24/210 (KC) ; 15/470 (Ladakh Marathon)
Gender Rank: 22/181 (KC) ; 13 / 419 (Ladakh Marathon)
Strava Link of Khardung La Challenge Strava Link of Ladakh Marathon
Overall Experience
I was extremely happy with my effort. Not once during the race I had self doubt or thoughts about finishing the race. I had a strong belief in the training I had put in and kept thinking about my training runs as I ran through the mountains and passes.
Organizers had put up an amazing race with medical, hydration and nutrition support throughout the 72 km in such extreme conditions. The race was very well regulated with the whole highway completely off traffic during the race timings.
I thoroughly enjoyed every minute of the race and would not have changed anything of the way I ran.
Finishing Ladakh Marathon - The Double
I had a very sound sleep on Friday after the race and to my surprise, recovered very well. I was feeling fairly ok on Saturday with expected soreness in the quads and the calves. Feeling confident with my recovery, I decided to show up on the start line of the Ladakh Marathon on Sunday. Idea was to cheer my crew and have a fun, "cool off" run. I was surprised to see so many KC runners and a few SRU runners in the line up. I felt very strong throughout the run. I could maintain an average pace of 5:15 min/km for most of the race till 36th km before the dreaded uphill of the last 6 km till the finish line. The run was almost a replica of my last year's effort and I was back at the finish line in 3:53. I was greeted whole heartedly by my crew, Vineet, Aravind and Brijesh and met Bobby after the finish line. I felt extremely humbled as all of them congratulated me and wished me well for a very strong finish on both KC and the marathon.
Overall, an awesome running vacation with friends which ticked off all my targets in bold green!!
---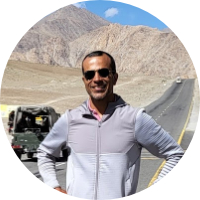 Vivek is a Boston-qualified marathoner with a passion for World War II & Indian history and a voracious appetite for books. When he's not crunching numbers as a data aficionado, you'll find him exploring the open road in his Jeep Compass.