Date: 23 Feb 2020
Start time: 4:00 AM
Goal(s): Realistic time: 3h:20m (pace – 4.44/km)
Training
What did I do differently this time around:
We essentially have 5 weeks from TMM to NDM – so if we factor one week each for recovery and taper respectively, we are left with three weeks of training. I realized that training for NDM can be a little tricky especially during the initial phase. This is because there is some amount of fatigue – physical and mental – that you are carrying over from all the training that has been done up-to TMM (including a 90-95% effort at TMM). So essentially the training during this period is a "top-up" to all the base that was built in the run-up to TMM.
I would like to dwell into three key aspects in this training cycle – Running specific training, Strength & Conditioning, and Nutrition.
Running specific training – I ran 5 days a week as I did before TMM. A mix of easy runs followed by strides and medium distance tempo runs at race pace. This time around I did quite a few drills such as strides, gassers and downhill runs – stuff that I missed in the training block that led to TMM. The medium tempo runs allowed me to ingrain an attitude of breaking down my longer weekend runs in terms of 7km chunks. So, I would plan my fueling around 7km intervals. Speaking of the long runs, the first weekend was a bit of a disappointment, but the subsequent 2 weekends turned out well. Average weekly mileage was around 75kms for these 3 weeks with a peak mileage week (second among the three training weeks) of 95kms. The one long run of 38kms on that weekend done in 3 hours 25 minutes helped in staying on my feet for the distance at NDM despite hiccups.

Strength & Conditioning - I got back to my CrossFit box during this period and continued with running specific strength and conditioning that I was picking up from Somya. I am lazy when it comes to stretching after a run – more so during this training block – so I was also doing something called Yin Yoga about 1-2 times a week in the evening where you hold stretches for prolonged periods of time. So, S&C in this period was essentially the second workout of the day and in the evening and was a mix of CrossFit, sports specific strength & conditioning and Yin Yoga.

Nutrition – I continued to work with Sonali and Sujoy in terms of my nutrition. I kept my protein intake high during this 4-week period (recovery + training) and added a generous dose of fruits and vegetables to my diet. Additionally, I was also taking supplements for Vitamin-D, Omega-3 fatty acids and multi-vitamins.
State of mind coming into the race
Delhi has been my strong suit and home ground. I have always done well in Delhi be it a half-marathon (ADHM) or marathon (NDM) – my last two performances at this race read thus – 3:33:xx(2018) and 3:26:xx(2019) respectively. Having done a 1:31:00 half-marathon in October at ADHM, I was confident of a good performance.
Having said that I had to guard myself against complacency as in the past this attitude has undone me on this very course. There was an element of uncertainty around the race itself owing to Trump's visit but then these things are not under your control, so I stopped fretting about it and just focused on the process that would get me to the start line on fresh legs with an open mind.
I reached on Friday, got my (and running group's) bib collection done and checked into a hotel close to the start point. Unlike previous editions I went out for a shakeout jog with my Soles of Bangalore running mates on Saturday morning. Excellent weather even at 8:00 AM gave me a sense of assurance that unless I did something stupid, this was going to be one memorable race.
My pre-race ritual in Delhi usually comprises a visit to the Sai Mandir on Lodhi road and things were no different this time. I also had a small coffee tete-a-tete with some school friends who live in the Lodhi road area. Post lunch I confined myself to the hotel room and this ensured that I got enough time off my legs (again a first) this time around. Dinner was a 7pm affair of Dal, rice and vegetables. And by 8:30 PM I was in bed.
I had set the alarm for 1:15 AM as I take time with my pre-race rituals that include a conditioning session and 3-4 visits to the restroom. The moment I wake up I put on my headphones and my rituals start with music in the background. Staying 1.5km away from JLN stadium meant that I could leisurely leave by 3:05 AM for the venue. On reaching JLN stadium and after checking in my bag a quick warm-up followed on the 400m track and I was all set to race.
Hydration and Fueling
Sips of Steadfast Synergy + FUP BCAA + Nutra nitrate+(beetroot) in 1L of water through the day on Friday and Saturday.
Steadfast Casein reconstituted in 300ml of water on Friday night.
Sips of Steadfast Carborance + Nutra nitrate+(beetroot) reconstituted in 1L of water through the evening on Saturday.
1 cup of coffee + 4 dates + 1 dried fig + 1 walnut shell + 1 tablespoon peanut butter + 1 small banana taken in 2 portions from the time I woke up until 90 minutes before the race start time.
Sips of FUP BCAA + Nutra nitrate + FUP Activate in 500ml of water from about 120 minutes before the race.
Carried a 250ml bottle of FUP BCAA + FUP Reload (Caffeinated cola) with me to avoid the crowded aid stations initially.
4 gels (FUP/UNIVED). 1 gel every 40 minutes during the race.
UNIVED Salt Cap (caffeinated) 1 before the race and then 1 every hour during the race.
Water or FUP Reload once in 20 minutes (on an average) at aid station(s).
UNIVED 4:1 recovery mix 25 minutes after finishing the race.
Steadfast INCREDIBLE WHEY reconstituted in 300ml of water about an hour after the race.
Pacing strategy
0-5km
As was the case in TMM, Andy and I had the same target and had formed an alliance to run together as long as we could hold the target pace in the race. Started carefully given the crowd and turns to get out of the stadium and onto Bishma Pitamah Marg. The objective across this stretch was to find the rhythm and settle down into a steady pace. Crossed several familiar faces and after exchanging pleasantries with a few of them settled down into a steady pace around the end of Lodhi road.
Timing Mat split @3.4km – 16:03 minutes, 4:44 mins/km
Ask @5km – 23:00 minutes, @4:35mins/km
Actual @5km – 23:13 minutes, @4:38 mins/km

6-10 km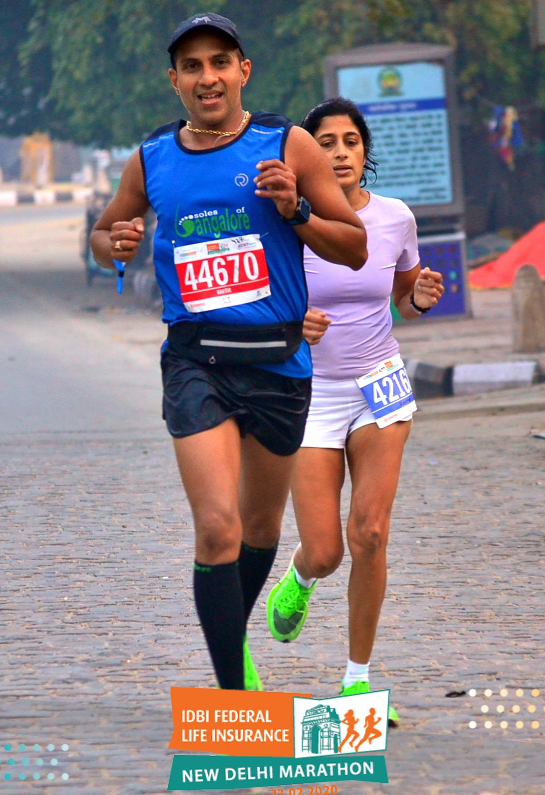 Around the 7th km is where I found my rhythm. There was a nice nip in the air, the advantage of an early start. Started focusing on the objective of minimizing any extra distance that we may run from hereon. To that end stayed close to the turns whenever we took them. Andy and I kept pulling each other back whenever we felt we were pushing on the pedal. Ash paced us for a brief while in this section before he got off as it just wasn't his day today.
Consumed my first gel in this section between 38-40 minutes.
Timing Mat split @6.2km – 29:38 minutes, 4:47 mins/km
Timing Mat split @9.4km – 46:17 minutes, 4:56 mins/km
Ask @10km – 46:00 minutes, @4:35 mins/km
Actual @10km – 45:59 minutes, @4:33 mins/km
Time taken for these 5kms (Ask) – 23:00 minutes, @4:35 mins/km
Time taken for these 5kms (Actual) - 22:46 minutes, @4:33 mins/km

11-15 km
This was the first challenging section as the runners had spread out by now and we were approaching a section full of U-turns. This section had 5 U-turns. Tanmaya was struggling with her salt tabs somewhere at the end of this section. we helped her with that, and she ran with us for a while before we crossed her.
Consumed a salt tab in this section.
Timing Mat split @11.8km – 56:54 minutes, 4:50 mins/km
Timing Mat split @12.6km – 1:00:45 minutes, 4:50 mins/km
Timing Mat split @14.1km – 1:07:24 minutes, 4:47 mins/km
Ask @15km – 1:09:20 minutes, @4:37 mins/km
Actual @15km –1:08:55 minutes, @4:35 mins/km
Time taken for these 5kms (Ask) – 23:20 minutes, @4:40 mins/km
Time taken for these 5kms (Actual) - 22:56 minutes, @4:35 mins/km

16-21.1 km
This was largely an uneventful section. The objective across this section was to get to the halfway mark with some 10s of seconds in the bank as a buffer. Ran the tangents on the turns, did a body scan to ensure I was not holding on to any tightness and released the tension in my shoulders as we crossed the halfway mark. It was quite a spectacle to get back into the stadium, onto the track before we made our way back for the second loop. Half the battle had been won.
Consumed my second gel in this section between 79-80 minutes.
Timing Mat split @21.1km – 1:37:20 minutes, 4:37 mins/km
Ask @21.1km – 1:38:00 minutes, @4:38 mins/km
Actual @21.1km – 1:37:10 minutes, @4:36 mins/kms
Time taken for these 6.1kms (Ask) – 28:30 minutes, @4:40 mins/km
Time taken for these 6.1kms (Actual) - 28:15 minutes, @4:37 mins/km

22-30km
This "no-man's land" section of the race was the most eventful part of the race for both Andy and me. Shortly after taking the right turn onto Lodhi road in a dark stretch Andy had a bad fall. But to his credit he recovered very quickly albeit after a few seconds of shock on what had just transpired. Then around the 25th km my left quad started acting funny. I could anticipate the onset of cramps. Memories of going down on all fours with 200m to go in the previous edition came flashing back to me. I briefly contemplated walking to shake off this tightness but decided against it. I splashed some water on my face, head and legs and took a swig of Reload. I felt better around the 27th km and applied a generous dose of Volini around the 29th km. We reached the 30th km on strong legs. All is well that ends well as far as this stretch was concerned.
Consumed a salt tab in this section. Consumed my third gel in this section between 117-120 minutes.
Timing Mat split @24.5km – 1:53:24 minutes, 4:38 mins/km
Timing Mat split @30.5km – 2:24:38 minutes, 4:45 mins/km
Ask @30km – 2:20:30 minutes, @4:41 mins/km
Actual @30km – 2:18:46 minutes, @4:38 mins/km
Time taken for these 8.9kms (Ask) – 42:30 minutes, @4:45 mins/km
Time taken for these 8.9kms (Actual) - 41:36 minutes, @4:40 mins/km

31-35km
We handled the grunt period well. This was the section with 5 U-turns. Sujoy (Runner's high) cheered us on around the 32nd km while waiting to pace Sonali. Seeing a familiar face raises your spirits in this phase of the race. We crossed the 32nd km and Andy reminded me that we were well under the target time. We decided to break down the remaining 10kms into 3 chunks of 3kms until we hit Bishma Pitamah Marg and then run for dear life in the final km. We crossed Sreejith around 33kms and he asked us to move ahead as he was slowing down. As we took the final U-turn on this section, I could see Madhu on the opposite side and shouted out a word of encouragement. I will keep mentioning all these names because at times of self-doubt and when fatigue raises its head it's these small human gestures that egg you on.
Consumed my fourth gel in this section between 158-160 minutes.
Timing Mat split @31.4km – 2:28:56 minutes, 4:45 mins/km
Timing Mat split @32.9km – 2:36:08 minutes, 4:45 mins/km
Timing Mat split @35.2km – 2:47:01 minutes, 4:45 mins/km
Actual @32km – 2:28:26 minutes, @4:38 mins/km
Ask @35km – 2:45:00 minutes, @4:42 mins/km
Actual @35km – 2:42:57 minutes, @4:39 mins/km
Time taken for these 5kms (Ask) – 24:15 minutes, @4:51 mins/km
Time taken for these 5kms (Actual) - 24:11 minutes, @4:50 mins/km

36-42.2km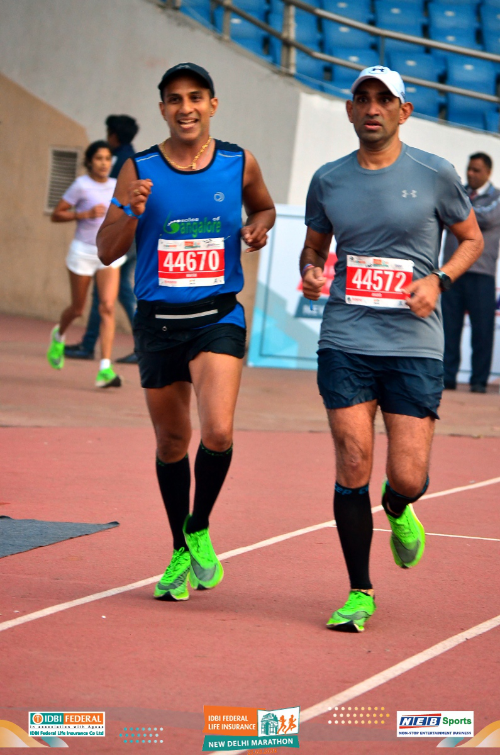 Now it was all about putting one foot in front of another and counting the kms down. As we got back on Rajpath I exchanged smiles with Usha Hegde and Sharath Adanur (her pacer) on the opposite side as also Sumit Chadha. The half-marathon runners crossed us in the opposite direction and I felt strong as we crossed India gate at the crack of dawn. Further down the road we crossed Ankur and then Muthu who cheered us on, again, familiar faces give you that nudge which is so essential in this phase of the race.
As we took the right turn onto the 38th km my left quad started acting funny again. But now it was all about mind over matter I cast my mind back to all the training in the last 4 months and that helped overcome this discomfort in a jiffy. Around the 39th km we saw Kavitha Reddy ahead of us. She had slowed down considerably and was in fact walking. I gave her a pat from the back and said, "c'mon buddy, let's get done with this". Just to be sure she doesn't walk again, I also said "Ill kick your ass if you walk now".
As we took that final turn onto Bishma Pitamah Marg I started looking out for all the familiar landmarks – the cobblestone street outside Sai Mandir, the overhead bridge and that final left turn into the Stadium complex. As we entered the stadium complex memories of the previous NDM where I had faltered with 200m to go to the finish line crossed my mind. With one final push (and a big smile on my face) I sprinted the last 100m on the track alongside Andy as Ash cheered us from the sidelines.
Timing Mat split @36.1km – 2:53:36 minutes, 4:49 mins/km
Timing Mat split @42.195km – 3:18:29 minutes, 4:43 mins/km
Ask @42.195km – 3:19:xx minutes
Actual @42.33km – 3:18:33 minutes, @4:41 mins/km
Time taken for these 7.2kms (Ask) – 34:xx minutes, @4:50 mins/km
Time taken for these 7.2kms (Actual) - 35:32 minutes, @4:56 mins/km
First half timing split to Second half timing split – 1:37:10 @4:36mins/km to 1:41:19 @4:48mins/km
First half to Second half time difference – 4 minutes 09 seconds
Time taken for the last 10.2 kms – 50 minutes 03 seconds, 4:54 mins/km

What worked
"Top-up" approach to training – basically we built upon the foundation that was already built in the training block leading to TMM.
A multi-pronged strength and conditioning approach that amalgamated CrossFit, sports specific exercises and Yin Yoga done mindfully.
Focus on nutrition and enhancing my protein intake (supplements and otherwise), diet quality and Vitamin/ Omega-3 supplementation.
Reading. I have been reading this book "RUN – THE MIND BODY METHOD OF RUNNING BY FEEL". Matt Fitzgerald gives a different insight into training per-se for a marathon where he talks a lot about conditioning the mind.
Reaching Delhi on Friday and having a good night's sleep, staying close to the start point and quality time off my feet on Saturday.
Running the entire race with Andy. Frankly, in moments of self-doubt during the race I would have taken walking breaks had it not been for Andy running with me. This was one hell of a coordinated alliance that we forged.
Breaking the race down to manageable chunks of 7kms meant I was not thinking two far into the future. It was always about getting the next 7kms done and then later 3kms done and finally 1km done.
What didn't work
Owing to work the first few days of a week were always hectic and thereby I found it hard to adhere to the two workouts per day schedule at least in the first few training days of the week. I used to compensate for that during my rest day. (e.g.) scheduling a strength workout on Monday if I missed one in the previous week on a Tuesday or Wednesday.
There was a tear on the right sole of my Vaporfly during one of the initial long runs. Though I did get it fixed it was risky to use this in races. Ash was kind enough to lend one of his pairs for the race. This incident did cause a bit of anxiety midway through training though.
My left leg does act funny at times – the ankle and in this race the quads. Need to start focusing on strengthening to address these niggles. + The lack of natural fuel sources such as oranges in this race. Taking gels after a while gets very difficult as the stomach is not in a shape to accept it. Late in the race I prefer oranges spiked with salt to keep me moving. Oranges were conspicuous by their absence in this race.
Learnings
Having gels + energy drinks during the first half of the race and shifting the focus to gels + water in the second half is something that I continued to do in this race after TMM. This is work in progress.
Having the first gel 40 minutes into the race rather than 10 minutes before the start is also something that I tried for the second time in this race after TMM. This approach seems to work well for me.
The first to second half splits timing difference is 4 mins 09 seconds. For a flat course race like NDM this is high. Need to work on finishing stronger in marathon races and try to bring that difference down to about 2 minutes.
There will be moments of self-doubt and unplanned occurrences in a race. Take a deep breath, splash some water on your face and smile. This phase will pass.
Focus on the process and not the outcome. The outcome will happen if we adhere to the process.
Running Dynamics
| | |
| --- | --- |
| Average Cadence | 184 spm |
| Average Stride Length | 1.13 m |
| Average Vertical Oscillation | 11.6 cm |
| Average GCT Balance | 48.7% L / 51.3% R |
| Average Ground Contact Time | 179 ms |
Heart Rate
| | |
| --- | --- |
| Average HR | 158 bpm |
| Max HR | 192 bpm |
| Z5 | 2% (5:30 mins) |
| Z4 | 24% (48:13 mins) |
| Z3 | 62% (2:04:34 mins) |
| Z2 | 10% (20:27 mins) |
Races Ahead
TCS World 10k
Berlin Marathon – 27/09/2020
---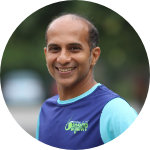 Kartik Iyer is a conversationalist, running geek, techie, marathoner, miles to go CrossFit junkie and bathroom Carnatic vocalist. He loves striking random conversations with people just about anywhere, music and anyting to do with tech and fitness, in no particular order. He can be reached at @kartikiyer2007 on Insta and on Strava