For Track & Field fans, a silver lining that came out of the pandemic was that we got to see three of the highest-tier events of the sport, in three successive years – the 2021 Tokyo Olympics followed by the consecutive World Championships editions in 2022 (Oregon) & 2023 (Budapest), to make up for the COVID-19 gap. The recently concluded World Athletics Championships was one of the best ever, producing some incredible performances and creating new icons for the sport, both at the global level and for Indian supporters. Let's dive into some of the memorable moments.
Neeraj Chopra and the Dawn of Golden Era of Indian Athletics
Neeraj Chopra lived up to all the hype and pressure in grand style. He completed his trophy cabinet by adding the missing World Championships gold medal to his Olympic, Asian & Commonwealth golds. A bonus for Indian fans was that two more athletes, DP Manu & Kishore Jena made it to the finals of the javelin event, reflecting solid depth beyond just individual brilliance.
For me though, the goosebump-inducing moment of the Championships was the previously unheard and unfancied Indian 4x400m men relay quartet's rousing run to make the finals and set an Asian record in the process (they finished a creditable fifth in the finals). If you haven't watched this yet, please play it on loop.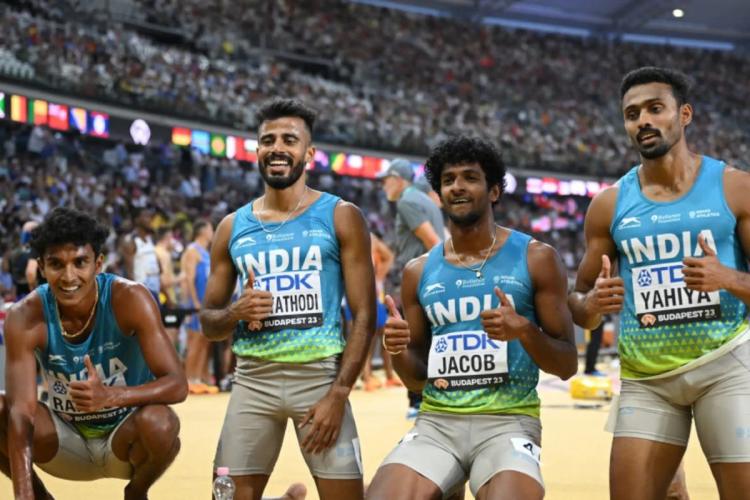 Other notable call-outs for the Indian contingent were Parul Chaudhury & Jeswin Aldrin, both qualifying for the finals in the 3000m steeplechase and long jump respectively. There were high expectations from Avinash Sable but he unfortunately had a forgettable time - a mis-calculation of effort leading to a 1st round elimination. This kind of one-off bad-day happens at the top echelons of the sport. As I type this, he has bounced back by finishing fifth at the ongoing elite Diamond League in Xiamen, China.
Noah Lyles and Sha'Carri Richardson have arrived
On to the global names - Noah Lyles & Sha'Carri Richardson sizzled in their sprint spikes to establish themselves as the breakout stars from Budapest. Lyles answered the question of 'after Usain Bolt, who?' with a hat-trick of gold medals (100m/200m/4x100m relay). Sha'Carri was equally impressive, coming out of nowhere to beat the favourites in the 100m and followed that up with an anchor-leg gold medal run in the relay, plus a bronze in the 200m. Both hail from similar backgrounds, having growing up in challenging home environments and endured some recent rough phases, but they totally rocked it with their performances. Given their flamboyant personalities - Lyles' cheeky dig at the NBA, Sha-Carri with her Flo-Jo inspired long eye-lashes & painted nails - these two are great ambassadors to grow audience interest in the sport with their on and off-court exploits. Shericka Jackson held off the US onslaught and managed to maintain Jamaica's sprint reputation, winning both the 100 & 200m.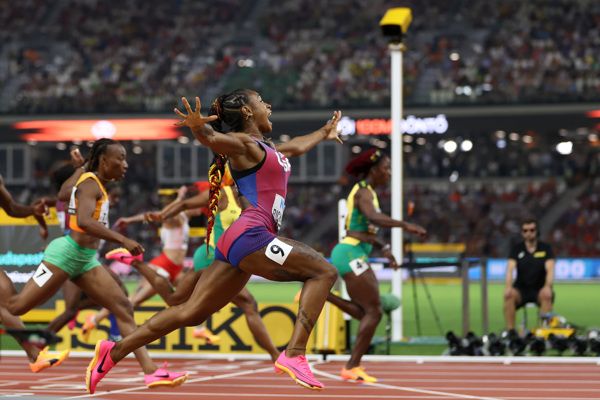 Faith Kipyegon: Queen of Middle Distance
Faith Kipyegon resoundingly reaffirmed her status as the GOAT of women's middle distance running with a never-before achieved feat of double gold in the 1500 & 5000m events, against an absolutely top-notch field. We are seeing a golden era of women's distance running with a stunning array of athletes bringing out the best in each other. In the 800m too, the trio of Mary Morra, Keely Hodgkinson & Athing Mu, all barely out of their teens, competed fiercely before Morra pipped the other two to the tape. As fans, we can drool at the delightful prospect of the 800m equivalent of the Big-3 of tennis serving up many more years of compelling competition.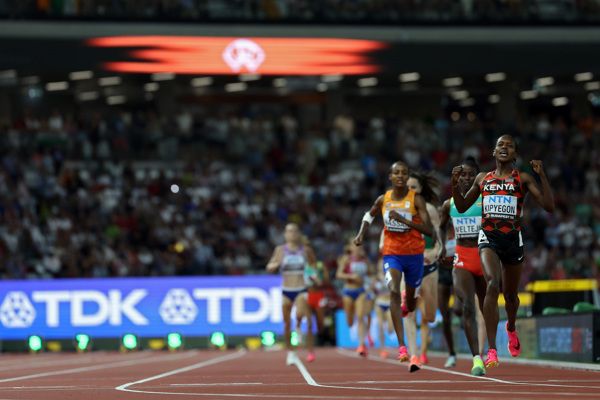 Femke Bol: From Heartbreak to Heroics
The Dutch hurdler Femke Bol had an interesting Championships, with starkly contrasting opening & closing day races . On Day 1 of the Championships, she had an agonizing fall just a few metres away from the finish line in the MIXED 4x400m team relay - a potential gold medal slipped from their grasp as a result, they didn't even make it to the podium. (in a weird coincidence, fellow Dutch athlete Sifan Hasan fell too, again just before the tape, in the 10000m final which took place just after 400m mixed relay race). But Femke Bol then produced arguably one of the best ever home stretch kicks in the WOMEN's 4x400m relay ever (the finale event of the WC) – to conjure up a gold for the Netherlands out of nothing. Definitely goosebump moment # 2, watch! In between, Bol also added the 400m-Hurdles individual gold, though in the absence of WR holder Sydney Mclaughlin, who scratched out due to injury before the WC began.
Kerr's Triumph, Ingebrigtsen's Redemption
The men's 1500m gave us the upset of the Championships, with UK's Josh Kerr unleashing a strong finish to dethrone overwhelming favourite Jakob Ingebrigtsen of Norway. Interestingly, this was the second consecutive silver medal finish for Ingebrigtsen. Another Briton, Jake Wightman ran the race of his life to win last year's WC 1500m. Ingebrigtsen then came up with a solid performance to defend his 5000m World title, but the 1500m gold is the one he covets. Admittedly though, he was not 100% fit due to a viral infection a couple of days before the event. Pretty sure Ingebrigtsen will be all fired up to make it third time lucky at Paris'24 and stamp his legacy.
Surprises in Marathon and Legends Reign in Field Events
The marathon at the World Championships has typically been skipped by most of the big names, which was true this year too. Viktor Kiplangat of Upganda won the mens' event in 2:08:53. Amane Beriso, who shocked the world at Valencia last year , added to her growing reputation by snagging the women's crown in 2:23:24.
There were also stupendous feats in Field events like the Ryan Crouser (shot put), Yulimar Rojas(Triple jump), Mondo Duplantis (pole vault)… these and other legends enhanced their already formidable WC gold medal tally.
Katie Moon and Nina Kennedy: It is not all about Winning
The true spirit of sport had another showcase moment in the women's pole vault, when American Katie Moon & Aussie Nina Kennedy mutually decided to share the gold medal, reminiscent of a similar agreement made at the men's high jump at the Tokyo 2021 Olympics. As happened then, there were the usual immature and cheap reactions on social media , which were imperiously quashed by this superb response from Katie. Must-read.
2023 Worlds: A Resounding Success and a Glimpse of India's Bright Future in Track & Field
Overall, the 2023 World Athletics Championships at Budapest was successful in reviving mainstream interest in the sport – the stadium being reasonably packed on most days also contributed, it's always good to see cheering crowds on screens worldwide. .
India had a solid outing, with Neeraj Chopra obviously the standout. It's worth noting that countries like France & Germany , who have invested way more money & resources and also had much larger contingents, finished worse than India. To take a cue from Noah Lyles, Track & Field is a super competitive, global sport, we should be encouraged at the strides that our country's athletes are taking. There is immense promise ahead.
---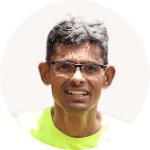 Satish started running in his 40s and has been a serious recreational runner for a decade. He has run many marathons, HMs and other distances and is now looking forward to new challenges like Ooty & Comrades. Satish believes that running has been a truly transformative force in his life & passionately advocates running as a lifetime sport.