It's been a while, since I last reviewed anything. When Athlos team discussed on getting their women' running product reviewed, I must confess I got super excited. As a regular user of their products, they sent me some of their products be to reviewed from their running collection.
Women's Zero Tee
Women's Zero Vest
Exercise Bra
Distance Running Shorts
Thank you, team Athlos for sending the runners clothing. Other then sending the clothing, Athlos marketing has no say in this review, and that has been explicitly communicated with Athlos.
I'm reviewing Athlos Women's Zero Tee in this article. I received their cherry red color in medium size.
Athlos came up with this name for the lightness of the fabric. The fabric used is 110 GSM (grams per square metre) knit. Ahtlos's motto for this tee is to design the lightest tee for runners while keeping runners feel relaxed, breathable, and have a cooling effect for long distance running.
Initially, I wore the Zero tee for the weekend long run, luckily Bangalore weather was good when I started my run and experienced some drizzling during the middle of the run. This helped me to experience the tee under various conditions.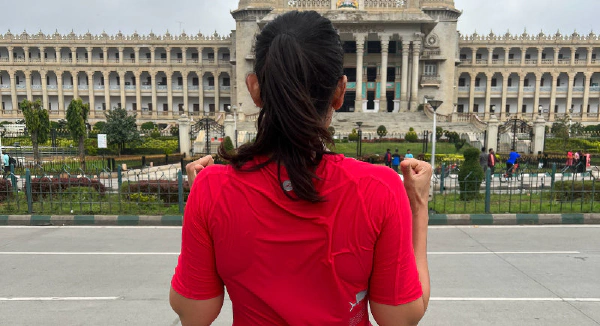 The Women's Zero Tee stood true to the comfort. I have run wearing it for tempos, intervals and long runs, under various conditions, the tee snugged me very well and was light and felt like second skin. As it snugs and has sleeves, even at the end of the run I did not feel any discomfort. The Zero Tee has not lost its shape and form after multiple washes.
I wore their bright cherry red, thus able to identify a runner from afar.
Fabric Composition
Their fabric composition for Zero Tee is 83% recycled Nylon (from ocean waste) and 17% Elastane. This helps in quick-drying, lightweight, and soft on skin. Earlier I have worn the Athlos Distance Racer, which is a racer back tee with 65% Polyester and 35% Eucalyptus Tensel.
While the Zero Tee is majority of Nylon, after doing some research I understand that Nylon is more stronger and stretchier fabric than polyester. While wearing the 2 different fabrics i can experience difference in the lightness of the fabric, as well as the softness.
Style Quotient
The Zero Tee comes in 6 different colors and the sizes are from small to 2XL and cost INR 2497/-.
The Women's Zero Tee is filled with style quotient, as it is a relatively high neck with seams across the neck and shoulders which breaks the monotony from regular tee and has a "U" cut in the bottom, again a bold move (a first for me) for runners tees.
Athlos has kept their logo on the back of the tee on the neck and they have a sailfish at the right corner on the back which adds to the monotone of the color.
The length of the tee is not the usual long, it cover just below the waist band of the shorts. While I like the length of the tee, runners have their personal preference.
Zero Tee is designed to fit snug. Hence I ordered a medium, as the usual size for me varies from small to medium. You might consider a size bigger, if you want to fit more relaxed.
Performance during the run
This is one of the most important aspect, as runners we experience chaffing in places we never realised existed. For me this tee did a good job, as I did not experience any discomfort or chafing. and it stretches and didn't come in the way of range of motion.
The Zero Tee, absorbs the sweat, and keeps it cool. As I was wearing it for a long run the sweat starts showing on the tee and will form a pattern on the body. However this was not something, that bothered me considering most of my tees behave the same way during long runs. However this tee being snug it will show the curves post the run.
Zero tee fits snug and not a good choice if it has to be layered on top of another tee. It can be used as a base layer below another tee, if you are running in cold weather. I have been wearing various products of Athlos in the past and they are durable and long lasting.
Pros
Cons

Light and soft fabric
No chaffing
Sustainable Fabric
Bright colors and trendier
Made in India

Pricing is on the higher side
Overall this is a 9/10 for me.
---

Aditi Pandya is a life long athlete. She was born to run and play sports. Aditi works with an AI Engineering company and co-founder of geeksonfeet.com. Aditi is first runners up at Vadodara Half Marathon 2023 & 60th National Roller Skating Championship.
---