Whether we are looking to surprise a friend or family member who loves to run, or if you want to treat yourself to something special, here is a list of gifting ideas for runners that has something for every type of runner. These gifts will not only make them feel happy but also show them that you support their love and dedication towards the sport.
While runners can be picky with what t-shirt they want to wear for the race, or what shoe to run in, the good news is that there are plenty of options available for every type of runner, from practical gifts that make them run better, and gifts that commemorate their achievements.
If you're feeling unsure about what to get, what better way than to listen to experienced runners? We asked a few experienced runners for their recommendations. So, read on for some great gift ideas!
Own the Moment by PosterGully
Vivek Malhotra has run more than 50 HMs, 20+ marathons, and a handful of Ultras. Vivek BQ'ed recently with 3:03:55 at Delhi Marathon 2023. When asked about gift ideas for runners, here is what he has to say: "We runners love commemorating our runs. My wife surprised me with a medal hanger with beautiful lighting which made the medals shine even more. Personally, I gifted myself posters with beautiful strava maps from PosterGully which commemorated my recent performances in the Mumbai Marathon and Delhi Marathon."
If you have run your first marathon or clocked your personal best, PosterGully can create your personalized Running artwork from your Strava activity. The process is very simple, sign-up with your Strava account, and viola you can see your route and stats. You can customize your artwork by selecting your preferred style, colors, and additional elements, and then order the poster.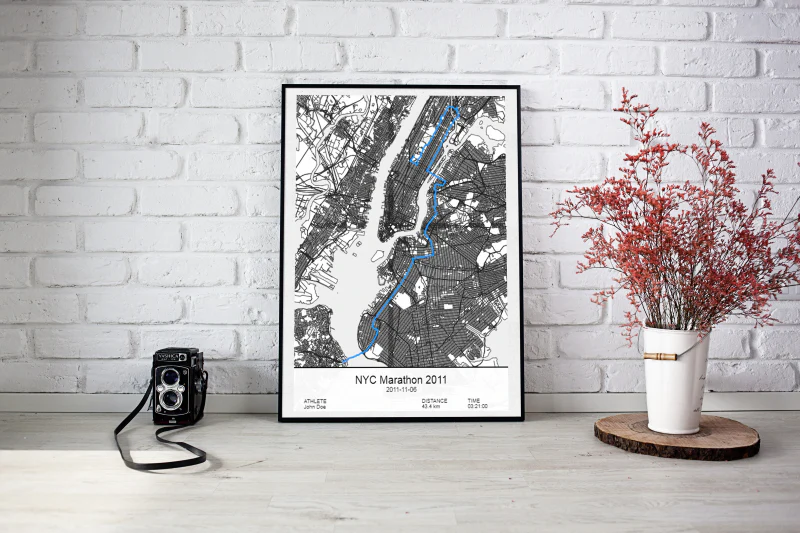 Good folks at PosterGully who have been supporting us are offering 20% off for the GeeksOnFeet community, use code GOF20 during checkout.
Personalized Medal Hangers by RunWynd
Sharath Adanur is one of the first runners who broke the sub-3 hour mark in the amateur running scene in India. His personal best in the marathon is 2:46:06. Sharath has run Boston thrice, and is appearing at the start line for his fourth this Monday. Sharath has a unique gift idea for runners: a personalized medal hanger. As an accomplished runner with a collection of hard-earned medals, he definitely knows the value of having the option to showcase his achievements.
RunWynd is a small business owned by a Runner. RunWynd sells a variety of medal hangers on amazon at a variety of price points. RunWynd also offers personalization of Medal Hangers.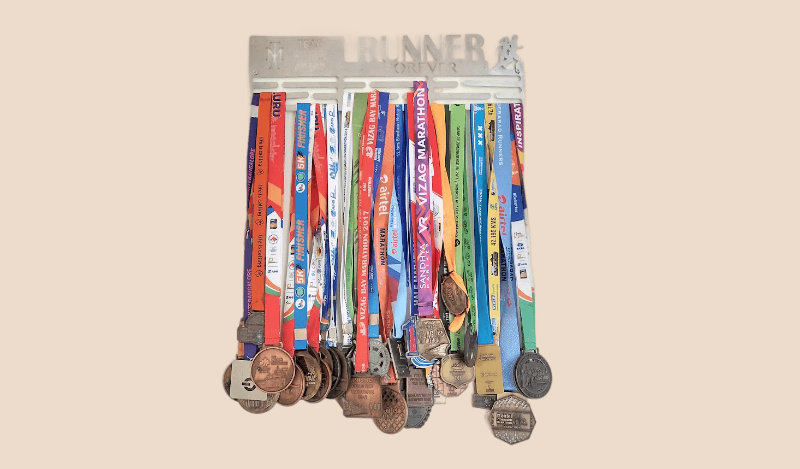 For the GeeksOnFeet community, RunWynd offers personalization at no extra cost. Select any design that you see on the Amazon store, message Ganesh of RunWynd directly, and refer GeeksOnFeet.
Carbon Plated Shoes
Dr. Neera Katwal is an ACE certified personal trainer, Marathon Coach & Runner, and Yoga instructor. She is Boston Qualified. She holds a Doctorate from IIT Madras and a Black Belt in Karate. Dr. Neera says if the budget is not a constraint, and if the gifter was generous then there is nothing better than a pair of carbon plated Nike Vaporfly running shoes. Gifting a bright neon coloured technical running Singlet/t-shirt, or gifting a race registration to someone who can't afford it, but has the chance to win the prize money also make neat gift ideas.
Nike VaporFly Next% is the "king of the course" in the world of long-distance running. Our analysis of running shoes at Mumbai Marathon, showed a massive 31% of the Top 100 runners using one of the VaporFly Next% editions. The latest edition of the shoe, Nike VaporFly Next %3 released in India, and it features an increased stack height of 40mm, bringing it in line with the company's flagship AlphaFly Next%. Despite the increased stack height, the shoe's heel-to-toe drop remains at 8mm, and the weight goes down further by a few grams. The upper has been updated to FlyKnit mesh. While it is expensive at a price tag of 20k+, it is the most desirable among the runners.
Frontier X2 Smart Heart Wearable
Madhukar B K is on a mission to achieve his six-star medals. He is the key member of Bangalore-based 'Soles of Bangalore' running group. Having conquered Chicago, Berlin, London, and Tokyo marathons, he has qualified for the Boston marathon and is running the 2023 edition. Being a techie, he is a keen user of technology that helps runners. As more people take-up running later in their life, it is important that they tread carefully. What better way to use technology that can help keep runners safe.
Madhu thinks an accurate heart rate and ECG monitor that can continuously track, is not only a great gift but can be life saving too. Fourth Frontier's FRONTIER X2
The Frontier X2 is a smart chest strap. It is designed to monitor heart health beyond just heart rate by providing continuous ECG monitoring. The device measures cardiac strain, a sign that you are pushing so hard that the heart muscle is not getting enough oxygen. It also measures real-time cardiac strain and breathing rate for a more accurate reading of effort. Frontier X2 is available in India and can be bought from their website.
Bib Holder Belt
Running has become an essential part of Sanghamitra Guha's life, since 2014. She finds it to be meditative. Her personal best time for 10K is an impressive 49 minutes, and has a personal best of 1h:49m for half-marathon. When asked for the perfect gift for a runner, Sanghamitra says what better than a bib holder belt which is super-convenient to pin the bib and carry gels during races.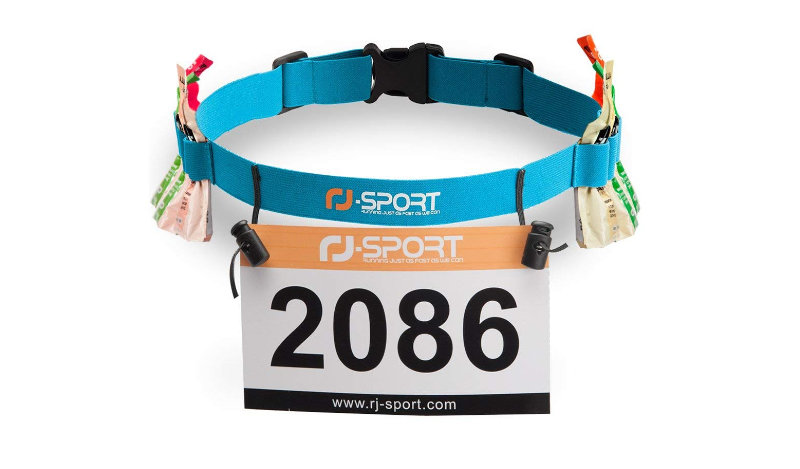 A bib holder belt holds a runner's bib number in place during a race. Aside from holding a runner's bib number, the bib holder belt also provides storage for small items that a runner may need during a race. The elastic loops can hold gels or even small water bottles, allowing runners to stay hydrated and fuelled throughout their race. With the added convenience of being fully adjustable, runners can easily customize the fit of the belt to their body size and shape, ensuring a comfortable and snug fit throughout their race. One of the best things about a bib holder belt is that it eliminates the need for safety pins that can leave unwanted holes in a runner's t-shirt or shorts.
---
Compiled by Team GeeksOnFeet the love of running
This article contains an affiliate link and a referral code. Use of these will help support this website and our efforts to bring content to runners in India.