2022 is the year when we've seen the innovation that started with the super shoes, reaching every runner, no matter the distance or pace. The features once the territory of super shoes have now become a common feature in the budget, and mid-tier shoes. Shall we call this democratization of running shoes?
Running shoe brands are pushing the "Art of The Possible" with different combinations of foams, and plates to make this happen. Would you call Asics Novablast 3, a max-cushioned shoe or a daily trainer? Would you call Puma Deviate Nitro 2 a speed trainer, a racer, or a daily trainer?
As shoe geeks and runners really dig this innovation. Some of the notable innovations we liked -
Use of Carrier Foams - Adizero SL, a budget shoe in the Adizero line now has the premium LightStrike foam used in Adios Pro 3. Nike Zoom Fly 5 uses **ZoomX **with carrier foam.
Dual-layered midsoles- Puma Deviate Nitro 2 uses PEBA foam in the top layer while using gas-infused Nitro foam in the bottom.
Focus on Weight - Shoe designers are using a variety of ways to cut down on weight, whether it is a daily trainer or max-cushioned shoe. Singled Layer engineered uppers, cut-outs in the bottom sole, density of the midsoles, and even skimping on the outsole at times. Imagine a max-cushioned shoe with a 37mm stack that only weighs 270 grams!
Lacing - While lacing schemes are no longer being marketed as much, even budget shoes now have excellent lacing mechanics. Adidas SL 20.2 uses eyelets that resemble the flywire which otherwise was once considered an innovation.
Heel bevel - The bevel angle helps the foot to make a smooth landing by gradually rolling onto the surface. Amongst the ones we reviewed this year, we liked the implementation the Saucony's max-cushioned Triumph 20.
We've had a tough time this year putting together the awards, given the sheer volume of shoes competing for the top spots, and the feature gap between them is too small. There is very little difference between the top shoe in our list to the shoes that didn't make the cut. The close contest in votes among the contenders on our Twitter polls also indicates the same.
As with our last year's #BestRunningShoeAwards, we've classified our picks into different categories. We have made a short list of the top running shoes for 2022, based on three factors. Reader's inputs an addition this year.
First is the editorial inputs from a small team of runners who have been very passionate about running shoes, and have written reviews on shoegeeks.in.
The second factor is the data that we have gathered from the viewer traffic to our website.
Last, but the best, we asked our readers to nominate their favourite shoes across categories on Twitter. The shoes that won the Twitter polls are marked as "Runners' Choice".
Best Daily Trainer
One shoe that runners love to have is a versatile option that can handle various types of runs, including speed work, easy runs, and long distances. This type of shoe is highly convenient and allows runners to have a single shoe that can meet their diverse training needs. Versatility is what really drives the daily trainer segment.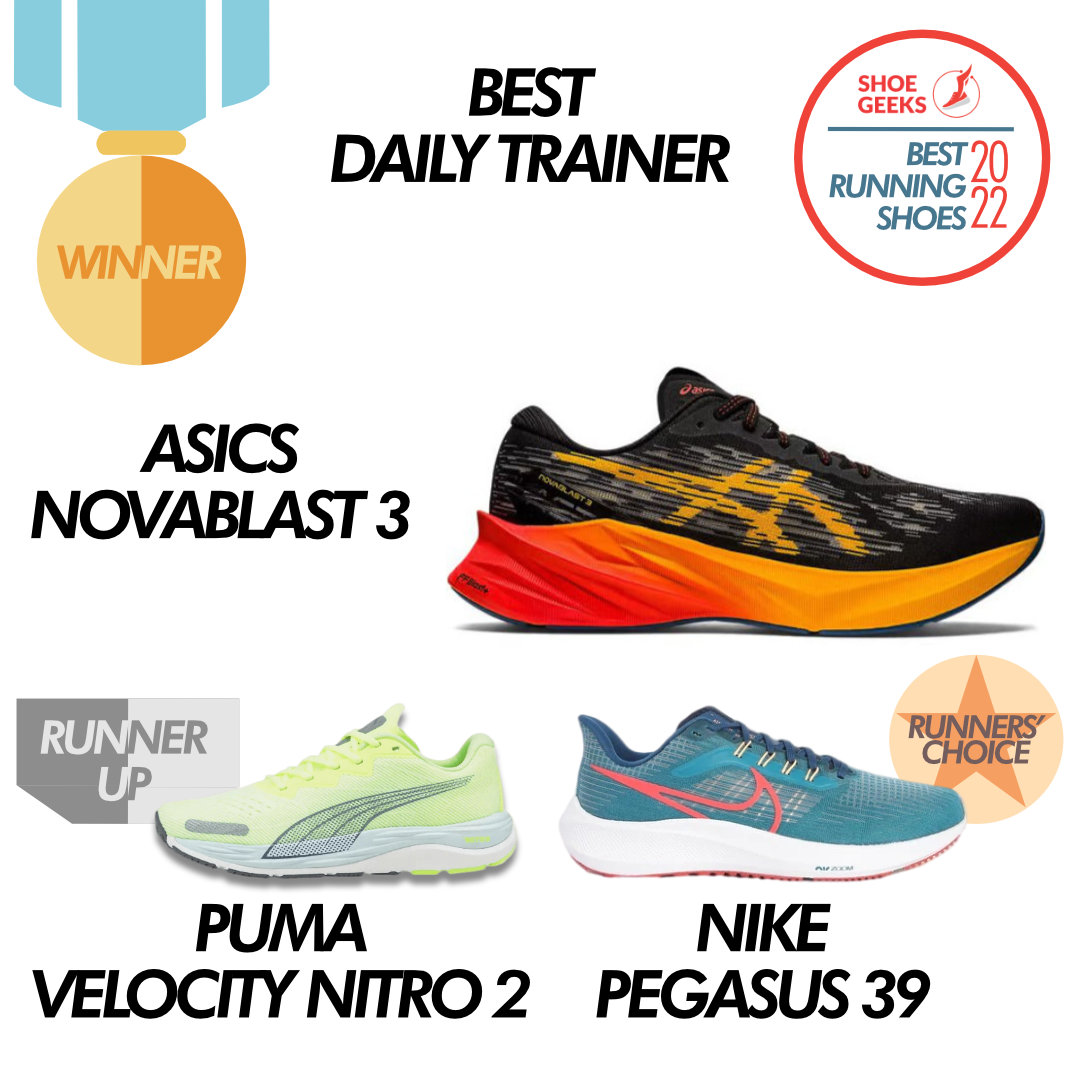 Our short list for daily trainers include
Asics Novablast series is going strong from edition to edition, and Novablast 3 is their best yet. Right mix bounce and cushion, made it most versatile shoe to train with. Velocity Nitro 2 is the close contender, with a perfect 10 on our review, but Novablast 3 is much fun to run with. Novablast 3 is our choice as Winner, and Velocity Nitro 2 as the runner-up. Nike Pegasus 39 is most loved shoe by the runners. We liked the shoe, and it got better, after somewhat tepid response for Pegasus 37 & 38. Pegasus 39 is the Runners' choice.
Best Stability Trainer
Many runners vouch for the support that is offered by Stability shoes in helping them with controlling overpronation, thereby reducing injuries. Stability shoes have totally changed this year. They no longer are bulky and heavy. Now they are more softer and stable, which was a conundrum otherwise in the past.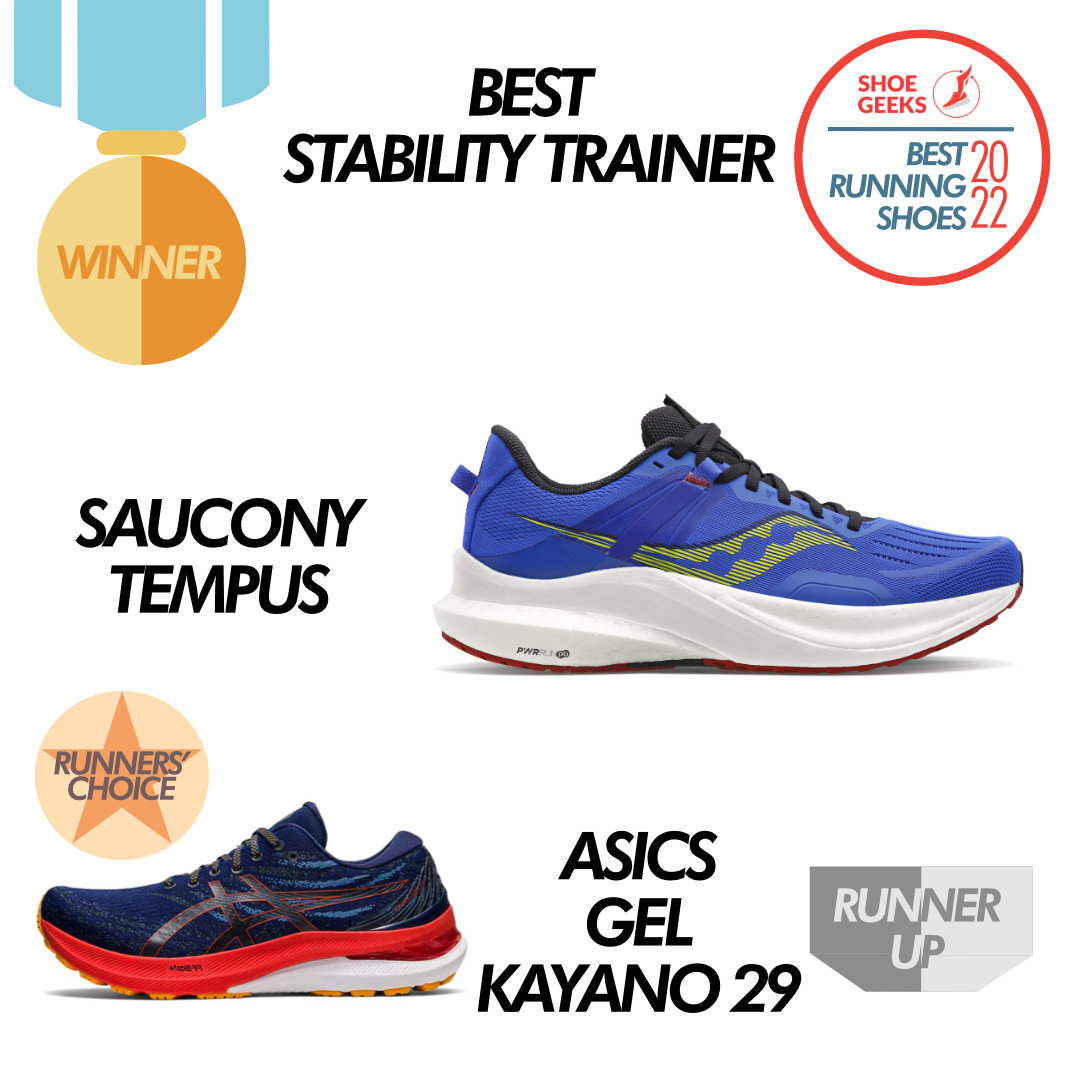 Here are the candidates
Asics Gel Kayano 29
Brooks Adrenaline GTS 22
Saucony Tempus
Saucony Tempus is one of the most innovative shoes that we've seen this year. It is one of the very few cushioned trainers with good stability. It uses the only stability trainers that uses PEBA foam, which is otherwise used in racers like VaporFly, and is extremely light. Asics Gel Kayano continues to be the best in the business when it comes to stability and is the Runners' Choice. We chose Tempus as the winner for its innovative use of PEBA and mixing it up with Stability.
Winner - Saucony Tempus
Runner Up & Runners' Choice - Asics Gel Kayano 29
Best Speed Trainer
Speed trainers are the most evolved lot from how shoes are built from the past to now. High-profile, but still low in weight, and the use of carbon composite plates changed the game. This year's shortlist no longer have the traditional low-profile trainers, which was once considered the norm.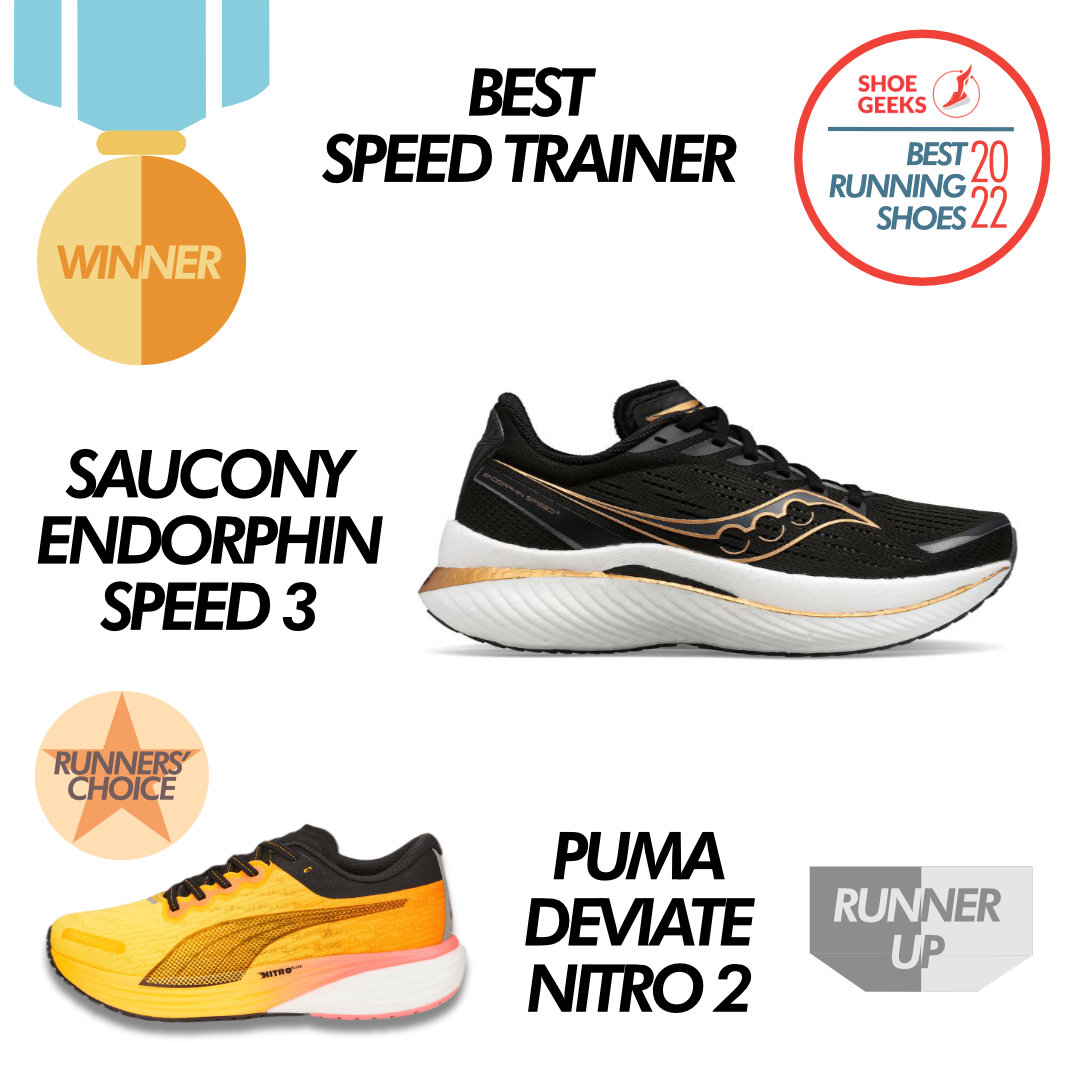 Here are the shortlisted shoes for best speed trainer -
Saucony's Endorphin Speed series has brought in PEBA based midsoles to speed trainers. Speed 3 is the best update we've seen so far, and the stability is much better, which has been an issue in the past. Puma's popular and affordable Deviate Nitro also has a major update, with the edition of PEBA foam in the new dual-layer midsole. It is now much softer and more complete shoe. However, we would have liked the weight to be a bit on the lower side. Endorphin Speed 3 is our choice as the winner. Deviate Nitro 2 is the runner-up and is also the Runners' choice.
Best Cushioned Shoe:
What is that one thing that runners look for in shoes for those long runs? Cushioning with a high stack is the most popular answer. For this category, we have considered shoes with a stack of 30mm or more.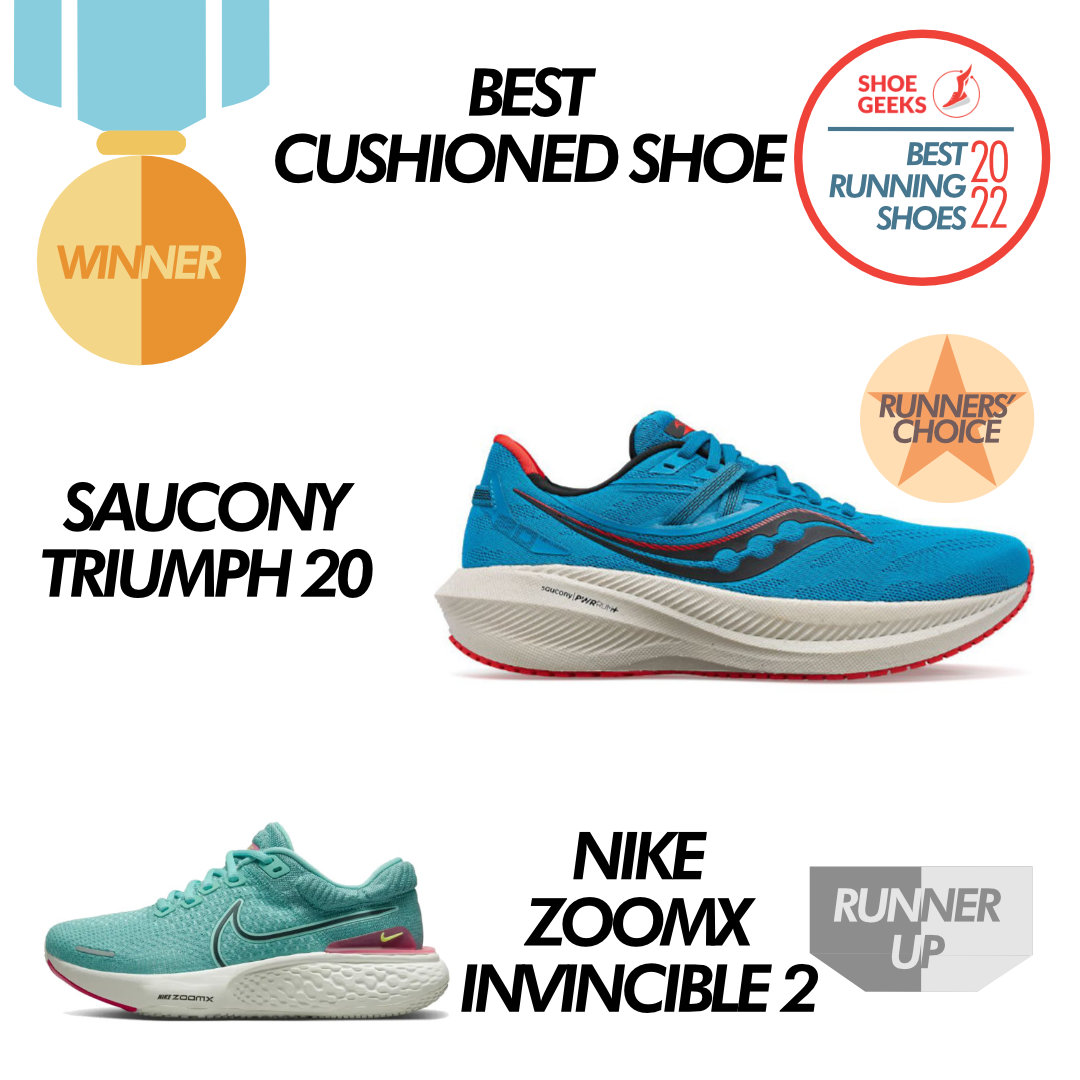 Here is our shortlist for this category
Saucony Triumph 20which we reviewed recently is one of the lightest max-cushioned shoes. It is super comfortable, and yet versatile. Nike ZoomX Invincible 2 uses PEBX midsole. Our choice for best cushioned shoe is Saucony Triumph 20.
Best Race Day Shoe:
Race day is all about bringing everything together that makes you perform at your best. It is now proven from multiple studies, shoes do play a role in getting the best day performance. Carbon plates, PEBAX & gas-infused EVA/E-TPU foams are the ones to look for in race day shoes.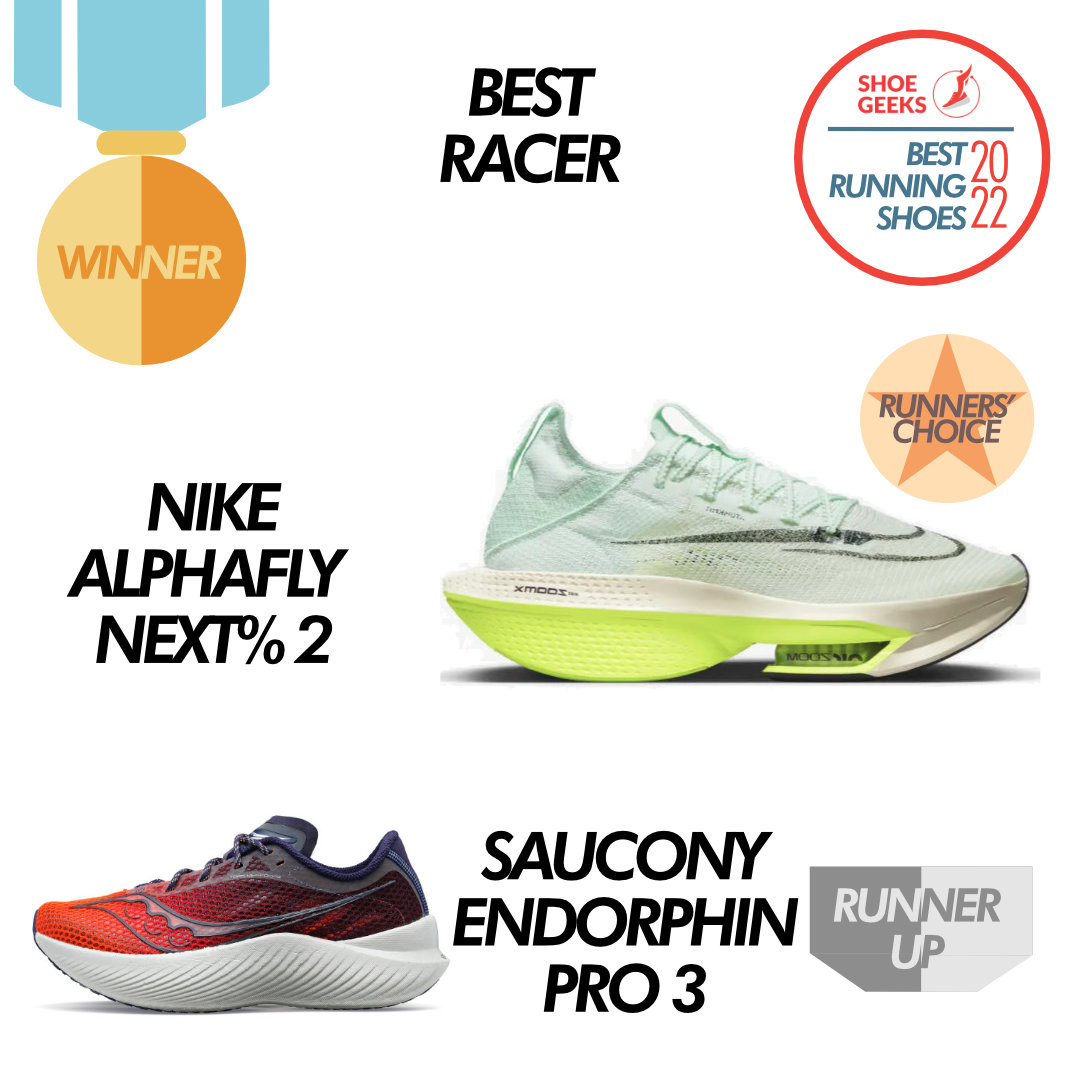 Here is our shortlist of best race day shoes with Carbon Plates
Asics MetaSpeed Sky+
Brooks Hyperion Elite 3
Shoes with Carbon plates and PEBA based light-weight foams have become the norm for race day. Saucony's Endorphin series is a close contender for years in this category, otherwise was dominated by VaporFly and AlphaFly. AlphaFly Next %2 is a decent update, and continues to be the best at Marathon distance. With Endorphin Pro 3, endorphin line continue to close the gap with Nike VF Next%2. AlphaFly Next%2 is the winner and is also the Runners' choice. Endorphin Pro 3 is our choice as runner-up.
*Nike VaporFly didn't see an update during 2022, hence is not included in this category.
Brand of the Year: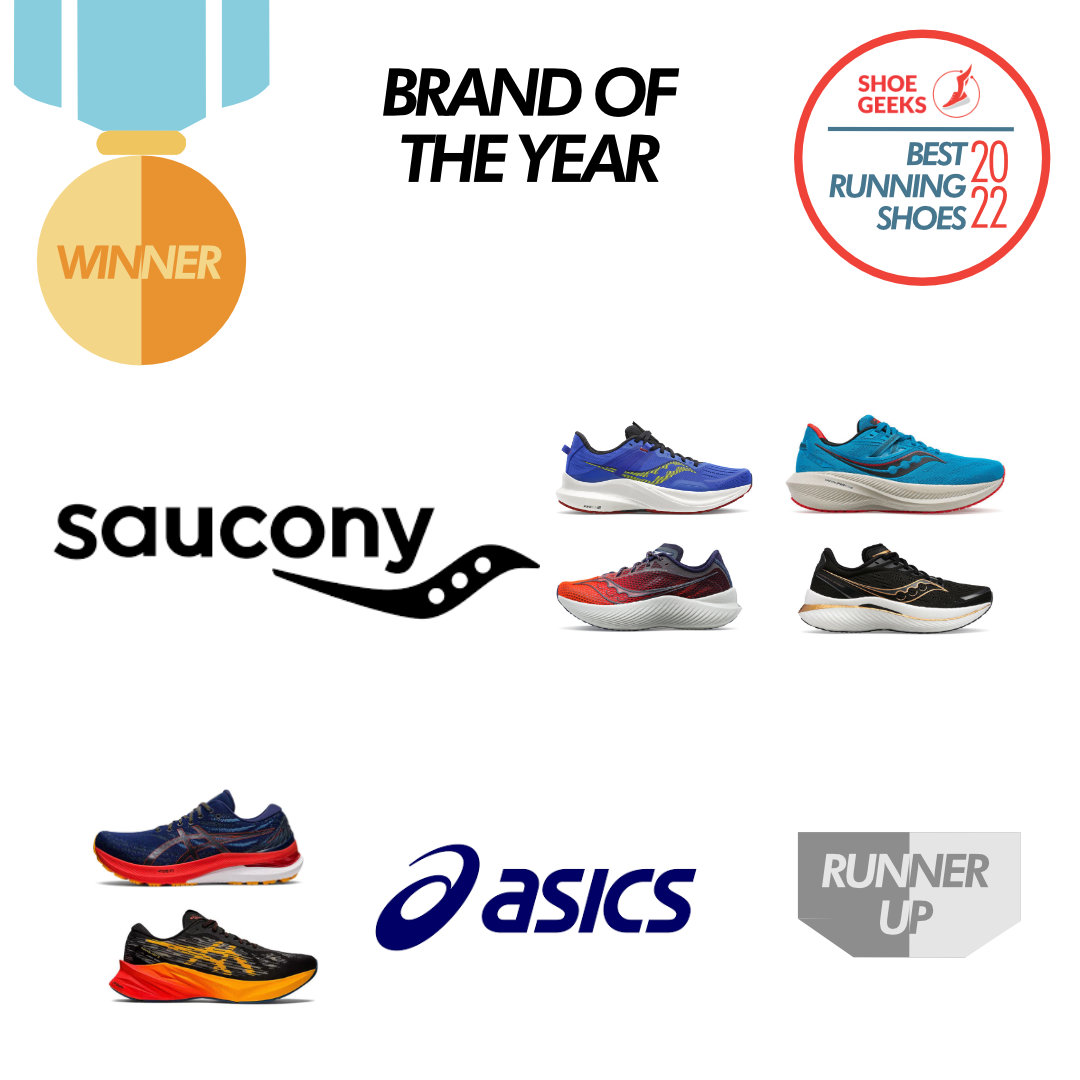 Saucony has the several innovative updates during the year - Triumph 20, Ride 15, Endorphin Speed 3, Endorphin Shift 3, Endorphin Pro 3, and Kinvara 13. Barring Kinvara 13, we liked all other updates. Saucony Tempus is one of the best in the stability category. Asics has also released several updates including Magic Speed 2, Novablast 3, Kayano 29, MetaSpeed Sky+ & Edge+. We would like to see Asics to tweak its prices in India. Our choice of brand for 2022 is Saucony.
Winner: Saucony
Runner Up: Asics
---
Prepared by ShoeGeeks editorial team for the love of running
---
If you are a running enthusiast, follow us on our social media channels @geeksonfeet on Twitter, and GeeksOnFeet on Instagram and Facebook for updates.