The Malnad Ultra, India's premier endurance run, is an annual festival for trail running enthusiasts. The race, just in its fifth edition, is a qualifier for UTMB as well as the Western States Endurance Run. The course is laid out in the heartland of Indian coffee in the Malnad region of Karnataka at an altitude of 3000 to 4500 feet. The Malnad Ultra combines the rigor of an ultra-marathon set in the western ghats of South India with an experience of running through the coffee estates.
The race originally offered distances of 50K, 80K, and 110K, except for the latest 2021 edition, where 110K was dropped citing safety in the backdrop of significant wildlife movements especially post-sunset. About 25% of the course is on lesser-used paved roads while the rest is through hilly trails, coffee estates, and grasslands. The 2021 edition of 50 KM offered an elevation gain of 1300 meters whereas the 80 KM offered 1900 meters, evidently making it tougher for athletes coupled with a strict cut-off time of 9 hours and 14.5 hours respectively.
The terrain, elevation gain, and cut-off time are rigorous enough to take a toll. Running is a journey for all of us, and so are the days leading to the race day. We reached out to a few finishers of 2021 to understand their journey and experiences of pre, during, and post the race.
Suneel Kumar Koyi
Suneel is a techie by profession, he took up running as a hobby in 2014. Have been running during weekends until 2018. Have started doing 4 to 5 runs per week consistently since 2019. Till now Suneel has participated in 30 live events and won a couple of podium positions during the journey with personal bests of 5k: 18:43; 10k: 38:19, Half-marathon: 1:26:07, Marathon: 3:40:40.
Your training for Malnad Ultra
The idea of doing Malnad Ultra was ingested by one of the running friends. At that time I was already in the marathon training cycle and was targeting a 50km road race which would also become a training run for Malnad Ultra. While the road race with a mere 250 meters elevation gain didn't go as per the plans, I managed to finish the 50K in 4hrs 32mins. The hydration execution during this race made me rethink Malnad. However when registrations opened, I was encouraged by fellow runners, so ended up registering for the 50km race.
Preparations to Malnad began 3 months prior with an increase in monthly mileage averaging 300 km a month between August and October, followed by tapering in November leading to the race day with 200 km. About the overall schedule, Mondays are rest days followed by Easy Run on Tuesdays, interval runs on Wednesdays, and tempo runs on Thursdays. Friday is again a rest day for running and is replaced with strength training. Saturdays are long runs ranging between 20 km to 35 km. Sundays are Tempo Run days but sometimes swapped with cross-training, mostly cycling.
Your experience of the race
Before the race: Since this is my first trail run, I wasn't aware of how previous events were. However, I knew that the route was picturesque. So I decided to enjoy the run without any time goals.
Unlike other events, this run happens on Saturdays. So I reached Mudigere in Malnad on Friday. When we arrived at the bib collection area, it was bright, sunny, and humid. There was a briefing about the race starting point and the course. Thanks to the coordinators, travel, and stay arrangements were smooth. Race day anxiety had kicked in, I couldn't sleep properly the whole night. Reached the start area by 6 am to have breakfast. I've never run after having food in my training runs. But looking at the elevation and distance, I settled with a light breakfast. The 50km race started exactly at 7 am.
The race: After the second km into the race, we hit the trail. At around 7km (Ettina Bhuja) we had a steep climb. I had to literally walk there. As per the planned route we were supposed to climb Ettina Bhuja, but due to restrictions from forest officials, our route was cut short. From here on confusion with route markings started. 9 to 14km was a difficult climb to run, but the beautiful views made for it.
Started to feel cramps from 32kms. At 40km, I had reached our home-stay en route and was wondering If I had missed any route as I knew the finish was nearly 7km away. I continued to run-walk. A couple of runners ran past me in this stretch. I was in 5th or 6th place by now. When I reached 45th km, there was an ambiguous marking to take a left turn. But there was no indication whether it's for 50k or 80k runners. From here the finish point was just a kilometer away. Since the route was cut short near Ettina Bhuja, I assumed some distance had been added to adjust the course and took the wrong turn there. I met a few runners who had crossed me there, and realized the mistake. In total, I ended up running 6km more than the actual course distance. Although I was a bit disappointed because of losing my finish position, I felt happy to finish the 50km mark to earn the finisher medal.
I was a bit disappointed about the course, as almost 50% of the terrain was the road with not much shade, and there were not enough hydration points.
Your takeaway from the race
The course was challenging and hydration planning has been a concern for me, as I relied on the aid stations for hydration. The lesson from this race is that I need to carry my own hydration to replenish the salts I'm losing and also should consume enough carbs to have the energy to finish strong. I'm definitely looking forward to the next edition of Malnad Ultra and putting my learning to practice and finishing strong.
Nandini K Gangadhara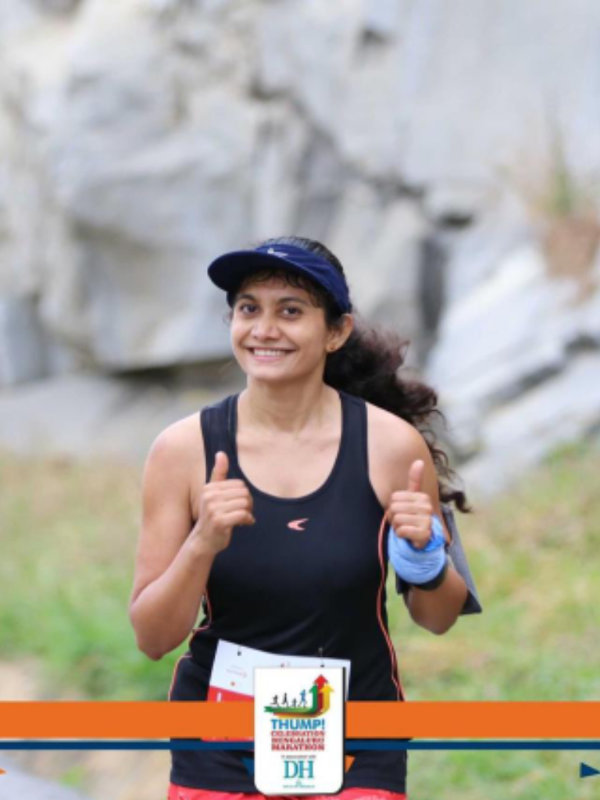 Nandini is a recreational runner from Bangalore. She believes in running with a heart and not going behind the paces. She enjoys traveling, fitness activities, and being with nature. Nandini is a techie and spends most of her free time with her son.
Your training for Malnad Ultra
I generally train based on time on foot, which is around 2 to 2.5 hrs. Further, my training is not based on a specific event. I train through the year which keeps me race ready, for any day. Apart from my running, I also do strength training.
My simple mantra while training is to run a minimum of 21 km whenever I head out for a run irrespective of my pace.
I'm blessed with a fantastic running route close to my house with good elevation. Considering the pandemic, I used to start my run with my running partner at 5 am and finish it by 7:30 am. My weekly mileage was ~ 80-90 km which included 3 to 4 runs per week, with the longest run of 25km. This discipline helped me to improve my pace and fitness.
I completed a sub 4 hour (3h:55m) New York City virtual marathon in October 2020. That's almost 50 mins improvement from January 2020, when I ran the Mumbai virtual marathon. Ended 2020 with a podium finish in the TCS World 10km virtual race (46 minutes).
In 2020, I was full marathon ready on any day without considering the finish time. In 2021, I took a break of 5 months from running for personal reasons and resumed running in June. My weekly mileage was about 50-60 km from June to October. In November I registered for the Malnad Marathon. I did a couple of 25km runs in the first two weeks of November and on November 20th I did a 30 km run which was the longest training run. However, the mileage and regular runs of 2020 played a tremendous role in finishing the Malnad Ultra strong.
Your experience of the race
Being a first timer for Malnad ultra; being my first trail run for the year, there were many things going on in my mind before the race. Added that I was running this ultra for the first time without my running partner.
One of the things I follow is to never walk during any of my runs, I may slow down, but continue to run. This was the first time I've walked in a race. On the course, everything was new and challenging to me:)
I started my race all alone by holding a half litre of water bottle at an easy pace. After running for a few kilometers, I felt that running all alone will make me tire faster looking at the elevation and trail was new to me. The course seemed, it was meant for trekking and not for a run. So I decided to join fellow runners. Paired up with the few runners and started conversing with them throughout the run. I've met many veteran and strong ultra-runners en route and I've felt privileged to share the course with them. This helped me to finish the race strong without any pressure (drawing energy from fellow runners).
I was very mindful throughout my run. Smile at everyone; run with the whole heart. Enjoyed the uphills, downhills, killer elevations, wind, picturesque hills, water streams, gravelly path, obstructed terrain, and scorching sun.
Your takeaway from the race
I've made some memories, a podium finish, and friendships through the trail. I will comeback stronger to run uphills and endure the scorching sun.
Vineet Sadhu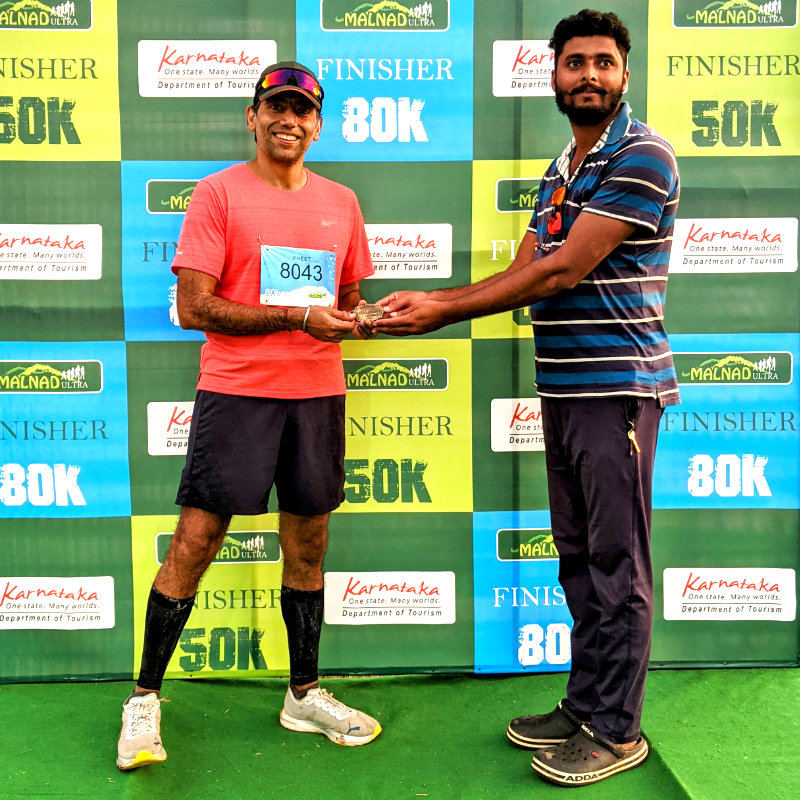 Vineet is a techie and a marathoner from Bangalore. Vineet enjoys running by feel and enjoys the long runs the best. He loves all things running, and is a shoe geek. His personal best for a marathon is 3h:30m. One day, he would like to run across India from north to south.
Your training for Malnad Ultra
Prior to Malnad Ultra, I haven't run any trails, nor have run a distance above 50k. So my focus was on building the mileage and preparing the best I can for the terrain within the constraints.
I have planned a 16-week training cycle, starting with an average of 75 km per week in August, peaking at 140 km/week, and then reducing the mileage to 84 km/week as I come close to the race day. Daily runs were in the plan to make sure I do get used to running on tired legs. I have taken a few rest days as needed. Long runs were on weekends. covering distances from 50-70 km in two days helped tremendously, and gave a lot of confidence in preparing for the distance. During the training cycle, I have also run a full marathon distance at a moderate pace, which helped as well. Most of my training was on tarred roads and the pace was easy to moderate.
Your experience of the race
Before the race: Route briefing by organizers helped me to prepare by visualizing the route, such as major milestones, aid station locations, and cues such as red ribbons tied on the right of the trail.
Race day: Reached the venue by 5:30 AM. I have heard a lot of good things about the arrangements in previous editions, but was a bit surprised at arrangements - lights were not working (DG issue), delay in serving pre-run breakfast, lack of water in porta-potties. \
During the race: The race started at 6:45 am, and I stayed with the front pack from the beginning. At around 7 km, I along with another fellow runner got diverted by the race organizers and got off course for around 5+ km (~2.5 km out and back) which cost me 35 to 40 mins of race time. What a bummer!!. Coming back to the point where we took the diversion, the organizers apologized. By this time, all 80km and 50km runners were ahead of me. Not thinking much about what just happened, I resumed my run, keeping in mind to stay on the planned pace and finish the course. Doing brisk walks and easy running on uphills helped me in overtaking others.
The course was extremely rocky and challenging, and one has to be mindful of placing the foot. I did see a few runners get serious injuries on their foreheads, and knees. The trail had several difficult sections. Of all these, I liked one section where there is hardly any sunlight because of thick trees. One had to be extra careful while crossing this section as you can not see the uneven ground underneath your foot because of 2 feet long grass.
In terms of fuelling, besides energy gels at regular intervals, I made sure I ate something light at every aid station (oranges or a slice of bread & jam). I was able to reach the 50km mark (my watch clocked 52 km) by 1 pm (in 6:15 hours). Later I understood from others that the distance measured in GPS watches for the 50 km mark is only 46.5 km. After taking 45 minutes of break for lunch and reloading myself with another set of salt capsules, gels, and electrolytes, I resumed my run for the next 30 km.
The last 30 km were harder than the first 50km. Finally made it to the finish point by 5:45 pm covering 82+ km with an average pace of 7:11 / km. I was the sixth person to cross the finish line.
Your takeaway from the race
I am very satisfied with the effort and happy with the overall result. All the hard training paid off well in the end. No hard feelings with organizers for misguiding me en route which costed extra time. I hope they will continue to improve the race next year.
---
Prepared by Team GeeksOnFeet for the love of running
---
If you are a running enthusiast, follow us on our social media channels @geeksonfeet on Twitter, and GeeksOnFeet on Instagram and Facebook for updates.