Date: 7 March 2021
Start Time: 4:30 AM
Goal(s): - Realistic time: 3:15 (pace – 4.37/km)
Training
What I did differently this time around:
We essentially had 7 weeks from SPBM to NDM – so if we factor one week each for recovery and taper respectively, we were left with 5 weeks for training. The week after SPBM I also ran the stadium run 2 hours relay slot (night slot, 9 PM-11 PM).
The biggest challenge for me this time around was one that involved my mental make-up vis-à-vis racing. I had DNF'ed at SPCM Chennai (my first LIVE race this season) after 25kms even though I was just running a 32km race. This was playing on my mind as I came into SPBM-2021, but I somehow managed to finish the race albeit at a much slower pace than what I was targeting. These experiences taught me an important lesson. Every race – especially the marathon distance – cannot fetch you a PB.
The stadium run restored my confidence to some extent and it is in that frame of mind that I started my training block for the New Delhi Marathon.
I would like to dwell on four key aspects in this training cycle – running-specific training, strength and conditioning, nutrition, and mental training.
Running specific training – I ran 3-4 days a week through this training block of 5 weeks. In the first few weeks, I added a weekly cycle ride of about 90-120 minutes and some very short bursts of rowing. This amounted to about 65-70kms of running per week. Now I usually prefer an average mileage of about 70kms per week with a peak week (or two) of 95kms. But then, things have been very hectic at work and so this schedule suited me. The key workout in the week would be the long run at the end of the week and we did a variety of them – back to back longs runs, 25-27kms in the morning with a 10km in the evening, 32km run with the last 7km at race pace, 25km run with the last 7km at race pace, etc.
Strength and conditioning – I reduced my CrossFit routine during this period, drastically. Instead, I was doing one session per week at Stairs Physio with coach Hari and Sunil and one weight session at home basis Ash's guidance. I was also doing two sessions of Yoga – an eclectic blend of Vinyasa, Hatha, and Yin yoga – at home as Suchi had revived online yoga sessions.
Nutrition – I continued to work with Sonali and Sujoy in terms of my nutrition. I kept my protein intake high during this period (recovery + training) and added a generous dose of fruits and vegetables to my diet. Additionally, I was also taking supplements for Vit-D, Omega-3 fatty acids, and Multi-Vitamins.
Mental training – This for me was one of the key takeaways from this training block. My mind was giving up even before my body had reached a state of exhaustion. Worryingly, this was becoming a habit and there was quite a bit of clutter up there. Conversations with my coach, Sujoy and my psychologist allowed me to find ways and means by which I could reduce this clutter in my mind. I started listening to discourses around the Bhagavad Gita and towards the end of this training block picked up a book called "The Comeback Quotient" by Matt Fitzgerald.
State of mind coming into the race
Delhi has been my strong suit and home ground. I have always done well in Delhi be it an half-marathon (ADHM) or Marathon (NDM) – my last three marathon performances at this race read thus – 3:33:xx(2018), 3:26:xx(2019) and 3:18:xx(2020) respectively. But this time around given all the uncertainty owing to COVID-19 and my own uninspiring performances I was nervous about how this race will pan out. I needed one good race – a comeback of sorts if you will. And I hoped NDM would not let me down as it never has in the past.
I reached Delhi on Saturday late morning. Again, a mistake and another lesson learnt. For a marathon in India, make it a point to reach that city by Friday. There was some more drama waiting to happen later that evening. I lost my bib and had to frantically run around before NEB arranged for an alternate bib. I quickly put behind this reversal and calmed myself down thanks to a pre-race ritual that I regularly do in Delhi - a visit to the Sai Mandir and Ram Mandir on Lodhi road.
Dinner was a 7:30 pm affair of Dal and rice. By 9:00 PM I was in bed. I had set the alarm for 2:00 AM as I take time with my pre-race rituals that include a conditioning session and 2-3 visits to the restroom. Staying 1.5km away from JLN stadium meant that I could leisurely leave by 3:45 AM for the venue. On reaching JLN stadium and after checking in my bag a quick warm-up followed on the outer 400m track and I was all set to race.
Hydration and Fueling (before, during, and after the race)
Sips of FUP BCAA + Nutra nitrate+(beetroot) in 1L of water through the day on Friday and Saturday. 2. Steadfast Casein reconstituted in 300ml of water on Friday night.

1 cup of coffee + 1 bowl of oatmeal (with dates, banana, almonds, and BCAA) on the morning of the race.

Sips of FUP BCAA + Nutra nitrate+ FUP Reload (Caffeinated cola) in 500ml of water from about 120 minutes before the race

5 gels (UNIVED). 1 gel every 35 minutes during the race.

UNIVED Salt Cap (caffeinated). 1 every hour during the race.

Water or FUP Reload once in 20 minutes (on an average) at the aid station(s).

Steadfast INCREDIBLE WHEY reconstituted in 300ml of water about an hour after the race.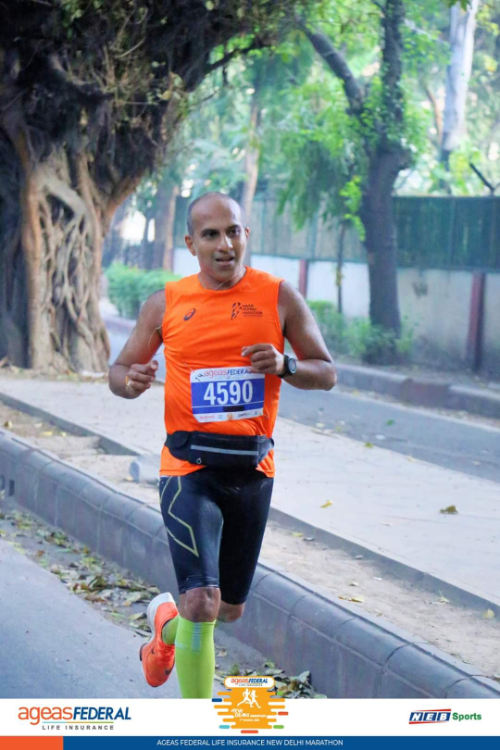 Pacing Strategy
0-5km – Started carefully given that we had to run almost 1km inside the stadium before heading out. The objective across this stretch was to find the rhythm and settle down into a steady pace. Crossed several familiar faces and after exchanging pleasantries with a few of them settled down into a steady pace around the end of Lodhi road.
Timing Mat split @1km – 4:36, 4:36 min/km Timing Mat split @4.1km – 18:39, 4:33 min/km
6-10km – I had found my rhythm by now. There was a nice nip in the air, the advantage of an early start. Started focusing on the objective of minimizing any extra distance that we may run from hereon. To that end stayed close to the turns whenever I took them. I kept pulling myself back whenever I felt that I was pushing on the pedal. Consumed my first gel in this section between 35-38 minutes.
Timing Mat split @6.2km – 28:02, 4:32 min/km Timing Mat split @10.6km – 48:19, 4:34 min/km
11-15km – This was a largely uneventful section and the runners had spread out by now. This section had a few U-turns. I focused on my form and easy breathing during this section. I also started saying a mantra to myself that I had picked up from "The Comeback Quotient" – Accept, Embrace and Apply. I Consumed a salt tab in this section. I felt very good during this section.
Timing Mat split @12km – 54:44, 4:34 min/km Timing Mat split @12.8km – 58:10, 4:33 min/km
16-21.1km – The objective across this section was to get to the halfway mark with some 10s of seconds in the bank as a buffer. Ran with a pack of Delhi runners. I did a body scan to ensure I was not holding on to any tightness and released the tension in my shoulders as we crossed the halfway mark. It was quite a spectacle to get back into the stadium, onto the track before we made our way back for the second loop. Half the battle had been won. Consumed my second gel in this section between 70-75 minutes.
Timing Mat split @17.3km – 1:18:43, 4:33 min/km Timing Mat split @20.1km – 1:31:20, 4:33 min/km Timing Mat split @21.1km – 1:36:01, 4:34 min/km
22-30km – This "no-man's land" section of the race was the most eventful part of the race for me. Around the 27th km, I started slowing down. The Delhi runners crossed me around the 28th KM and the immediate comeback objective for me was to keep this group in my sight. Accept, Embrace and Apply – I kept saying this to myself as I fought the first signs of fatigue. Consumed a salt tab in this section. Consumed my third gel in this section between 110-115 minutes.
Timing Mat split @22.2km – 1:40:41, 4:33 min/km Timing Mat split @25.2km – 1:54:45, 4:34 min/km Timing Mat split @27.3km – 2:04:28, 4:34 min/km
31-35km – Grunt period. Saw runners like Bobby and Nagu slowing down in this section and yet cheering the runners around themselves. This lifted my spirit and I just kept telling myself – My Race, My Pace. Dawn had broken and as I got back on Rajpath a couple of faster HM elites crossed me. I derived momentum from such small occurrences around me and kept running. Consumed my fourth gel in this section between 150-155 minutes.
Timing Mat split @31.7km – 2:25:45, 4:36 min/km Timing Mat split @33.1km – 2:32:28, 4:37 min/km Timing Mat split @33.9km – 2:36:11, 4:37 min/km
36-42.2km – This was unarguably the toughest phase of the race. Memories of the debacles in the past few months kept coming back and yes there was an urge to walk at least a couple of times in this phase. However, now more than ever, it was all about counting the kilometers down. I ran with one HMer around the 36th km before he started walking. I kept repeating the Mantra – Accept, Embrace and Apply – this was the one thing that kept me going. I crossed Bobby somewhere around the 38th km and he cheered me on. I must add that the loud cheers from some of the Delhi-based running groups which had set up cheer stations around Lodhi road helped immensely. As I crossed the overhead bridge before JLN stadium I saw Subhojit aka DADA about 150m ahead of me. From thereon right until the end I locked my gaze on him and just put one foot in front of another. The last 3kms were the toughest kms of this marathon, but I just hung in there. Period. I consumed my final gel around the 3-hour mark.
Timing Mat split @38.4km – 2:58:22, 4:39 min/km Timing Mat split @41.1km – 3:12:12, 4:37 min/km
Full course - 3:17:[email protected]:41 min/km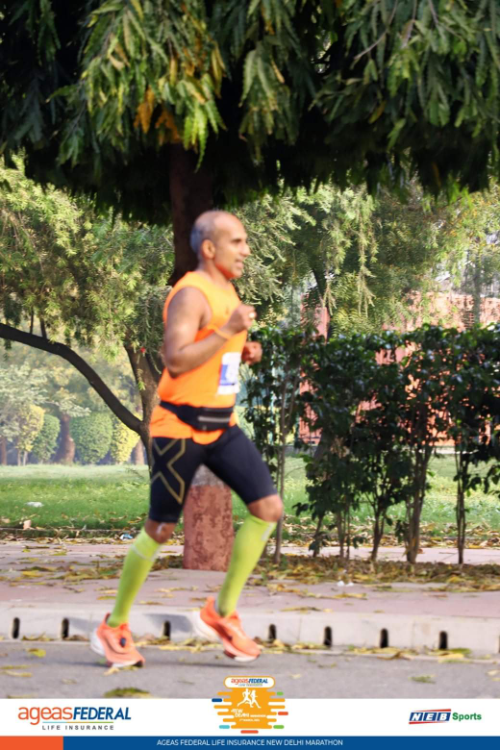 What worked
A multi-pronged strength and conditioning approach that amalgamated weight training, sports-specific exercises, and Yoga done mindfully.
Focus on nutrition and enhancing my protein intake (supplements and otherwise), diet quality and Vitamin/ Omega-3 supplementation.
Reading. As already mentioned, I have been reading "THE COMEBACK QUOTIENT". Matt Fitzgerald gives a different insight into training per-se for a marathon where he talks a lot about training and conditioning the mind.
Breaking the race down to manageable chunks of 7kms meant I was not thinking too far into the future. It was always about getting the next 7kms done and then later 3kms done and finally 1km done.
Pep talks from Ash and Sujoy when I was down and out as also from friends in the running community like Avik Pal, Shreyas Karnad, Vikram BJ, and Aravind Ajad helped me immensely in boosting my morale.
The Nike Alpha Fly Next% is a shoe that I have finally broken into vis-à-vis the marathon distance.
What didn't work
Reaching Delhi on Saturday was a mistake, owing to a hectic work schedule I didn't have a choice though. Reaching on Friday is a wiser idea as you get a good nights' sleep on Friday and are more relaxed before the race through Saturday.
Losing the bib. This fiasco took a good two hours out of an already packed Saturday. However, all is well that ends well, I felt I managed the situation at hand well and that restored confidence that I would handle tough moments in the race better.
In retrospect, I should have dropped my pace from 22 to 28kms aka "No Mans' Land". I should have sat behind a group of runners and then picked up once we hit the Rajpath section. Having said that, a smaller field of runners meant that we didn't have many runners around us to latch on to. So, a lack of a running partner does hurt especially in the marathon.
I did not walk even once during this marathon even though there was the urge to do so on at least 2- 3 occasions.
Running Dynamics
Average Cadence – 185 spm
Average Stride Length – 1.15 m
Average Vertical Oscillation – 10.6 cm
Average Ground Contact Time – 220 ms
Average GCT Balance – 49.2% L / 50.8 R
Average Power – 237 W
Average Heart Rate – 181bpm
Races Ahead
TMM (Half Marathon)
Berlin Marathon
---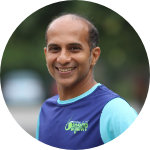 Kartik Iyer is a conversationalist, running geek, techie, marathoner, miles to go CrossFit junkie and bathroom Carnatic vocalist. He loves striking random conversations with people just about anywhere, music and anything to do with tech and fitness, in no particular order. He can be reached at @kartikiyer2007 on Insta and on Strava