New Delhi Marathon completed its 8th edition this year and it is also known as the "Apollo New Delhi Marathon". New Delhi Marathon has received a lot of attention in the last few years due to its flat course, weather, and being AIMS certified. True to its course, Indian elite men runners Man Singh, Belliappa AB, and Karthik Kumar qualified for the upcoming Asian Games 2023.
For amateur runners, this is also the last race before the close of the marathon season. Runners opt for this course to get their magic numbers and for the others, it is a Boston Qualification (BQ) course.
I was running this marathon after a gap of 2 years. Back in November 2020 I ran NYC virtual marathon, and thus had the time to put in a good training cycle.
Date: 26 Feb 2023
Start time: 4:15 AM
Start point: JLN Stadium
Goals:
Marathon Previous Best: 4:24 Goal: Sub 4 hours Achieved : 3:51:12
Training
I had a 16-week training plan, and it included endurance training, intervals, & tempo runs along with strength training. The aim was to get used to running alone for long durations. I personally think a marathon is a 42 km conversation we have with ourselves and what we feed in our mind is how our body responds to it.
Thus throughout the training, I practiced running alone for all my long runs and speed workouts. The training structure was simple, it was 5 days of running which included 2 quality runs, one was a mid-week interval/tempo, and the other weekend long run. Strength training in the initial phase was 3 days and then reduced to 2 days. Special mention to the Academy of Strength, for my strength training cycle and animal flow movements.
I peaked with a maximum mileage of 75 km, which included 6 long runs:
2x 30kms
1x 31kms
2x 32kms
1x 35kms
I did run at goal paces during shorter runs of 25+ km and also during 35 km to get used to the paces.
During the long runs, I trained to simulate the actual race day scenarios with my running attire, gels, electrolytes, if I had to take a loo break, etc. this helped me to have no surprises left for the race day.
Furthermore, my quality runs were in Nike Zoom Fly, and on the race day, I ran in Nike Vaporfly Next%2.
Finding my training paces:
During the beginning of the season, I did run a 5K, 10K, and half marathon and this helped me to understand my paces on a broader level, thus I was targeting a sub-4-hour marathon.
As a run-up to the marathon, I ran Fast&Up Fizztival 5km @ ~4:55/km, TCS 10K @5:07/km & Vadodara Half Marathon @ 5:16/km.
Structure of my training:
During my training, from the 12th week in I started doing 2 runs of 30 km (alternate weekend), introduced longer tempo runs which were time-based eg: 2*20 mins runs with 3 mins RI. This helped me with more time on my feet and adjusting my pace based on how I felt.
Sample Training Plan & Paces
| | |
| --- | --- |
| 400mts*8 / 60 secs RI | 4:30/km - 4:40/km |
| 1k*6 / 90-sec RI | 4:50/km - 4:55/km |
| 4*Mile / 120-sec RI | 5:10/km - 5:15/km |
| Long runs | 6:00/km |
| Goal Marathon Pace | 5:40/km |
Taper & Pre-Race:
I followed a 3-week taper, where I reduced my weekly mileage by 20% and kept the intensity same, furthermore my strength training was now 2 days per week. During the strength training, I reduced the intensity and focused on repetitions.
For recovery during the training, I ensured to take deep tissue massage every week and a week before the race I took a sports massage. My nutrition was balanced home-cooked food with protein powder after every quality run & strength workout, and this helped for better recovery.
Before the race day:
A week before the race I started taking electrolytes. Furthermore, I was conscious of what I was eating & nothing new was getting in me.
I travelled to New Delhi on 25th February and reached by noon, this gave me some time to recover. In hindsight, I should have reached 2 days prior to the race day. This would have reduced exhaustion from the travel, as I was traveling from Bangalore. I skipped going to the expo and asked my team to get my bib.
Race Day
We were staying close to the venue and had booked a cab, thus there were no surprises of cab cancellation in the morning. I woke up at 2 am, got ready, did some mobility workout, and had black coffee, before reaching the start point for the race.
I shared the cab with 2 of my team members (they both BQ'ed) and reached JNL stadium by 3:30 am. We had enough time to keep our bags, warm up, go for multiple loo breaks and socialize with fellow runners from across India.
Catching up, laughing a bit, and meeting runners made me a bit relaxed. As a team, we shared our last-minute notes on how and what should be the pace. Cheered each other and promised a strong finish.
My strategy for the race was decided after talking to Aravind, he mentioned the 10 miles, 10 miles, and 10km rule. This helps to keep things simple.
First 16kms : Keep it calm (avg pace ~5:28)
I had decided to keep my average pace around 5:40/km, however, I did start a bit faster than expected as I was wearing new shoes and a carbon plate was doing its wonders, adding to this I was well rested (thanks to the previous night's sound sleep).
The plan was to take a gel every 7th kilometer and sip electrolytes every 2nd kilometer. This was my 3rd marathon, I did have a cramping experience in my 2nd marathon due to a lack of electrolytes and thus I followed the plan of hydration to the T. I was carrying 2 200ml bottles with me as it would help me reduce hydration breaks.
The first 10kms were in the dark or sparing street light on the way, we had to be careful of water spillage and a few potholes.
There was a lot of energy around Lodhi Garden with music, cheering and general banter amongst runners. As the race had just started, energy was high. I kept reminding myself to go easy.
As soon as we took a left from India gate towards the Kartavyapath Road, the street lights on both sides were lovely, it made the place look grand and magnificent. There was some extra energy and I could feel the pace improving. Soon on the other side, I saw Sameer (he was pacing), he gave me a shout-out. After the "U" turn on the 13th km on the way back we could see India gate, the music got louder, and so did the cheering from the spectators and runners. I was running within my pace and decided not to push. I met one of my fellow runners who asked me to join the pace, but I stuck to my pace. Took a right from India gate and this completed my 16th km.
Second 16 km: You are running your own race (avg pace ~5:31)
I was heading back towards the stadium, and I was right on my plan and was not pushing, I was happy with my paces, however, I was worried "what if I got cramps like the last marathon". Thus I started taking a gel every 5kms and my electrolyte intake was also a bit higher.
I smiled and waved to my fellow runners, a few of them cheered and encouraged me, and made eye contact and I wanted each one of them to do well. We were running towards the Start point. As the course is a loop, marathoners has to run 2 loops of the same route. I crossed the first loop at ~1:55:00 and it was well within my target.
On reaching Lodhi garden in the 2nd loop, the half marathoners started crossing the marathoner and this also added to the energy. Lot of my team members crossed me like a bullet train and encouraged me and there was a split moment when I wanted to join them. I reminded myself that I was running my own race and maintained the pace.
By now the route was by heart to me. Around the 28th km, I started getting cramps and thus I needed those gels at 5km, by the 30th km I had finished all the 5 gels.
On the way around the 31st km, my electrolytes were over and I saw Ash Nath at one of the hydration stops (he was pacing), I asked him to get electrolytes for me if possible and he did. I think I had a lot of luck on the course.
Next, I crossed Nakul Butta and asked if he had gels, to my surprise he was well equipped with nutrition and shared 2 gels. He was there cheering his team and did a fantastic job of it. RunMechanics and AllInRunning have been collaborating for a while now, I met Nakul in person on the race course and I can't thank him enough for the help.
Last 10 km: You came so far and have some more to go (avg pace ~5:33)
I kept reminding myself about all the training put into this race, maintaining calm & cruising through the route. The cramps were getting worse, but I was not ready to walk. I did cross a few runners who were walking/running for the last few kilometers.
During the last 5 kilometers, I started overtaking runners who had crossed me around the 20th km and this gave me the confidence that maintaining my pace was a good decision.
The last 2 km were the toughest, my pace was slowing down. But the crowd support was excellent throughout. I took the last left turn towards the finish line, and I could see the mat. It took every molecule of strength in my body to cross the finish line.
Post Race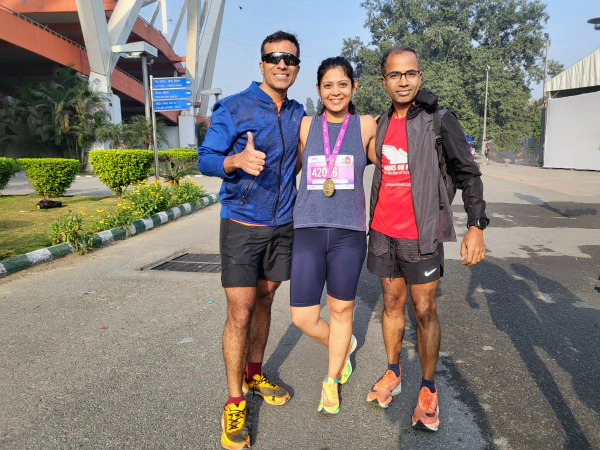 I stopped my watch and saw the timing, and there were tears rolling. I could not believe the number on my watch. The pain of crossing the finish line was real and it went away the moment I met my team. We all bagged our PBs, cheered each other, and took zillions of pictures.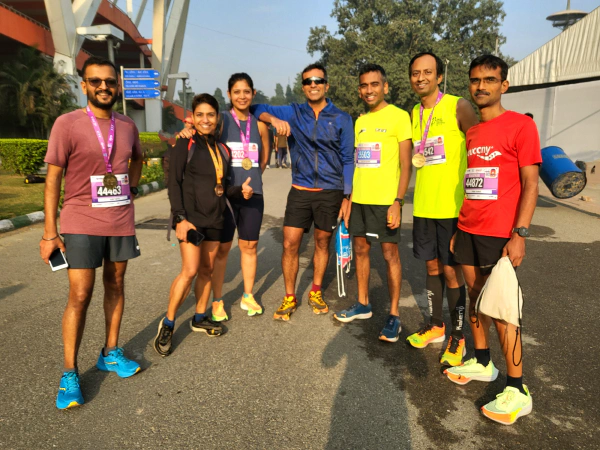 Now sitting in my room writing the race report, there are a lot of thoughts coming to my mind. The first one, my PB could not have been possible without the constant encouragement and support of my family & team. Practice becomes fun when we share our experience with fellow runners. Satish, helped me create my marathon plan and fine-tune my paces, apart from him my team members from Geeksonfeet, #TeamMilesAhead, and #DomlurDilrubas were always there to support and cheer every milestone achieved.
I'm still sore from the race, time to reboot for the upcoming season.
---

Aditi Pandya is a life long athlete. She was born to run and play sports. Aditi works with an AI Engineering company and co-founder of geeksonfeet.com. Aditi is first runners up at Vadodara Half Marathon 2023 & 60th National Roller Skating Championship.