The Ooty Ultra is a challenging ultra-marathon event held annually in the picturesque hills of Ooty, Tamil Nadu, India. The event has gained widespread popularity in recent years, with the sixth edition just concluded. Coach Kay, the organizer of the Ultra has launched the #UltraMalaivasi campaign to promote awareness of Ultrarunning in hills.
Date: 02 April 2023
Start time: 6 AM
Distance: 60 km
Start point: Ooty
Net Elevation: 1947m Ascent , 1779m Descent
Goals:
Goal: 7:30 - 8 hrs
Achieved : 7:18:03
Training
The big draw of the Ooty Ultra 2023 for me, apart from the scenic setting of a hill station, was primarily as a "mini-Comrades-simulation run". Am a novice in Ultra running, having done only one 50K at the Bangalore Ultra many years ago. When I signed up for Comrades 2023, a friend told me about the Ooty Ultra, which apparently was conceived as a preparatory event for Comrades runners (in fact, the Ooty registration form specifically asks if you are going to run Comrades). Ooty is entirely a road ultra, just like Comrades, so serves as an ideal prep-event.
Since this was not a goal race, I did not have a specific training plan tailored for the Ooty Ultra. The main difference from my previous marathon training cycles was to increase weekly mileage, with a drop in training intensity (mostly easy runs, no intervals, a tempo effort once in 2 weeks, strides a couple of times a week). I tried to keep to a routine of 80-90 kms weekly mileage in the weeks leading up to the race.
My longest run during this period was at TMM in Jan, where I paced a friend for a sub-5 hr marathon and used it as a time-on-feet training run. Rather than focus on a single, mega-long run, my approach was to get in one "50-60 km weekend every month**" ** from Jan-March. e.g. 35K on Saturday + 12K & 8K on Sunday.
Here, I would like to stress that all of us adapt differently to training. I tend to take longer for recovery, especially as I have got older (53 yrs). So I've found it better to break up the distance into 3 runs over a weekend, as compared to one ultra-long run + a short recovery effort. I tapered a bit in the last week leading up to Ooty, dropping mileage by about 25-30%.
On a related note, here is what Camille Herron (premier Ultra-runner with a slew of WRs), says about the LR : Camille Herron's Advice: Skip the Long Run - Outside Online (Tl;dr : She never does a LR over 22 miles(35km) or back-to-back LRs; believes in spreading the load over multiple sessions rather than a singular LR, better for the bones/recovery).
Do what works best for you, we are all an experiment of one.
Taper & Pre-Race:
Traveled to Ooty by road from Bangalore with 3 other friends: Harish (60K), Raji (30K), and Prasad (support). While I usually never get car-sick, made the mistake of sitting in an odd position in the 3rd row of the vehicle we had hired. By the time we got to Ooty, I had a bad headache and lost my appetite. So all my carb-loading plans went for a toss, could only have lime juice for lunch. Luckily, got better by evening after some rest,
Tip: If you have a long drive into Ooty & can manage the time off, will be good to reach by Friday evening, so that you have an additional day to handle any en-route travel hiccups.
As we were cresting up the numerous hairpin bends towards our hotel, a fairly heavy downpour greeted us. Lasted more than an hour and the temperature dipped sharply. This led to discussions on planning for the possibility of rain during the race. As it turned out, the rain stayed away all through Sunday, thankfully.
We stayed at Hotel Darshan - a decent, functional place. The main USP was the location - a 5 min walk from the race start point. An added bonus was that the rooms also have a nice view of the lake.
A huge plus of an Ultra is that one doesn't have to navigate massive crowds at the expo (looking at you, TMM!). Bib pickup got done very quickly. Didn't hang around, took a couple of pics, and headed back to the hotel to rest.
As per Harish's advice, consumed a Maurten320 drink mix at ~ 6 PM (the recommendation is to have this 12 hours before the race). I was having Maurten for the 1st time ever, and also intend to use it for Comrades, so this was a good opportunity to try it out.
Dinner was a simple rice/dal/sabzi meal. Laid out race attire and was off to bed by 9 PM.
Race Day - Before Start
Race day dawned warmer than the previous day, but was still cool morning. Got a solid 6.5 hrs of sleep - maybe race-day nerves weren't that much of a factor, since this wasn't a goal race.
Followed my nutrition routine of UCAN Energy drink mix, 45 mins pre-race. I have been using this for a couple of years now for all LRs/races > 2 hours. The UCAN slow-release carbs formula works well for me. Had a banana + 1 gel 10-15 mins before the start. Carried 6 gels in my waist-pouch, plus 2 more in my shorts - a combination of Unived, Fast&Up, UCAN & Maurten gels.
I have above average metabolism + my tolerance for gels is also very high. For my last race-effort marathon in Berlin, I had 8 gels (every 30-35 mins). Of course, marathon effort intensity is significantly higher & hence has a faster glycogen depletion rate, whereas an Ultra is more of an endurance test at a lower intensity, with relatively more fat burn. For Ooty, my plan was to have a gel every hour and use the aid stations for any other nutrition.
Race Day
About 150 runners (no corrals) set off when the gun sounded at 6 AM, signaling the start of the 90 & 60K distances. With my lack of experience running such a route, I really did not know what to expect. My broad goal was to finish somewhere between 7:30-8 hours, targeted a halfway (30K) time of 3:30-3:45. Given the elevation profile (see pic below), I mentally broke up the race into THREE segments, each having a long climb. The idea was to be conservative till about 40-45 Km, and have enough gas in the tank to tackle the steep ascent of the last segment. The first climb up Doddabetta peak and then down went off smoothly. I was doing better than my estimated target time after ⅓ of the race distance. Took confidence from having completed the highest elevation point of the race (2600m / 8500 feet), felt a nice rhythm.
The 2nd segment led us through some magnificent vistas of tea gardens, sorely wished I had my camera to capture the stunning landscape. The ascent part of this section was very tough- adopted a run+power walk strategy through that entire stretch. Met Prasad at the Tea Park checkpoint, which was roughly halfway (29 Km, as per my Garmin) - elapsed time at this juncture was ~3:20, slightly faster than the target. Fueled with UCAN again & stocked up a couple of more gels. (Literal) hat-tip to Prasad for the presence of mind to remind me to wear my cap here, which I almost forgot - was a life-saver for the latter half.
Caught up with Harish and we hit the descent leading up to the last ⅓ of the race, together. This is the point where my lack of elevation training & inexperience came back to bite me. I could feel my quads getting completely shredded on this downhill section and knew that this will impact my last 10K. While I maintained a solid average pace from 30-50K, a voice in my head kept reminding me about the climb that was to come. Hit 50K in 5:45. Told myself that even a 10-11 mins avg pace for the last 10K would give me a sub-7:30 finish, which was my A-goal for this race. And boy, that last climb did hang me out to dry! I was tired, the sun was out.. had no energy at all to attempt running up this section. Used every aid station to the fullest - oranges, Coke, pouring water over my head & mostly power-walked my way for the last 6-7 kms . Only when I saw the familiar Tea Park sign again, summoned every ounce of energy and sprinted up the final few hundred metres.
Official 60K Finish time: 7:18:03.
Post Race
This race was super important for me as a confidence booster. I was glad that I could get to a decent finish time, has put me in a much more positive state of mind for Comrades.
Some key learnings:
Train for the elevation profile. For Bangaloreans, this means a few runs up & down Nandi is a must. I wasn't gunning for a specific time here. But in retrospect, could have easily cut ~ 5-7 mins with a more cut-throat, brisk approach of stopping at aid stations. Ultra legends like Kilian Jornet often cite this as one of their key strategies to overtake others in a race. Didn't dress correctly for an Ultra - wore a sleeveless t-shirt, and ended up getting sunburnt around the shoulders. Full-sleeve vest for Comrades.
Key Stats
Overall Pace: 7:19 mins/km
Rank: 13
Gender Rank: 13
Overall Experience
Overall, lovely race experience- the community feel of an Ultra, a scenic route, great organisation, and well-placed & stocked aid stations with enthusiastic volunteers.
Special Callouts: The personalized name-engraving on every finisher medal - a super cool gesture by the organisers! Race photos are made available at a price of just 99/-, instead of extorting some insanely high amount, as seen in other race events.
Harish/Prasad/Raji - dhammaal trip, should do this again!
Carrying amazing memories. Thank you, Ooty Ultra2023, hope to be back!
---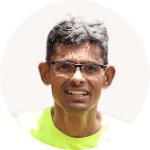 Satish started running in his 40s and has been a serious recreational runner for a decade. He has run many marathons, HMs and other distances and is now looking forward to new challenges like Ooty & Comrades. Satish believes that running has been a truly transformative force in his life & passionately advocates running as a lifetime sport.