Cover photo by Joe CCBY 2.0
Runners are finally getting some "Semblance" of normalcy, (literally and figuratively). One of the oldest and most coveted marathons is back at its usual place on the calendar.
Third Sunday of the month is marked and rehearsed for (including tapering weeks) by a lot of marathoners by now. The apprehension of the modified route, elevation, humidity, has been spoken, internalized and bickered about. Trust me, you hate it, you love it but you never ignore the "Tata Mumbai Marathon".
Tata Mumbai Marathon is back in the physical format after 3 years, and it enters its 18th edition.
This year there is a change in the route, however it retains Mumbai's old world charm; the marathon starts from Chhatrapati Shivaji Maharaj Terminus whereas the Half-Marathon starts from Mahim Dargah Urus Ground, which is right next to the Mahim Church junction. Both races run past Bandra-Worli Sea-link, Mahalaxmi Racecourse, Haji Ali, Mahalakshmi Temple, Peddar Road, Babulnath Temple, Girgaon Chowpatty, Marine Drive, Wankhede Stadium, and eventually end at Azad Maidan.
January weather can be tricky in Mumbai, especially for runners coming from other parts of India. Humidity can make the latter part of the run difficult, but cheers from the crowd will compensate for it. This year, the weather is relatively on the cooler side, and the temperature expected to be a minimum of 18°c and max of 30°c, with 44% humidity; an ideal race day weather by Mumbai standards.
I fall short of words when Mumbai's crowd support comes into play, they are with us, at every stride we take and never let us second guess "why" we are running. The Mumbai spirit is here at play, they are out with hydration, fruits and lots of cheer. The atmosphere in the second half of the race is electric with music and dances starting from Peddar Road and all the way to Marine Drive. Now that you have a fair idea of the Mumbai vibe, let's get going with the route.
Marathon Route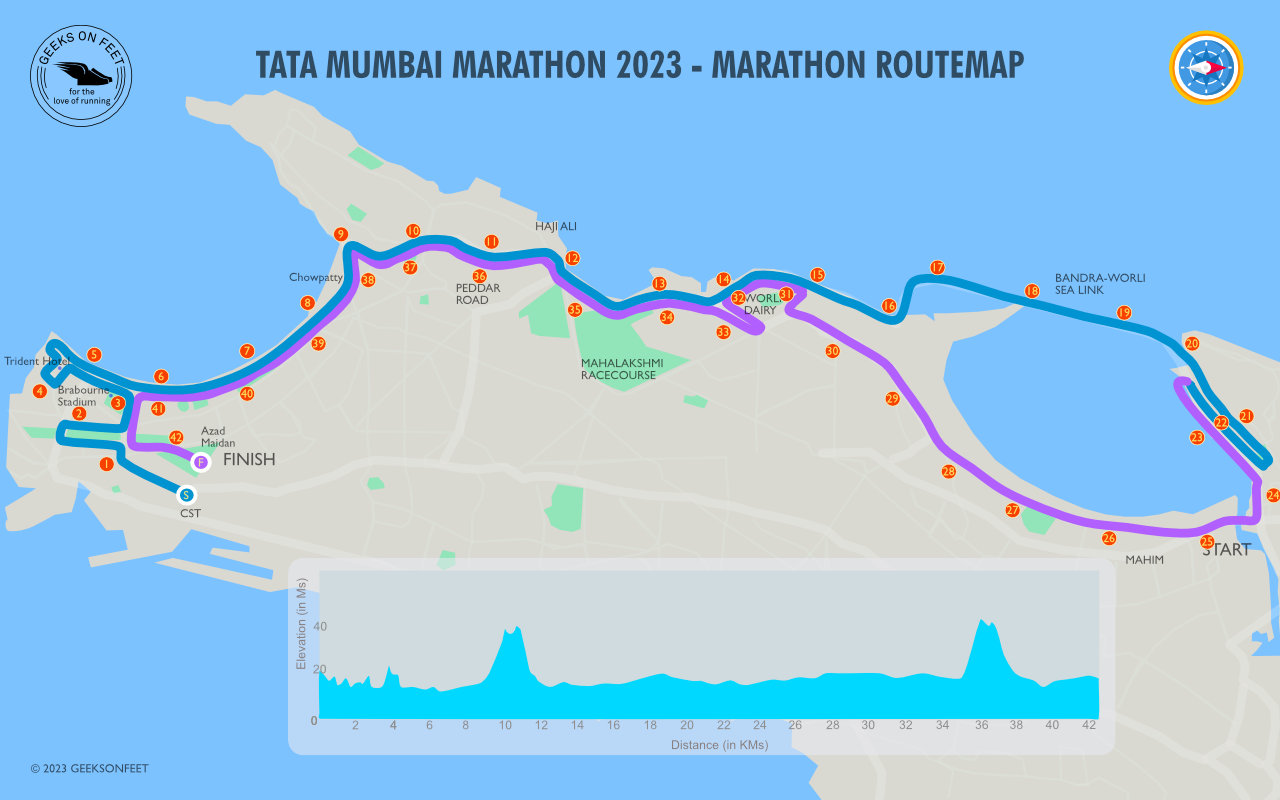 Start Point
This is the most awaited race and for runners, running for the first time you might get overwhelmed with the sheer numbers, but again this is Mumbai, you will find your solitude in the thick of the crowd. Rest assured there is ample space at the holding area of Azad Maidan to warm up. Start point is well equipped with different corrales marked, so no sweat.
#1 CSMT through Girgaon Chowpatty (First 9 kms):
The race starts right outside the iconic Chhatrapati Shivaji Maharaj Terminus. The historic vibe of the city starts right there. Nervousness, heart beats, hands on watch to start, and focus on the run will push the adrenaline high. You start the run through some more iconic landmarks like the Flora Fountain, Hutatma Chowk Memorial, and then you go towards the Oval Maidan, reach Church Gate station, Brabourne Stadium, enter Marine Drive towards the Air India building, enjoy the vastness of the sea, reflect and breathe easy, the race is yet to begin :). Then take a loop at Nariman point and come out at the tip of Nariman Point. This will complete your first 5 kms.
From here continue the usual route, the flat course will extend till 5 kms up to Babulnath Temple. Enjoy the vastness of Marine Drive, also known as the Queen's Necklace. Feel the nip in the air while it lasts. This is also a good time for your first hydration pitstop. On your left will be the Girgaon Chowpatty beach and the newly built view deck.
#2 Peddar Road through Haji Ali (10th - 12th kms): You will turn right for Babulnath Temple in your 10th km towards Peddar Road. The 10th and 11th km have quite a bit of elevation. You will see a glimpse of what the route has to offer, and one thing to keep in mind is you will also come back on the same route and you will experience this elevation again around 36th kilometer. Take it easy, slow down, get some hydration and conserve your energy. The 13th kilometer is downhill towards Haji Ali; you will get the urge to speed up, this totally depends on your practice. For experienced runners go for a better pace all the way till Sea Link, however for first time runners check on your pace, as you have 30 more kilometers coming up.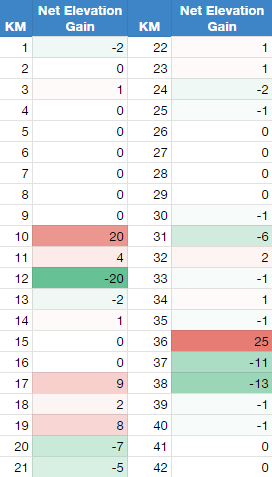 #3 Race Course through Sea Link (13th to 20th kms): The 13th km passes through the race course, leading to the Nehru Planetarium, Worli Dairy (the erstwhile HM start point), the Worli Sea Face, from where you'll enter the Sea Link. You will cross a wave of half marathoners on the right, who would have completed their stretch of Sea Link and would be running their second half of the race. Look out for your friends running the HM race and wave out to them.
You'll feel a gradual elevation once you get into the sea-link. It's a dream run, the real one. The view of the tall cables and the sound of the waves will keep you mesmerized. You will find good hydration here and be careful of the water spillage from the previous runners at the Sea Link. Be prepared for a good camera pose since you'll meet a lot of photographers here.
#4 Bandra Worli Sea Link to Mahim Church (21st to 26th kms ): Once you exit the sea-link, there is an extra loop with a couple of U-turns before you finally head towards the Mahim Church. Most runners will see the day breaking here. You'll be running through the uber cool promenade, overlooking the Mumbai skyline, it is quite poetic on a normal day, when adrenaline is not as high as on race day :).
#5 Mahim Church to Worli Dairy (27th to 34th Km): By now the sun will be up, bring in all your training, mind muscle connection and mental focus to play. This is a beautiful route with tree cover passing through Shivaji Park, Siddhivinayak Temple (say a little prayer to enjoy the rest of the route) all the way till Worli Dairy. You'll reach Worli seaface once again crossing the Century Bazaar and the Podar Hospital. Remember the make-or-break INS Trata loop at the Worli seaface? That's gone for good. :) Instead you'll take a short loop at Worli Naka before reaching the Atria Mall.
#6 Worli Naka to Babulnath Temple (35th to 38th Km ):
By now you are tired and might even think "why" are you doing this to yourself, don't worry the crowd support will help you sail through the 36th km of the famous Peddar Road climb (here GeeksOnFeet is saying a little prayer for each one of you); stop by have some fruits, biscuits and wave back to the crowd. Then it's a downhill at 37th & 38th km, put your best as you are closing towards the finish line.
#7 Chowpatty to finish line (39th to 42nd km): Now is a test of your patience, every inch of your body will misbehave, it will try to trick you in ways you never thought but you know what they say, "Your body will do what your mind says", play it in your favor. This is a flat course and the sun is generously shining. The music bands at Marine Drive will be cheering you, think of all the Long Practice Runs, smile and carry on.
Half Marathon Route
This time the Half-marathon participants will start off from Mahim Dargah ground, and complete their first 10km at Worli dairy, from then on join the same route as the Marathon participants.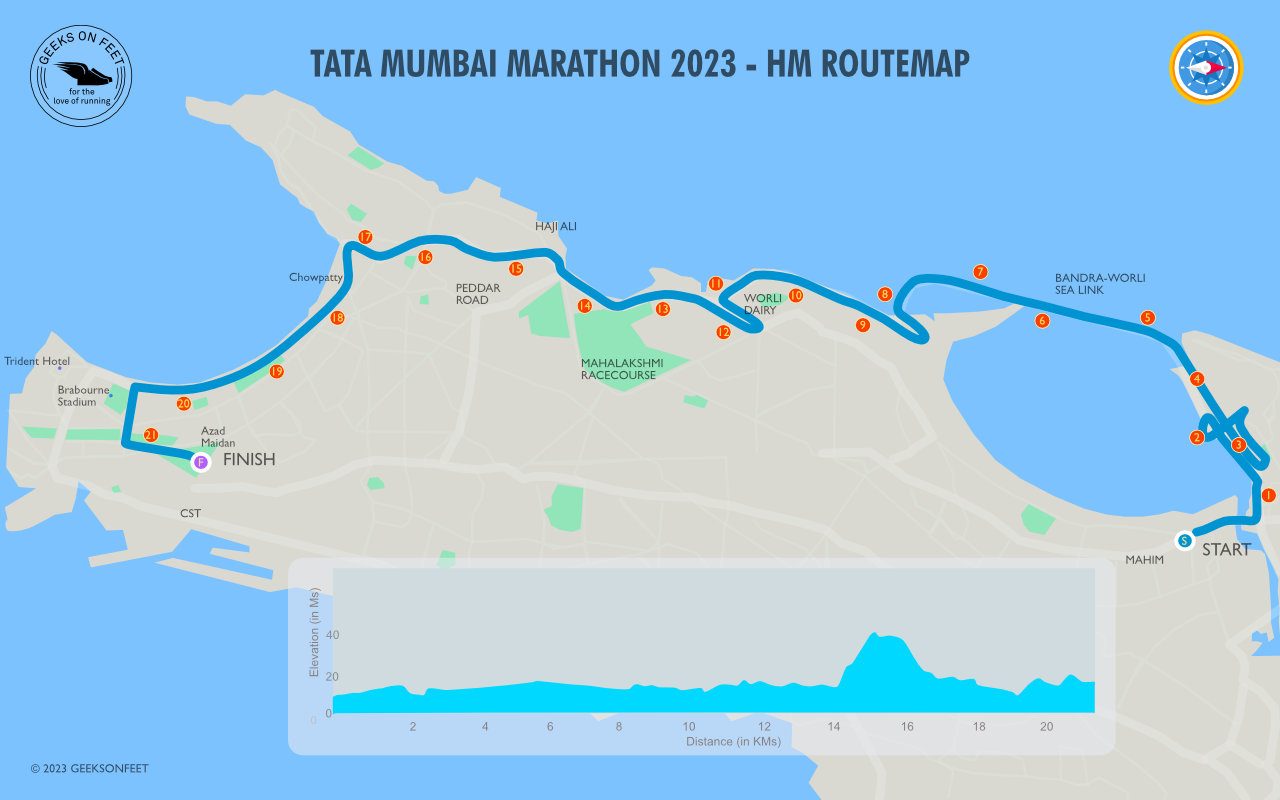 #1 Mahim Dargah to Worli Dairy (First Half)
Half marathoners can paint a picture about the route, only if you can wander your eyes around. This is one of my favorite routes in Mumbai.
You will start from Mahim Dargah towards Mumbai Promenade, which will be on your left after crossing the Mahim Causeway. The sea, fishing boats, and skyscrapers await you. You will take a short loop around Bandra Reclamation Park, and then onto western highway again, and then 'U' turn and back as you head towards the Sea Link toll gate.
Enjoy the cool breeze and vastness of the city while it lasts. You will complete 4 kms by the time you reach the Sea Link. Be careful of the water spillage from the runners who would have crossed this area. Keep yourself hydrated, and stay calm. You will get out of the Sea Link and turn left before taking a "U" at INS Trata towards Worli Dairy.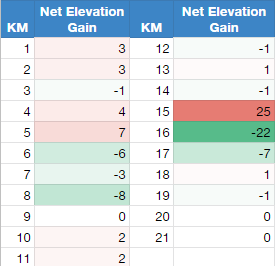 #2 Worli Dairy to Finish line (Second Half)
(This is the same segments #6 and #7 from the marathon route)
Unlike previous editions, where you would have taken right towards Atria Mall, passing through the flyover, you will take left once you exit the Worli seaface road, towards Worli Naka in this edition. The u-turn at Worli Naka will take you to the Atria Mall, from where the traditional route starts towards the finish line. This is also the segment where you'll start seeing waves of marathon runners. Cheer for them and give a shout out to your friends. They need it and it counts. Once you reach Haji Ali, which is 13km onwards is where you'll notice an elevation. Yes, you got it. The Peddar Road elevation. Increase your cadence and shorten your strides, the crowd support will take care of your emotions. It's just a matter of time before we approach the decline towards Kemps Corner. Stay calm and focused. Issuing a caution for water spillage when you run downhill. You take a right, reach Babulnath Temple and immediately left, and yes, Girgaon Chowpatty Marine Drive segment it is. It's a home run to the finish line now. Aim for a strong finish for the last 4 km flat stretch.
Finish at Azad Maidan: Alright, this is the time for the photographers to take your finish line pics, so get ready for it. Sprint through the finish line at Bombay Gymkhana, enter Azad Maidan and make it a good one! Remember, what happens on race day stays there and you move on to the next one.
The finish line is where your emotions will change from why am I doing this to let's do it again. Make sure you check on the community filtered geeksonfeet.com/races to plan out your next races.
---

Aditi Pandya is an avid runner, a writer and a fitness enthusiast. She is second runners up at Airtel Hyderabad Marathon 2019, Vadodara International Marathon 2020 in Women half-marathon open & veteran categories respectively. She blogs on NarrativesByMe.com and can be reached on Insta at narrativesbyme.
---
Contributions from:

Route Analysis and on the ground validation:
Karthik is a business analyst by profession and a long-time volunteer contributor to Wikipedia. Apart from his enthusiasm for running and photography, advancements in mobile & wearables technology are of utmost interest to him. He is co-founder of Mumbai-based Tilaknagar Running Club.
Elevation and route map illustrations:

Aravind is a techie, running geek, and a marathoner. He is a CrossFit Level 1 Trainer. He loves all things technology and technology in running, with special interest in running form analysis.
---