Tata Ultra Marathon was in its 5th edition this year and is now a premier ultra-marathon event in the Indian circuit. The 50-kilometre run is a perfect level for those marathoners who are trying to challenge theme selves. The route has undulating slopes, and has views of picturesque forts and Pawna Lake.
Date: 26 Feb 2023
Start time: 1:30 AM
Start point: Lonavala, Near Pune, Maharashtra, India
Net Elevation: 770 m
Goals:
Goal: Sub 6 hours
Achieved : 05:58:53
Shoe:
Puma Deviate Nitro
Training
Coming fresh off my first full marathon at TMM 2023 clocking sub 4:35, I have put together a 12-week training plan for the Tata Ultra Marathon (TUM 2023) 50 km distance. This is my first Ultramarathon, and the aim is to finish strong and run smart on the tricky hills of Lonavala. I personally determined not to repeat the mistakes of TMM2023 for this run and took the distance head-on.
For TUM 2023, head torches are mandatory at the start line, so I practiced late at night and before dawn 4 weeks before the race. My plan included long runs, interval runs, and tempo runs along with short bursts of strength training. My training structure had 5 days of running, with Mondays for rest, and Sundays for strength training. The running schedule had Tuesdays - Aerobic base run, Wednesdays - Interval run, Thursdays - Tempo run, Fridays - Tired run, and Saturdays - Long run. Having a rest day after Strength training day helped me to recover better. Special mention to my tribe Ambernath Runners Foundation and Deepak for their support during my long runs.
During my training, I peaked with a mileage of 65 kms. My long runs included 6 long runs
22 kms X 2
26 kms X 1
29 kms X 2
42 kms X1
I ran at goal paces for Shorter distances of 8-10 kms and once for 21 kms to get used to the race pace. During one of the long runs, I simulated the race day by getting into bed at 4pm and then start the run at 10 pm, helped me to get used to the sleep cycle. I also consumed electrolytes, gels, coke and slated oranges to simulate the race day routine.
Most of my long runs were in Brooks Ghost 14 and Nike Zoom fly 3, Interval and tempo runs in Puma Deviate Nitro, which was also my race day shoe.
For recovery during training, I increased my intake of protein rich foods like Soya and Paneer and made sure to have electrolytes replenished every post race session.
During the beginning of the season , I ran 5km and 10 km race events, which helped me to estimate my aerobic pace at 6:30 mins/km. As a run up to the marathon I participated in TSK 25 km run @ 5:18 mins/km and TMM full marathon @ 6:28 mins/km .
Taper & Pre-Race:
I followed a 2 week taper, where I focussed only on Aerobic base runs and long runs of maximum 25 kms distance totalling to 40 kms mileage in a week. I also added one mobility day to the schedule for loosening up the soreness in muscles from weeks of hard training.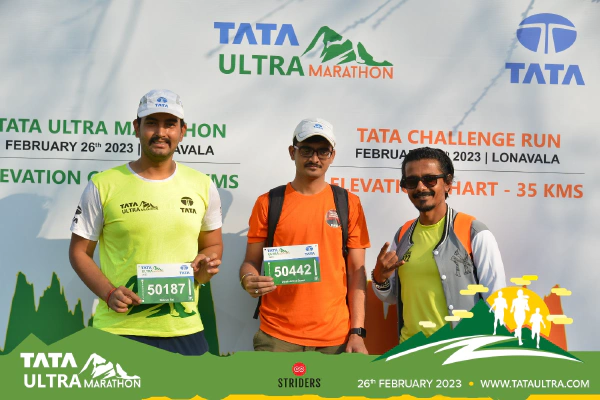 A week before the race, I started to take water mixed with salt+sugar twice a day. I travelled to Lonavala along with my 3 friends on Saturday from suburban Mumbai as I live nearby using local trains and city buses. I didn't spend much time on foot, as the bib collection point which is also the starting point of the race are at walking distance from my hotel. I ate my last meal (Kichdi) by 5 pm and wake up 10pm to get ready for the race.
Race Day
As a strategy, I asked one of my mates to accompany me till the first 12 kms for the harsh climb and then we would follow our natural paces as it came. Reading up to the ultra-marathons, I shared my strategy to walk up the hill and push on downhills as they require every bit of patience in the race.
We followed "+1, 0 and -1 mins" rule. That means, run on up-hill sections at 1 mins slower than my target pace, stick to target pace on flats, and faster by 1 min on downhills.
Here is an illustration:
| | | |
| --- | --- | --- |
| Elevation | Effort | Pace |
| Up hill | Conversational | 8:00 mins/km |
| Flat | Slightly difficult | 7:00 mins/km |
| Downhill | Broken words | 6:00 mins/km |
FIRST 18 kms : Patience Is a Virtue (Average pace ~7:13 mins/km)
I had made up my mind to keep my average pace around 7 mins/km for the initial climb up-to the Lion's point as this was supposed to be the most difficult part of the run. I had this strategy to stick to my running friend Deepak who's decided that we will brisk walk the steep up-hills and take tangents wherever possible.
The plan was to take gel every 8th kilo meter and salt water intermittently every 3.5 kms . Learning from TMM 2023 about cramping of muscles due to insufficient electrolytes and salt came in handy.
The first 5 kms to INS Shivaji was almost flat and I had to control the influence of energy in the atmosphere at the start line to keep with the planned pace. As I started climbing Lion's point, I've dropped pace further from 6:30 mins/km to 7 mins/km. Deepak's constant reminders of me going overboard with the pace helped me to keep the cool till 10th km. Huge shout out to all the volunteers at multiple hydration points who were clapping at 3 am in the dark.
Halfway point (till 25 km) : Is the glass half empty or half full? (Average pace ~7:09 mins/km)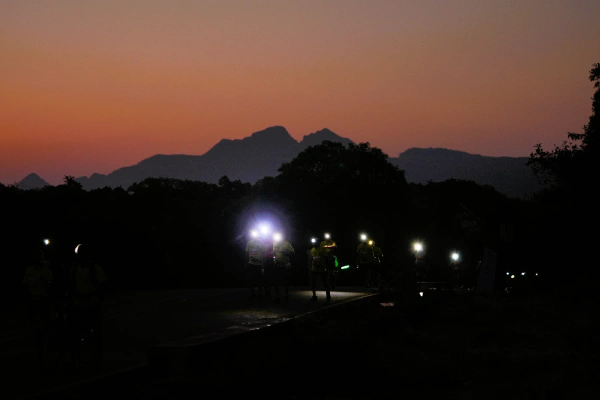 If I thought about the initial 18 kms where I found my rhythm for the race, I was mistaken for a great deal. There were many places where it was pitch dark and a head torch came in to help a great deal.I shifted my focus from pace to cadence and would shorten my strides occasionally to match the elevation.
I saw the leading pack on the returning route and just bewildered with the effort they were putting in. From the 21st Km marker to halfway point the route was very scratchy and we had to be extra cautious while running in the dark.
Split till 32.5 kms : A job half done is good as none (Avg pace: 7:17 mins/km)
Seeing the runners coming in the opposite direction and cheering for me, gave me a sense of accomplishment. No cramps at this point was a big plus. I saw and cheered Deepak at 27th km, and he was in his zone chugging along with his comfortable pace.
I've reached the 30 km aid station in 3 hr 54 mins. I met Naveen bhai there, and he was icing his legs, and struggling with cramps. A few words of encouragement to him, and I moved to next stage. While I was following a gel every 8th km and diligent with pacing & hydration, but self-doubts about hitting the wall keep lingering on my mind. I remembered Kipchoge's act of smiling through the pain cave and resorted to cheering other runners who were walking on flats to divert my mind.
The finish line: Bring it home (Avg Pace ~7:11 mins/km)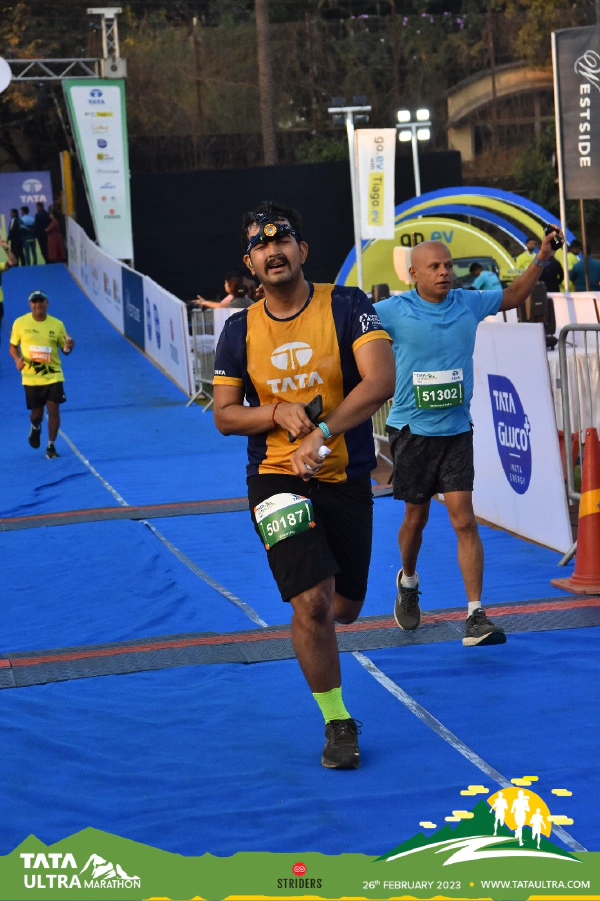 I kept reminding myself about how I ran conservatively the first half of the race on the up-hills and use the downhills to my advantage and post a negative split. At 4 kilo meters to the finish line(INS Shivaji), a quick look at my Garmin reminded me that 24 mins left for the sub 6 hr finish.
Since I had no cramps, took the leap of faith to run at 5:30 pace and started overtaking runners one by one. At the 48th km mark, there was no water at the station, thankfully a fellow runner came to rescue.
Finally, I crossed the finish line at a speed that felt like sprinting at 5:00 min/km and my Garmin read 5:58:xx; A feeling that I cherish for the life.
Post Race
Post crossing the finish line, the volunteers were handing towels and water to the participants. For the first 500 finishers, there were t-shirts up for grabs. I met my fellow runner Mr. Anil Fernandes at the finish line, who was stretching and helped me to stretch.
Thanks to Team Geeks on Feet for the newsletter, which featured a race report recently, and nudged me into writing and recollecting all my memories. I like to thank my training team Ambernath Runners Foundation for accompanying me on long runs and Jamshedpur Runners for instilling the running routine into me.
Key Stats
Overall Pace: 7:11 mins/km
Heart Rate Zones: Zone 2: 30%, Zone 3: 63%, Zone 4: 7%
Rank: 406/965
Age Category Rank: 233/506
Gender Rank: 376/883
What's next?
My next goal is to finish a sub 4 hour marathon at TMM 2024, and complete the Procam Slam. For now, I'm participating in local races as a pacer and growing the running community around Ambernath, where I currently live.
---

Shivam is an amateur runner working with Tata Steel, runs with Ambernath Runners Foundation, and is popularly known as the Hype person.