The TCS 10KM is a challenging race on a tricky course. Let us look at the weather first.
Weather Forecast for the race day
It happens in mid-May which means there is always the possibility of rain. Particularly overnight showers the evening before the race. There is a high possibility of rain at 2 am. No rain expected during the race though. The humidity is expected to be very high touching 90-95% during the race. Temperature during the race expected to be between 21-22 degrees. Wind direction is from south west, with an average speed of 10 km/h, and gusts reaching 24 km/h. Watch out for the wind on Cubbon Road and the road in front of Vidhana Soudha leading into Cubbon park.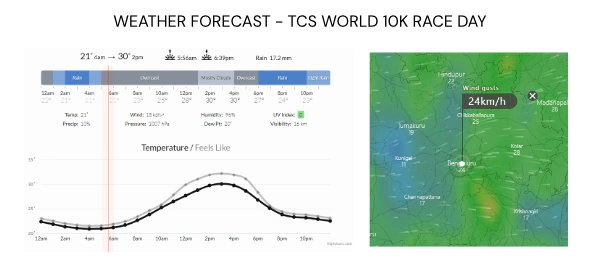 Route Preview
Now let us focus on the course. There are two facets to this – the number of (U) turns that you must navigate and the undulating nature of the course. The inclines are not sharp but are of a rolling nature. What makes this course tricky is the fact that these inclines come at very strategic points in the race.
Having set the context let us do a deep dive into the course now as the devil 😈 is always in the details.
KM-1: You are all charged up and on fresh legs but be careful not to waste too much energy in this section. You come out of the stadium through a constricted gateway and straightaway hit a steady incline on Kasturba road. Use this section to settle those nerves and find your rhythm. There will be some crowd support in this stretch so take it in and settle down.
KM-2: This is a rolling section where you have a series of small up-hills followed by a small and sharp downhill. Coast along this section as by now you would have found your rhythm.
KM-3: This is a section of the race where you could surge if you paced yourself diligently in the first 2kms. doing well in this section also means you are ready for the next few kms which are undulating. You will hit two turns in this section one onto Dickenson road and the other that brings you onto Cubbon road.
KM-4: This is a boring section of the race, not many folks on the road to cheer, a gentle uphill, and even a headwind. Just put your head down and get done with this part of the race.
KM-5: Halfway mark! The initial part is undulating but you will encounter a downhill and a U-turn on Anil Kumble circle in this section. So, remind yourself about the downhill part as you struggle initially.
KM-6: This is the most eventful part of the entire route. You will see a short uphill after Anil Kumble circle, then an undulating section on Cubbon road, a steady downhill (and on your left will be the Chinnaswami Stadium), and finally a U-turn on Queens road. As you coast on the downhill mentally prepare yourself for the next KM 😉.
KM-7: This is the most challenging section of this race. It is one steady uphill all the way until GPO and slightly beyond. By now fatigue would have started raising its ugly head and the body is asking questions of you. Distract yourself in this section – count, hang on to a pack of runners, focus on your breathing, and say a mantra. OR remind yourself that the next 1.5 km is all down-hill running (this last piece of advice can be dangerous 😊)
KM-8: Downhill section, YAAY! Pat yourself on the back before you attack this section, the toughest part of this race is over. The sights in this section are a visual treat i.e., the High court on your left and the Vidhana Soudha on your right before you take that left turn into Cubbon park.
Now is the time to speed up! But DO NOT get carried away. How well you pace yourself in this section decides the eventual outcome of the race. PUSH but don't burn those quads out. This section will end with a U-turn inside Cubbon Park. This detour was not part of the route in previous editions and has been added to make up for the stretch that we used to do on Kamaraj road which is now closed due to metro construction.
KM-9: The air quality within Cubbon is much better so B R E A T H E and stay calm. Yes, there are two gates and a U-turn that need to be navigated, hell yes, there is that small uphill that needs to be tackled and YES, we get it that you are in "where is the damn finish line" mode by now. Remember, everyone is struggling around you. Derive solace from that fact and try to stay with a pack of runners of a similar pace. Share your misery, that's what teamwork is all about😉
KM-10: All systems are a GO! The moment you cross the Central Library on your left it's the home stretch. Just put one foot in front of another and keep going! Think of all the intervals, the short tempos, the time trial runs that you have done in training. All that blood, sweat, and toil boils down to here and now! When you take that final left turn back on to Kasturba road, smile as the photographers and the finish line BOTH are waiting for YOU!
---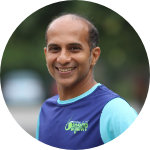 Kartik Iyer is a conversationalist, running geek, techie, marathoner, miles to go CrossFit junkie and bathroom Carnatic vocalist. He loves striking random conversations with people just about anywhere, music and anyting to do with tech and fitness, in no particular order. He can be reached at @kartikiyer2007 on Insta and on Strava
---
Plesae read our related story on TCS World 10K by clicking here.