After about 3 years, Tokyo Marathon finally opened to its full capacity. The 16th edition of the Tokyo Marathon had 38,000 runners participating in it.
Date: 5 March 2023
Start time: 9:10 AM
Start point: Tokyo Metropolitan Building, Japan
Goals:
Goal: 3:35-3:40
Achieved : 3:38:10
Shoe:
Nike AlphaFly Next% 2
Training
My training for the Tokyo marathon was approximately 18 weeks. Prior to the Tokyo marathon I ran the Marine Corps marathon in October, 2022. The previous training cycle helped in building up a good foundation. In addition to that I was racing Half marathons which were my Tempo runs. I was following a low mileage plan where my peak was 45 kms over a week (three weeks before the race), and my average was 32 kms per week over the last 8 weeks or so leading up to the race. I was doing core and leg strength training 2-3 times a week and I mixed hiking /hill walking to add variety. During taper, I did a 16k run followed by a couple of 5Ks in the week leading up to the race.
Taper & Pre-Race:
Given the 14 hour time difference between New Jersey and Tokyo, I decided to go 6 days in advance to get over the jet lag. I took Melatonin and went around Tokyo, Kyoto and Osaka to get used to the local time. I was nervous about the sleep pattern but it worked out fine. The most nerve wracking thing was actually the four health checks that one had to go through before one could get to the starting line: health check upon arrival in Narita Airport, daily health check based on a mobile app., two COVID tests and that too two days before the race day and a temperature check before entering the race area on the morning of the race. I was conscious given the crowded areas we were in whether it was the expo or the subways in Tokyo, despite following the mask mandate.
The expo was a busy place and we went there on a Friday. The expo was a mixed bag as all the international runners had to wait longer in the queue whereas the locals had it easy. The souvenirs were limited and we felt that Asics, Abbott and Tokyo Marathon all missed an opportunity to sell their wares to us. For everything there was a queue but they all moved at a quick pace. I got the Abbott Guiness book of world record medal prior to the race assuming that the highest number of six star finishers will be seen on the race day. The Guinness team confirmed that as a matter of fact post the race.
Race Day
The starting line was in front of the Tokyo metropolitan building in Shinjuku, Tokyo. The start was 9.10 am and it was easy to get to it from Hilton Tokyo which was a stone's throw away. We had to get into the race area by 8.55 or miss our corral and most of us did get there on time. Myself and most others were just excited to be running Tokyo as we had all waited for a long time. The weather was perfect and the setting was ideal for a marathon. Despite being in Corral D, I crossed the start line at 9.16. The start was wide and helped us all get through it relatively quickly.
I kept a steady pace of 5 mins/km for close to 30k before I felt the need to slow down to avoid cramping. My Intention was to hold on to the pace as long as I could. I had trained with Pocari Sweat, which was the official electrolyte provider and sponsor for the event. I carried 6 gels to make sure that I was fueling along the way. The course was relatively flat but had very gentle undulations between 20-30 kms. The race was well organized and the drink stations were numbered and on both sides of the road so that we didn't crowd up at one desk. For the most part that seemed to be working, but noticed that in the latter half of the race, all rules were broken.
Post Race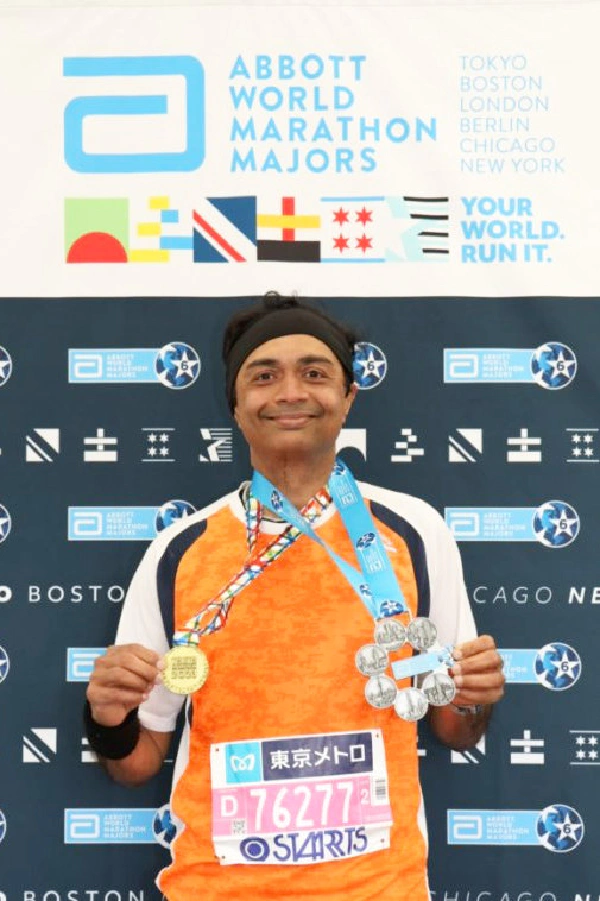 The finish line experience was truly memorable and particularly for those who were finishing their quest for their respective Six Star Abbott medal. The finish was at Tokyo station and we got the Tokyo marathon finisher medal followed by the Abbott medal. The pre-race and post-race set up was nothing short of a festival where everyone was celebrating and sharing their personal stories. People had come from all over the world and made new friends as they ran through Tokyo. It's been a week and a bit and I can't get over the experience which I am sure will last a lifetime.
Key Stats
Overall Pace: 8:20 mins/mile or 5:10 mins/km
Heart Rate Zones: Zone 3-Zone 4; 155 BPM average
Rank: 7832/36536
Age Category Rank: 1607/6536
Gender Rank: 6778/27927
What's next?
The simple equation between training and race performance continues to hold true: what you put in it is what you get. Strength training, good diet and quality running counted the most. There are always opportunities to improve and I'll be trying a few things to delay or avoid the onset of cramps. Next set of goals are to qualify as a 'marathon maniac' by doing a double in two weeks and to make it into the 100 Half marathon club of US. I am currently at 94 Half marathons or so.
---

Sreeram is a long time marathoner based in New Jersey. With the recent Tokyo marathon finish, he has now ran in all the World Marathon Majors earning the six-star honour.