Whether a newbie or a seasoned runner, tracking your progress is the key to improving your running. Fitness tracking devices and tracking apps, not only help in measuring progress but offer numerous other features to help make running fun. Runners love this, and it is not very surprising that the global market size of fitness tracker devices is estimated to be about $1.5B, while fitness tracking apps are at $6.5B USD.
Per the Ipsos survey conducted in 2021, Running is the second most popular fitness activity. So it is natural that among the fitness trackers (both apps & devices), Running specific ones are the most popular. There are more than 30 apps with 1million+ downloads on Google Play Store. Apple's App Store might even have more. As a runner, it can be overwhelming with the choice available. In this post, we have compared all the popular Running tracking apps, in terms of features, so that our readers can easily choose.
Run tracking apps serve the runners on multiple levels:
Tracking our daily runs in terms of - pace, distance, speed, etc
Plan and create workouts with time and distance goals or both
Deriving insights from the historical data, to check progress
Being part of the community of runners and the social cred
Here is the landscape of tracking apps that we've compared in this study.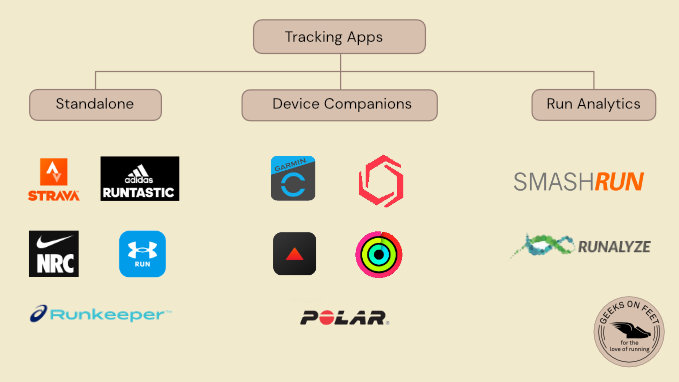 Standalone Aps:
These apps work on smartphones and don't need any wearable devices to record a run activity. These apps typically use the GPS capability of smartphones or smart watches (Apple Watch/Android Wear), and help track various metrics of running eg: pace, speed, cadence, and identify routes (GPS tracking) elevation gain, cadence, etc. These apps are often compatible with fitness wearables such as those from Garmin, Coros, etc., Some of the other tracking apps are - Adidas Runtastic, Asics RunKeeper, UA MapMyRun, and Nike Run Club. These also serve as a social network for runners with features like the ability to comment or like an activity, find runners in a vicinity, etc.,
What is interesting about these apps is that, over the years there was significant consolidation in this space, and almost all the apps are now owned by major running apparel and shoe brands such as Nike, Adidas, Asics, and UnderArmour.
Watch Companion Apps:
These apps are companions to running watches/wearables. Given they interact closely with the hardware, they offer more insights than the standalone apps. A few examples are VO2max, resting heart rate, HRV, sleep patterns, stride length, and more.
The running/Fitness watch market is very competitive, and brands in this space are constantly adding features to bring differentiation by innovating with software-based features. A good example is how Garmin watches seamlessly integrate training plans between the app, and the watch. It is fairly easy to set up an interval run on the Garmin connect app and execute it on the watch.
Analytics Apps:
These are not really smartphones in the sense of apps. But are apps that can be used on phones as well as desktops. These apps integrate with running watches and other apps to get the data, crunch the data and offer very detailed insights. These are the go-to apps for all the data geeks among runners.
Excluded App Categories:
There are a few other categories of apps that runners can use, but we haven't included them in this study, and one such category is focused on training such as TrainingPeaks. These apps offer training plans from coaches and offer features for runners to interact with coaches, and make the training effective. There are a few other apps that are targeted at beginners and solely focus on gamification, challenges, and goal tracking. The most famous one is Zombies, Run!. We haven't included this category of apps in this study.
Feature Comparison
Here is a detailed comparison of the apps for reference. If you find this useful, please share it with your friends.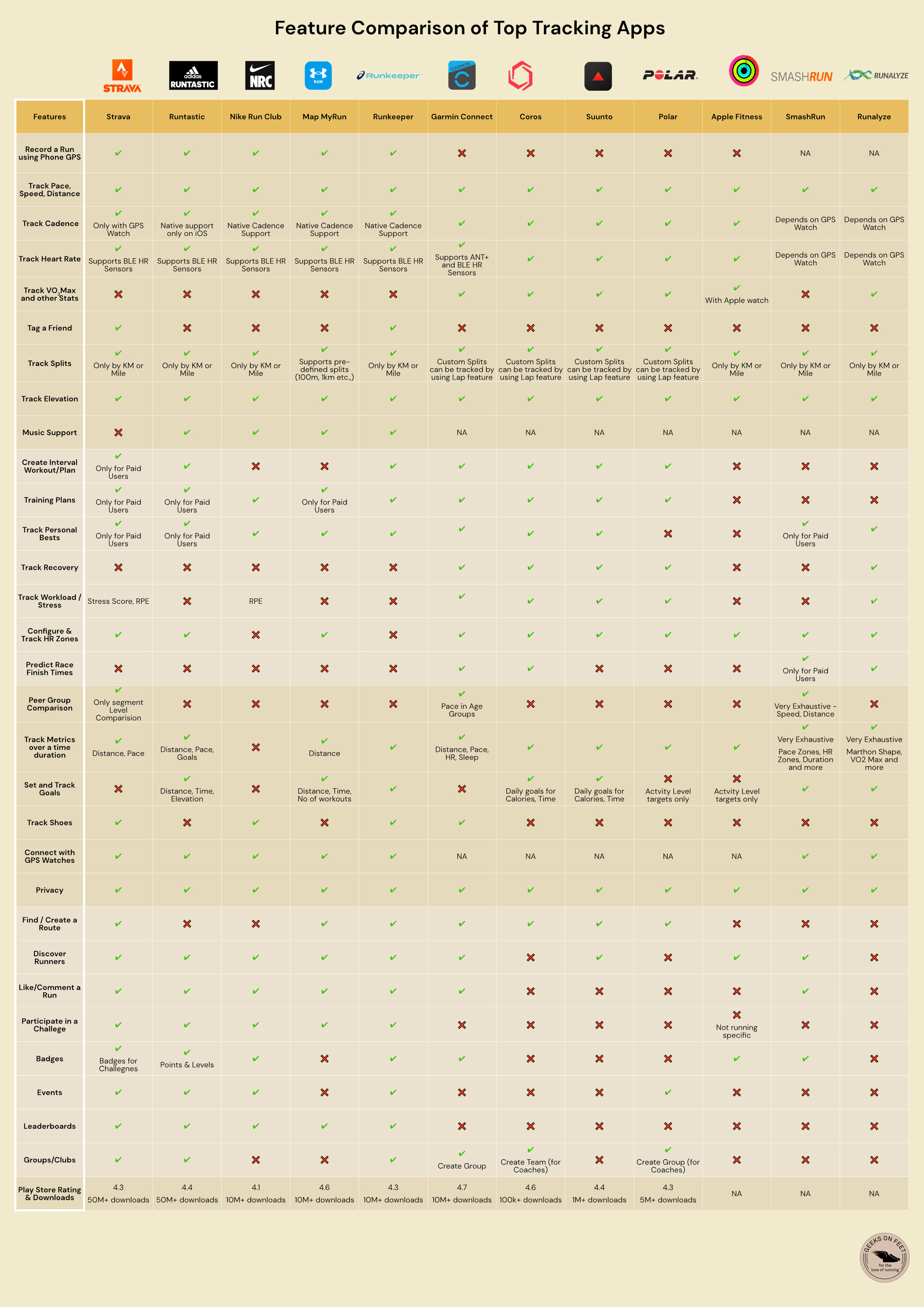 For readability, you can click to zoom the graphic. You can also download the high-resolution PDF version of the graphic here.
---
Compiled by Team GeeksOnFeet for the love of running
---
If you are a running enthusiast, follow us on our social media channels @geeksonfeet on Twitter, and GeeksOnFeet on Instagram and Facebook for updates.