Date: 5 January 2020

Strava Activity
Training for the race:
I had trained for this race for 2 months and added around 400 kms. My training plan included a mix of intervals, tempos and long runs complemented with 2 – 3 days of weight training. Tempo runs helped me immensely for preparing for the race, so did the strength training. Throughout the training focus was on improving my cadence and running form. I included marathon pace during long runs however not very diligently or frequently, in retrospect I suggest to simulate a few runs before the race.
Before the race:
Week before the race was tapering and included few short runs with strides, mobility, hydration and relaxed in general. On race day, I kept myself hydrated, had Fast&Up activate pre workout and gel, along with a banana and warmed up well.
Vadodara weather in January is excellent and helps to keep the body temperature balanced throughout the race. Majority of the half marathon route is flat except 2 flyovers one around the 7th km & other around 20th km.
During the race:
First 5 kms
The race started at 5:25 am, it was dark and chilly. Race commences from Navlakhi ground and takes us through the old city - Sursagar, Nyay Mandir, main vegetable market coming back to Palace road. I went easy here, focusing on my heartrate which was in zone 2-3 with an average pace of 5:20. Trying to be conscious of the speed and not to run too fast in the beginning, this course is flat and this there was a natural increase in the pace.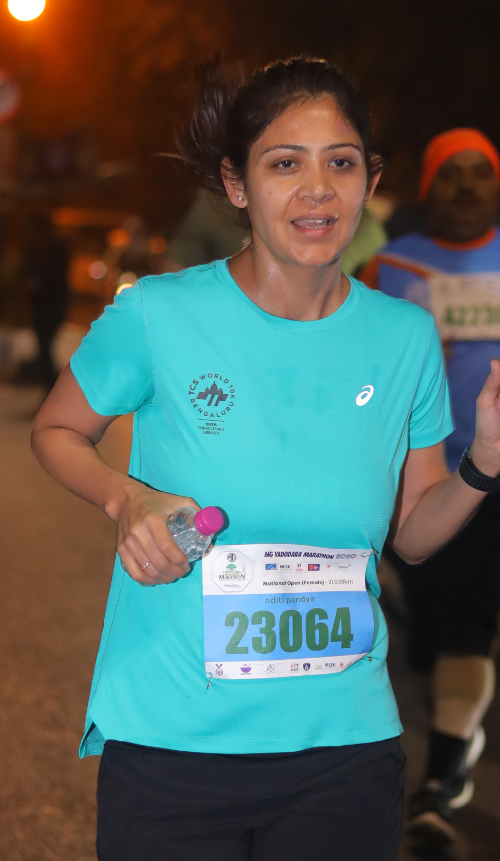 6-10 km
This part of the route is through Palace road, Manjalpur under bridge, Vishwa Mitri flyover and turning towards Akota bridge. The sun is still not seen and there are a lot of hydration points where volunteers are helping us with water, juice, chocolates and fruits. My pace here was around 5:22 and heart rate was in zone 3-4. During the race I kept myself hydrated sipping water throughout the course and also took a few sips of orange juice during the second half of the race. I was constantly aware of the distance and wanted to run at tempo pace.
11-15 km
Race took a left (in the opposite direction of Akota bridge) towards Vasna road, again hydration was good and lots of people cheering accompanied by music throughout route. At 16th km is a "U" turn towards Akota bridge and here is where I waived few known runners, my average pace was 5:24 and heart rate in Zone 3. I maintained my cadence of >175 strides/minute.

Last 6 km
During the last 6 kms one needs to watch out at traffic signals, as vehicles were getting in the way of the runners. I was fortunate not to get stuck on the way, however many runners had to dodge vehicles and make their way. I waived my mom in the 19th Km.
Towards finish line
From 20th Kilometre till the finish line was a nightmare for any runner as the crowd from 10k and 5k run merged and half and full marathoners had to make way through them as they were walking, adding to this there was also a lot of traffic from NGOs and other associations taking their rallies out. Here my pace average pace was 5:32 and heart rate went up to Zone 4. I got all my training sessions to play here, trying to be as focused during the uphill, taking shorter and faster strides and making the most till the finish line. Vadodara marathon takes the gun time, I clocked 1h:54m:34s.
For me it was a memorable run in my hometown, running through the places while growing up. Smiling to the known and unknown and getting to know how the city has grown since I left. Good hydration, an energetic route and it's a PB course.
Areas that can be improved
Planning to improve on my heart rate and longer tempo runs to improve endurance.
Logistics can be improved with more sign boards for toilets and locker room. In general increase toilets on the ground, this time there was just 1 toilet for women, also allow officials to reach the locker rooms before the runners start entering the ground, this time the locker room had no official to attend the runners. Call the winners and give them time to reach the award ceremony venue. I had registered for open category however, was moved to veteran category without prior information.
---

Aditi Pandya is an avid runner, a writer and a fitness enthusiast. She is second runners up at Airtel Hyderabad Marathon 2019, Vadodara International Marathon 2020 in Women half-marathon open & veteran categories respectively. She blogs at NarrativesByMe.com and can be reached on Insta narrativesbyme.
---
Please read our other race reports by clicking here.