The legacy of Nike Running shoes dates back to 1971 when the company's co-founder, Bill Bowerman, tinkered with waffle iron to create a new kind of running shoe sole. Since then, Nike has consistently introduced groundbreaking technologies such as Zoom Air, Flyknit upper, and most recently mid sole with Carbon Plate and ZoomX foam. Our analysis of 2023 Mumbai Marathon has shown an astounding 48% of the top 100 runners ran in Nike Running shoes. Read the article here. This impressive statistic speaks volumes about the Nike's popularity among Indian runners.
Nike's line-up is very extensive and has shoes for every runner no matter their level of running, and the distance they are training for. Nike India website has more than 70 running shoes on offer. From a runners point of view, this can be quite confusing. The questions that nag them during shoe selection vary depending on the stage of their running journey, their running goals, budget, style and durability.
Our goal with this guide is to curate the Nike's running shoe line-up, so that runners can choose the best shoe that fits their needs including
Comfort - this is one of the most important factors as we start running longer and faster
Cost - we all want the best value for the money we spend
Purpose - how do we want to use the shoe? For racing, training, or specific types of training or distance
Support - for runners that have flat foot or stability issues, and are looking for extra support from the shoe
What better a way do this than illustrating this visually! We've curated some of the best running shoes Nike has to offer. Please follow the flow chart and to find the best possible shoe for your needs. We have also included reviews of some shoes covered in this guide. If you would like to learn more about the shoes, please refer to the reviews.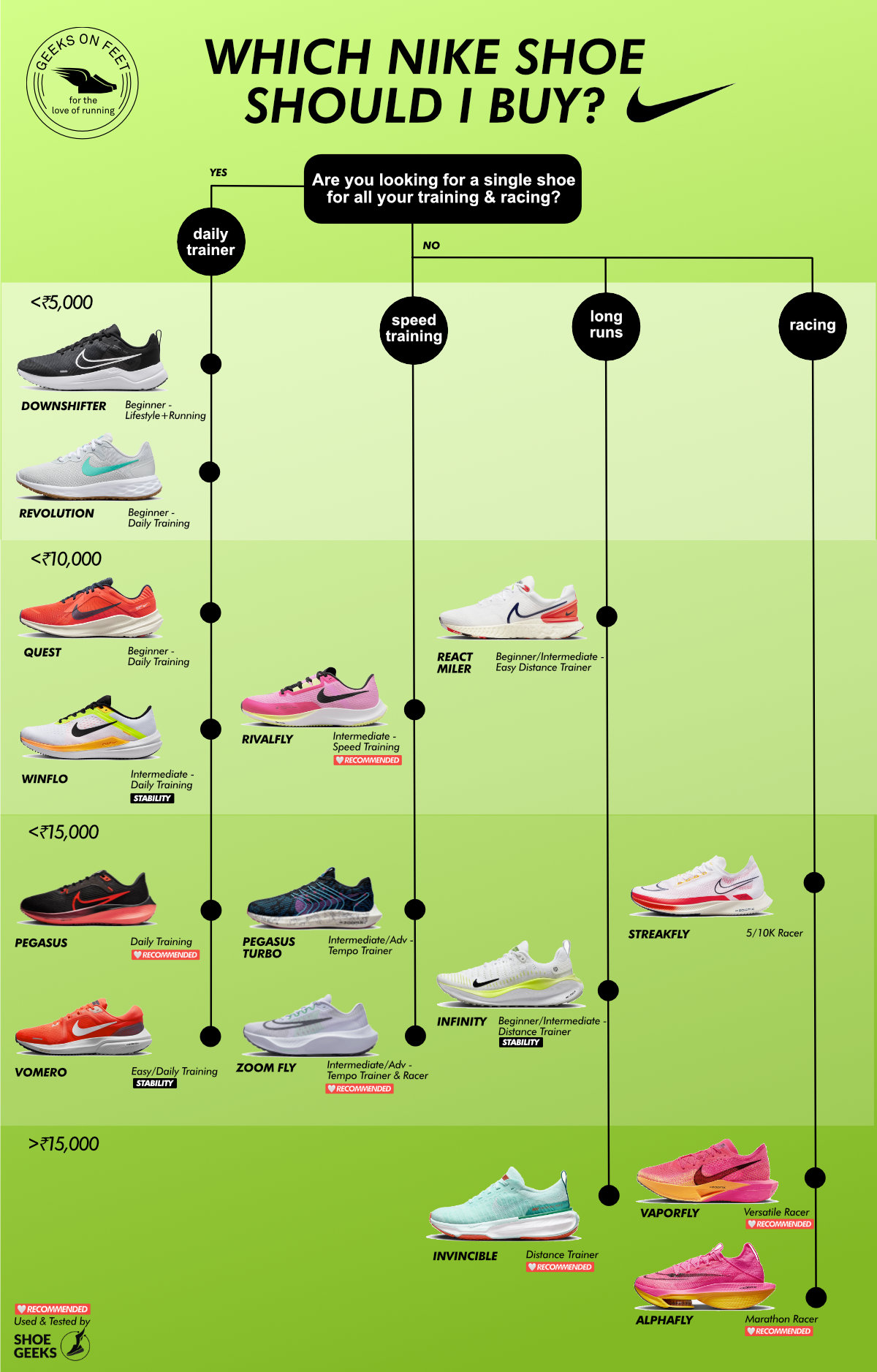 Shoe Reviews
Pegasus 39 Review
The daily trainer series, Pegasus from Nike, in its 39 edition and comes with a lot of expectations from runners who believe in one-shoe-does-all. We have reviewed the Nike Pegasus 39 and have found it to be fun right from unboxing to the ride. There are some significant updates in the midsole and the upper, with two air zoom pockets and flywires coming back. Like always, one will be able to clock some heavy mileage on these. If you are looking for a reliable and a versatile daily trainer for all your training needs, you can't be wrong with Nike Pegasus. Check out our in-depth review here to know more.
Rival Fly 3 Review
Take the design language of VaporFly and build an affordable shoe for everyday use, then it is Nike Rival Fly. Similar to Vaporfly, it has a highly tapered heel and swoosh extending all the way to top of the upper, and feels fast. In its 3rd edition, Rival Fly 3 fills the gap in Nike running shoes line-up that is left void by discontinued Zoom Elite, and the directional change of Pegasus. Like other shoes that use "Rival" prefix, Rival Fly 3 is affordable. While its design language is similar to Zoom Fly and VaporFly, it has no similarity in terms of how the shoe is constructed. Read the full review of Rival Fly 3 here.
VaporFly Next% Review
When it comes to super shoes Nike VaporFly is at the top of the chain. Nike's highly popular VaporFly Next% running shoe in India, which has come to be known as the "king of the course" in the world of long-distance running. VaporFly Next% 2, which is the third iteraion of VaporFly continues the original ethos of Carbon plate and PEBAX based ZoomX foam. While it has a stack height of 40mm (which is the legal limit for road running shoes), it is a lot more stable than the original edition. Looking for a super shoe for racing for distances from 10K to Marathon, this is the shoe to go for. Read the full review here.
---
Compiled by Team GeeksOnFeet for the love of running!
---