Contemporary running shoes, especially those meant for speed and performance, are packed with many technological advances. These new shoes feature beefy midsoles, carbon composite plates, high bounce foams, curved geometries, and fancy upper materials, which are supposed to make runners run faster and longer. There are, however, some shoes that buck the current trend and stick to the basics. These shoes don't make you any faster than you are, and you have to put in your work. However, if you want to run faster, these shoes play along very well and don't come in your way. Newest Kinvara, the 13th edition of this legendary line-up is one such shoe. It is a no-nonsense running shoe that sticks to basics.
We've reviewed Kinvara 12 last year (Check the review here), so I can't help but compare it with the previous edition. Please do read the Kinvara 12 review for a better understanding of what Kinvara 13 has to offer.
What makes up Kinvara 13?
As a running shoe, Kinvara 13 is as minimal a shoe as it can get. It has 4mm heel-to-drop, one of the lowest in the market. It continues to maintain the light weight profile from the previous editions. Its published weight is 213g (for UK 8). We've measured UK 10 at 240 grams (a 2 gram increase from the previous edition). It has a stack height of 28.5mm. The shoe is one of the lightest in this price range (under 10000 INR).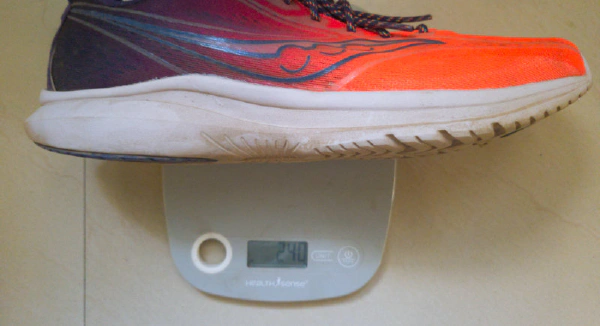 Given how it is made up, it is hard to label Kinvara 13 as a daily trainer or speed trainer. It doesn't have the versatility of daily trainers like Nike Pegasus 39 or Puma Velocity Nitro 2. Even within Saucony's own line-up, Ride 15, and Endorphin Shift 3 are way more versatile and can be rightly called as daily trainers. On the other hand, the speed trainer landscape has significantly changed, since we reviewed Kinvara 12. Saucony Endorphin Speed 2, Puma Deviate Nitro 2, Asics Magic Speed 2, Adidas Takumi Sen 8 offer much better bounce, and are much fun to run at faster paces.
Kinvara 13 fits somewhere in between, and it indeed feels like a compromise. It is a cheaper daily trainer that can be used for short-to-mid distances, and can double-up as a speed trainer.
Midsole
Midsole shape is unchanged from Kinvara 12. If you place the two editions side-by-side, you can hardly find the difference. Like the earlier edition, Kinvara 13 is made of PWRUN Midsole, which is a light-weight blend of EVA. EVA based midsoles are firm, but are very durable. The EVA blend used in Kinvara 13 is much softer compared to the one used in the earlier edition. I've measured it at 34 for Kinvara 13, as opposed to 37 for the previous one on the durometer. The durometer matches that of React foam used in Nike ZoomFly. But it is still a far cry from the softness offered by the likes of Saucony Endorphin Speed 2, New Balance Rebel 2 which are in the range of 25-30.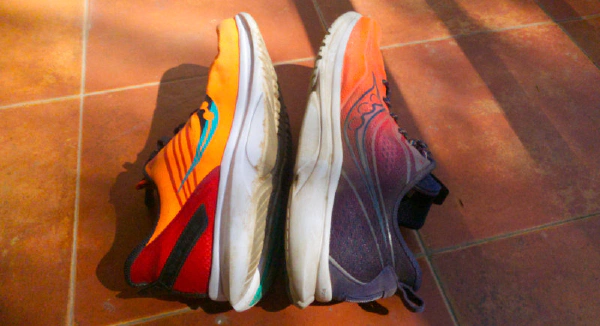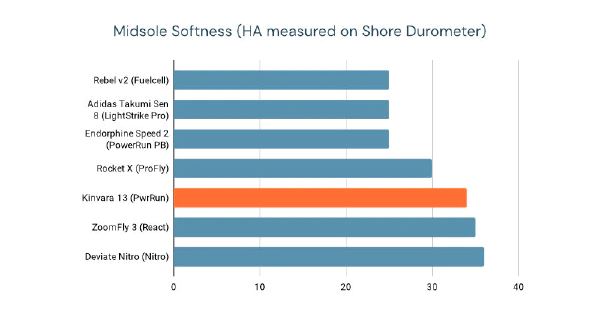 Upper
The upper is a mono-engineered mesh, and is very well constructed. This is probably the only biggest upgrade from the previous edition. The upper is highly breathable and well-ventilated. The eyelets standard configuration of 6+1. The laces used however, are strange. Instead of flat laces, it used one that is rounder. Interestingly, the kind of laces used changes from one color-way to the other. The colorway, I had used a rounded lace configuration, and I am not a big fan of those. They are bulky and don't really tie well, a perplexing design choice.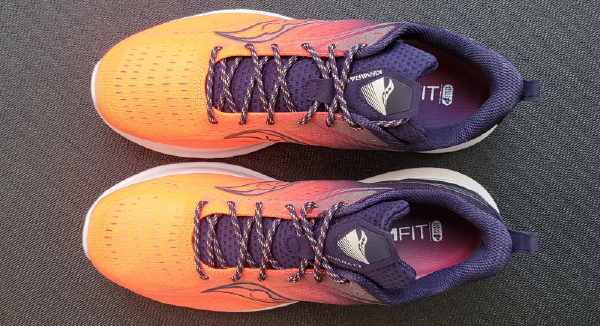 Heel
The heel is virtually unchanged from the earlier edition. It is very well padded at the back and gives plenty of confidence. The midsole below the heel has a flared bevel, and makes the shoe feel very stable. The addtion of a proper pull-tab is a nice touch.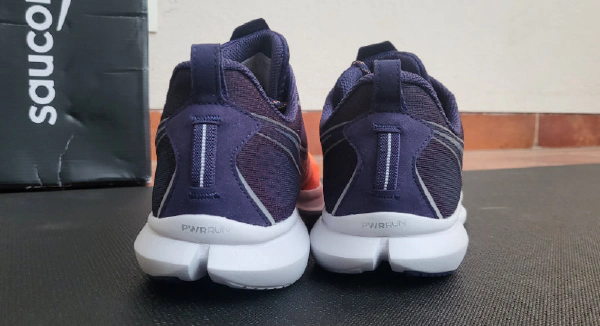 Outsole
Outsole design is retained from Kinvara 12. The midsole is fully exposed, with few patches of hard rubber at the heel and under-forefoot.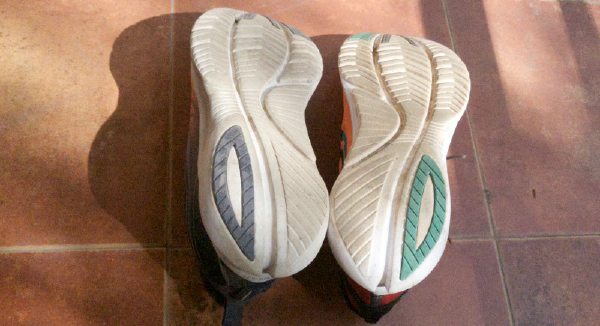 Why did I buy it?
Having used Kinvara 12 and having seen the other interesting speed trainers, I was eager to check how Kinvara 13 evolved from its earlier edition. Given that I am also starting to train for an upcoming half-marathon in February, I was hoping Kinvara 13 could be a good addition to my rotation.
Kinvara 13 Ride
I've run about 90 kms in the shoe so far. Most of the runs are easy, but with a mix of speed training.
The shoe is super comfortable to wear, and feels very light on the feet. Given my recent marathon block training involved high stack shoes, the shoe feels too minimal. You can even feel occasional stones on the ground, if they are sharp enough. That said, the shoe has plenty of cushion to protect your feet.
The firm ride the shoe offers makes it a bit harder to use it for easy or recovery runs. It took me a couple of runs to get used to the firmness of EVA foam, after all that PEBA goodness that I was used to during the marathon block training.
The longer 800m uphill repeats, during which I started to feel the goodness of what Kinvara has to offer. The lightweight nature, and the firm ride is all you need to have the right leg stiffness go fast against the gravity. Despite the firmness, the EVA blend used in the shoe does offer a bit of bounce. But don't expect too much from it. It is barely comparable to that offered by speed trainers such as Saucony Endorphin Speed 2.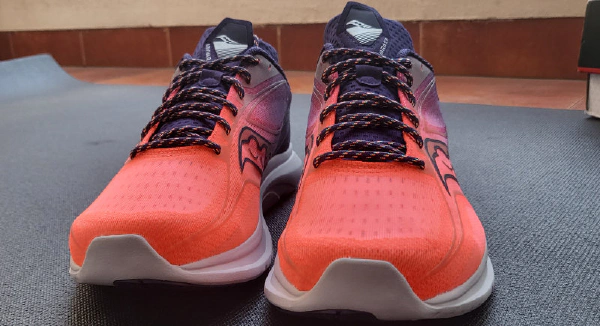 I have also used the shoe for the shorter 400m intervals, but with little bounce it offers, I hardly feel good about the shoe. For shorter repeats, any day, I prefer something like Puma Liberate Nitro which also has similar profile, but is much softer and has much better bounce. I also ran a half-marathon distance in the shoe. While I could get through the distance fairly easily, the shoe is not fun to run the slower and longer runs.
Fit and Comfort
Fit wise it is slightly relaxed compared to Kinvara 12. As a speed trainer, I would have preferred a more snugger fit, like that of Endorphin Speed 2. If you like a snug fit, you might want to consider a half-size smaller than your usual. As with other Saucony running shoes, the toe box has plenty of room.
Road Grip
As the outsole doesn't have much rubber, the grip is just enough on tarred roads. On roads with loose gravel, and sand, the shoe doesn't give any confidence to run faster.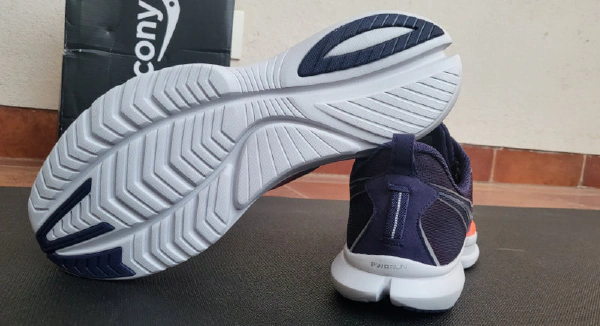 Aesthetics & Ergonomics
Saucony India sells Kinvara 13 in 5 different colorways, each more beautiful than the other. Vizi Pro Night Light color way that I have is a beautiful gradient of Purple Blue to Orange Red. Night Light offers reflective detailing, which is handy when running the dark.
Review Summary
PROS
Low drop and lightweight natures of the shoe promotes natural running
Breathable and airy upper, an upgrade from Kinvara 12
A medium soft midsole, yet offers a firm ride
Affordable price point with discounts
CONS
Very little bounce for a speed training shoe
Too firm, and not cushiony enough for longer runs
RECOMMENDATION
Kinvara 13 is a minor upgrade from Kinvara 12, which is a bit disappointing. Much of Kinvara 12 goodness is retained, but for a softer midsole, and better upper. The shoe feels a bit dated when compared to the peers.
The shoe is designed for runners who enjoy low-drop and firm rides, and have a midfoot or forefoot strike. If you are in that niche, Kinvara 13 can make a good no-frills speed trainer, and is versatile enough for you to run distances up to half-marathons.
---

Aravind is a techie, running geek, and a marathoner. He is a CrossFit Level 1 Trainer. He loves all things technology and technology in running, with special interest in running form analysis.