The running shoes have seen a remarkable evolution, transitioning from an era where neutral shoes held the spotlight to the current dominance of performance-focused ones. The shift, as much as it looks challenging, the primary problem here is to create a selling point. While neutral trainers have traditionally been known for their dependable performance, the likes of Saucony are boldly innovating and keeping it not just lively, but also competitive.
But hey, what are neutral trainers? Neutral trainers are running shoes designed to provide a balanced level of cushioning and support for runners with neutral pronation, offering a versatile option for different types of runs. Next, why Saucony's Ride 16? Two reasons. Firstly, our previous reviews of their recent lineups have been consistently positive. Secondly, personally, despite reviewing or owning numerous neutral trainers from different brands, the Ride series had noticeably been absent from my collection until this moment.
The Ride 16 is a neutral daily trainer, a line-up not just intended to be a workhorse, but also to compete with other brands' daily trainers like Pegasus and Ghost. Before we delve into the details, however, it's important to note that this particular pair of Ride 16 was graciously provided to us by Saucony India for review purposes. Rest assured, this review remains entirely impartial – it is neither a sponsored post nor does it bear any influence from Saucony India.
What makes up Ride 16?
The Ride 16 is a modern-day neutral trainer with a lot of focus on aesthetics, comfort and build quality. The shoe is primarily designed to be an all-rounder, that is, to be able to do everything that's out through the feet, the easy runs, long runs, tempo runs and even handle the race day, if this is the only running shoe on your rack.
Ride 16 is one of the lightest in the daily trainer segment, and even marginally weighs lighter than the Puma Velocity Nitro 2, our favorite so far in this segment. The shoe weighs 250 grams for UK8, compared to 255 grams for the Ride 15, reflecting a positive trend in the daily trainers segment - lighter, the better. The Ride 16 is a mid-cushion shoe with a stack height of 35mm in the heel and 27mm in the forefoot, offering an 8mm heel-to-toe drop. The stack height has felt comfortable for me since day one, as I have predominantly trained in mid-cushion shoes over the years.
Ride 16 in India is priced at ₹12,990, which is slightly more expensive than the competition. Saying that, the shoe has always been available on discount. Even on the day of writing this review, the shoe was available under ₹7,500 on Flipkart, which makes it an exciting offering.
Midsole
The midsole of the Ride 16 uses PWRRUN foam, which has been the case since the Ride 13. PWRRUN foam is designed to offer a balance of cushioning, responsiveness, and durability. Since this is the first Ride we are reviewing, we are unfortunately not in a place to compare the performance of earlier versions of the foam. Ride 16 maintains a notable level of firmness, as indicated by its durometer score of 29. This differs from my previous review of the Shift 3 a few months ago, where the foam felt noticeably softer with a durometer score of 25.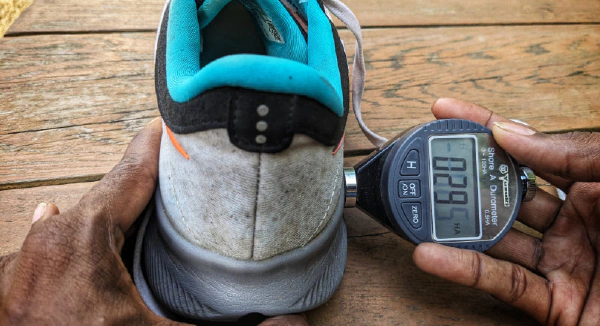 Similar to the Ride 15, the Ride 16 features an insole powered by PWRRUN+ foam. The insole is about 6 mm thick and has a durometer score of 11, affirming it's plush and soft feel, strikingly in contrast to the midsole which feels firm. The insole feels similar to what is found in the Triumph series.
The midsole features a heel bevel to aid the overall ride. Apart from this, the midsole flares on the forefoot to offer some stability.
Upper
The upper is where the shoe really gets exciting. It incorporates a dual-layer, engineered mesh that provides exceptional comfort to the foot, and yet is the most breathable mesh I've ever encountered. The generously sized ventilation holes in the upper significantly enhance air circulation, aiding in keeping the foot cool and comfortable. On both the lateral and the medial side is a lace strap which is connected through the heel and forefoot offering a much secured lockdown. This set-up is better than the one in Triumph 20 I had reviewed a year ago. In the Triumph 20, both ends of the lace were only connected to the forefoot, whereas the Ride 16's design secures not only the forefoot but also provides added support for the ankle. Additionally, the upper incorporates reflective elements to enhance visibility.
Heel
The Ride 6 features a firm and rigid heel counter that offers an overall snug fit. It feels very stable. There's ample padding along the heel counter that enhances comfort. For someone with Haglund deformity, the heel counter is something that worries me, since I have had shoes that have irritated my achilles, but that hasn't been the case with Ride 16. What's notably absent (referring to Saucony's recent lineups)? Ah, the pull tag! Does it make a difference? Absolutely not! Reflective elements on the heel counter is always a good and safe feature to have.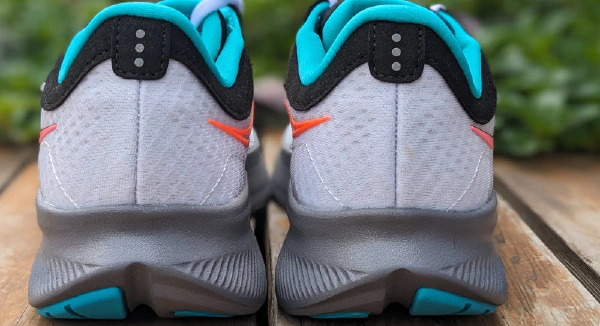 Bottomsole
Saucony uses its proprietary XT-900 rubber on the outsole. Known for its thickness and durability, the rubber is strategically positioned to ensure adequate traction but leaves a chunk of midsole exposed with no rubber. This is my only concern about Ride 16. We have loved the outsole coverage in Puma Velocity Nitro 2, whereas the one in Ride doesn't even come close. Nonetheless, it's worth noting that the Ride 16 still ranks as the second-best in terms of outsole within Saucony's present lineup, with the Triumph series taking the top spot.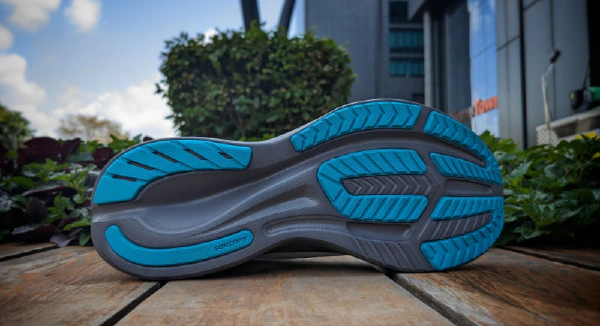 WHY DID I CONSIDER TO REVIEW?
A daily trainer for warm days has always been a necessity for me, and that's why I decided to give the Ride 16 a try. To be honest, Ride 16 wasn't my initial choice at all. I ordered Hoka's Rincon 3, known as one of the best shoes for warm days, after stumbling upon a good deal. Unfortunately, due to logistical reasons, it was never delivered. As days went by, I bought Puma Velocity Nitro 2 (VN2), primarily to own all of the neutral trainers. While I loved VN2, I realized that on hot days, which are quite common in Mumbai, it tended to feel warmer even on easy run days. That's when I reached out to the Saucony India team, who generously provided the Ride 16 for review purposes. So, finally, I had a shoe to tackle the hot and humid days, but did it serve its purpose effectively? I'll delve into that further below.
Ride Experience
I have run more than 160 kms on Ride 16, and the experience has been amazing. The shoe did require some break-in since the initial few runs felt more firm. I have used it for all kinds of runs - easy, speed work, tempo, and long runs with a max distance of 18 kms. I was impressed with the weight of the shoe right from the initial few runs. Previous few daily neutral trainers I have tested have been Nike Pegasus, Brooks Ghost, and all of them are on a little heavier side. Furthermore, I was coming fresh out of reviewing Asics Gel Nimbus (review here) which probably is the heaviest shoe I own. Like the other shoes I mentioned, Ride 16 is a little more exciting, but nothing compared to the Triumph 20, the one I pick on the days I don't feel motivated to run.
I have used the shoe for a couple of speed intervals and tempo runs, and not surprisingly it is not the best. While Saucony markets PWRRUN foam to be bouncy, the one in Ride 16 lacked the bounce whereas, Saucony's Endorphin Shift 3, the other shoe that on-paper uses the same foam, offers an amazing performance here. I would pick Shift 3 over the Ride 16 for intense runs, but hey Endorphin Speed 3 is even better. I have Asics's Magic Speed 3 sitting on my rack to be unboxed, so make sure you stay tuned in for another review soon.
With a firmer sole, I didn't expect long runs to feel nice, but the plush and soft insole comes to rescue here. While Ride 16 can easily conquer distances over the half marathon, I would pick Triumph if the goal is to keep it easy and steady, otherwise Endorphin Speed 3 for closer to race pace runs.
Fit and Comfort
The shoe fits true to size. The forefoot is generously spacious and will be a deal-maker for those with wide feet. Personally, I lean towards a consistently snug fit, but I don't have any complaints in this regard because there are aspects that still contribute to a secure feel.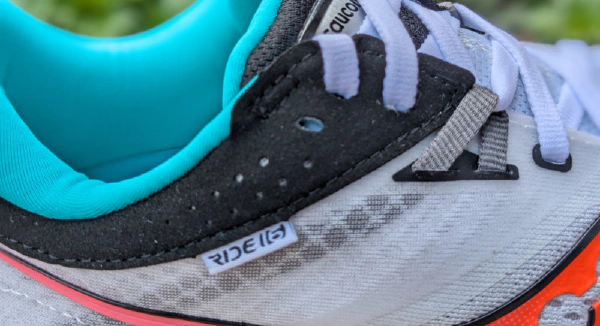 To begin with, the lacing reminds me of the flywire lacing from the Pegasus series, which I've always admired. In the Ride 16, this laces, while minimalistic, effectively secures your foot from the heel to the forefoot. To improve the secure lockdown, the tongue is adequately cushioned and partially gusseted along the sides of the shoe. Additionally, the overall upper has a softer texture, further enhancing overall comfort.
Lastly, even though the upper features dual layer, it is one the best breathable neutral trainers out there. The ventilation holes are large enough to aid air circulation and if I remember, just twice I ever felt warm, and this was predominantly when I was putting in intense pace on hot days. Ride 16 is one the best warm-day shoes in the market.
Stability
Out of the box, Ride 16 is a neural daily trainer, but it offers an excellent neutral-stable ride. The moment you are on the feet putting them on, you realize how stable the forefoot feels. This is because the shoe packs a few neutral-stable elements. Firstly, it boasts a broad forefoot that gradually widens towards the midsole, promoting a stable foundation. Additionally, the lock down features I previously discussed further contribute to this sense of stability. Overall, for someone with mild over pronation and if the weight of the shoe is a deal-maker like for me, this should be on the top of your cart.
Road Grip
While the primary goal was to have a warm day shoe, I laced up Ride 16 for all rainy-day runs and had no concerns in offering good traction. This is considering the XT-900 rubber being only strategically placed. Was I confident enough to run through puddles? Yes, but I did lack confidence on wet muddy stretches, and hence wouldn't consider it for my occasional trail runs. I have Puma Velocity Nitro 2 and Pegasus 39 to get non-technical trails sorted, but hey, I also got Xodus Ultra so Ride 16 is never going on trails, and is neither meant to be.
Aesthetics & Ergonomics
The Ride 16 offers an impressive range of color combinations, but unfortunately, the choices are somewhat limited in India. As soon as the shoe was released internationally, I was drawn to the dual-tone blue color scheme. However, this particular color option is not available in India, leaving me with the next best choice, which happened to be white/gravel. This colorway has a light blue and light orange touch to it which is eye-catching. In India, the available color options include the marigold/lava and the recently introduced black/white. These options not only look visually appealing but also boast a well-constructed design. Indeed, the Ride 16 stands out as one of the most aesthetically pleasing shoes in my collection. On two occasions, I've even paired them with casual outfits for work, and I've received positive feedback from onlookers.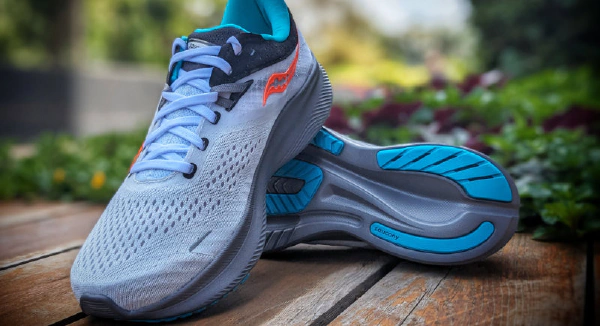 But hey, white colorway and rain aren't the best friends. Between unboxing and writing this review, for a little over 160 kms, I had to wash them thrice already. Do I regret getting this colorway? Absolutely not! This is gonna shine once again post rains.
Review Summary
PROS
Firm midsole, and yet offers softer ride,
Offers decent stability for a neutral trainer
CONS
Rubber on the outsole could've been generous,
Pricier compared to the competition,
RECOMMENDATION
The Saucony Ride 16 stands as an excellent choice for a neutral daily trainer and narrowly edges out our beloved Puma Velocity Nitro 2. Weight and breathability has always been a major decision maker for me, and this is personally where Ride 16 has triumphed. What particularly impressed me was the softer ride combined with a firmer midsole, prompting me to select the Ride 16 for all easy runs and long runs up to the half marathon distance. The presence of stability in a neutral trainer is always a welcomed bonus, and Ride 16 achieves this without adding excessive weight. For my shoe rotation, the Ride 16 earns its place as my go-to for easy days, while the Triumph 20 takes the lead for long runs, the Shift 3 for Interval Runs, and the Speed 3 for tempo runs. Outside of the Saucony lineup, the Ride 16 remains my preferred choice for easy runs, occasionally switching to Brooks Ghost 15. Ride 16 is a daily trainer that deserves to be in your shoe rack.
---
Karthik is a business analyst by profession and a long-time volunteer contributor to Wikipedia. Apart from his enthusiasm for running and photography, advancements in mobile & wearables technology are of utmost interest to him. He is co-founder of Mumbai-based Tilaknagar Running Club.
---