This article first appeared on shoegeeks.in
Puma Nitro series of running shoes continue to make strides in the endurance running world. Puma is relentless in putting its might behind Nitro, be it introducing new shoes such as women-specific RunXX Nitro, short distance racers Fast FWD, Fast R Nitro, or lining up the upgrades for the original Nitro series.
The original Velocity Nitro is one of the first shoes that has highlighted the potential of Nitro foam, and what Puma's shoe designers are capable of. It was universally praised as an excellent daily trainer. In fact, it was our top pick as the best daily trainers in 2021.
As a user of the first edition, it piqued my interest as soon as the second edition was released in India. I ordered it the day it was available online. Given my experience with the first edition, I have high expectations from Velocity Nitro 2. (Check our review of the first edition here).
So how does it fare compared to the first edition of Velocity Nitro? Is it a worthy upgrade? Has it set the bar for what a daily trainer can do? Read on…
What makes up Velocity Nitro 2?
Like the first edition, the Velocity Nitro 2 is designed to be an all-rounder. It is meant to do speed work, easy runs, long runs, recovery runs, and even can handle short trails; practically anything you throw at it. It is one of the most versatile shoes on the market.
While the published weight is 252 grams (for UK 8), when we measured for UK 10, it is at 292 grams. That puts it as one of the lighter daily trainers. See the comparison with other daily trainers below. When compared to the previous edition, it has shed some weight but is practically unchanged (298g -> 292g).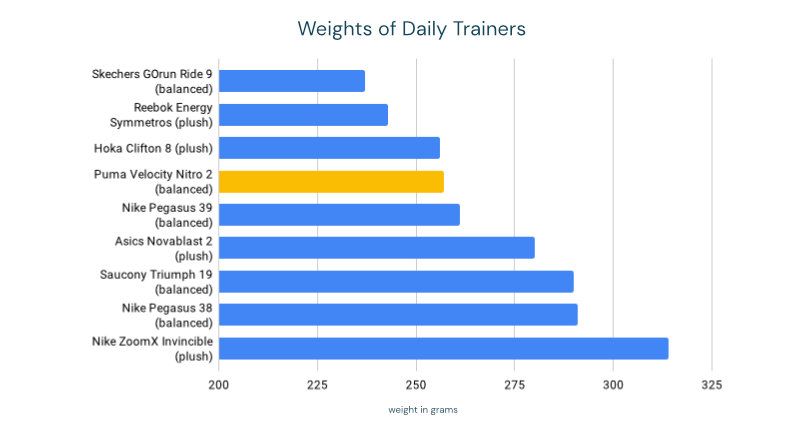 Velocity Nitro 2 has a heel-to-toe drop of 10mm, which is 2mm higher than the previous edition. The increase in drop primarily comes from the increase in stack height, from 32mm to 33.5mm. So more cushioning at the heel and a higher drop makes it more suitable for heel strikers. But this is not great for mid-foot strikers, but the consolation here is the increased stack height.
Midsole
The midsole is a seemingly major update from the previous edition. Like the previous edition, it is made up of two layers of foam stacked. The top layer is softer and is measured at 28 HA, and the bottom layer is firmer and is measured at 36 HA on Shore Durometer. The top layer is meant to provide ride comfort, while the bottom layer provides durability and stability to the shoe. Durometers of the previous edition are 32 HA, and 40 HA respectively. So Velocity Nitro 2 is much softer than the first edition.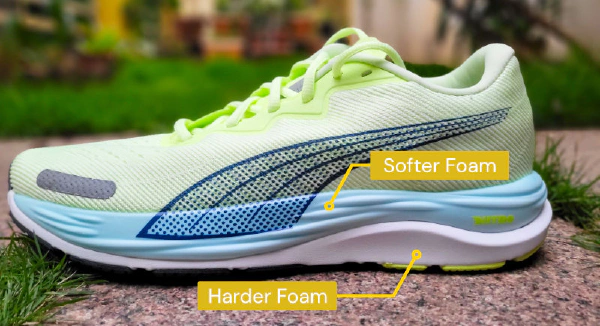 Upper
The upper is one of my biggest complaints with the previous edition. The updated upper is much softer and elastic and feels more premium. It is an engineered mesh with two layers. The upgraded upper is more breathable. The gusseted tongue is attached to the upper. The tongue has shed some weight, but it still has enough padding.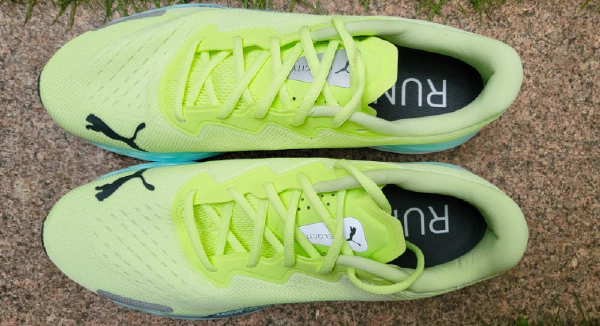 Heel
As with the previous edition, the heel is supported by TPU based heel counter and it is solid. The heel collar has ample padding and is better than the original in terms of comfort. The heel TPU plate that was present in the earlier edition is no longer present. But that doesn't seem to affect the heel support at all.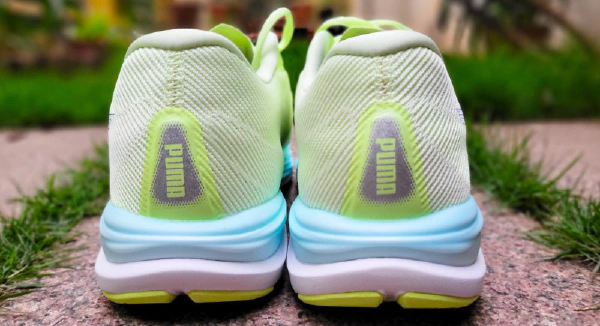 Bottomsole
The bottomsole is called 'PUMAGRIP', and this is where Velocity Nitro really sets itself apart from the crowd. Like the first edition, it is the best in terms of durability and grip and has plenty of rubber.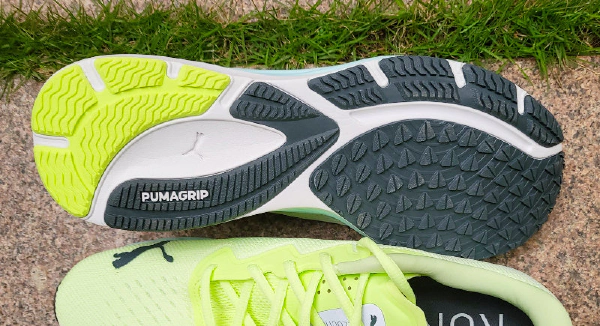 Why did I buy it?
If you have read my review of the first edition of Velocity Nitro, it is obvious that I was in love with it. Since then, I have clocked more than 600 km in it. While the shoe is still in excellent condition, I could feel that the midsole lost its pop, and runs in it feel more ordinary. I have been looking to replace it with another daily trainer of the same caliber. The announcement of Velocity Nitro 2 was at the right moment, and I grabbed one right away.
Ride in Velocity Nitro 2
I have run more than 140kms so far. I have used it for all kinds of runs - easy, speed work, tempo, and long runs. The shoe definitely is at its best when you run in at easy to moderate paces. The softness and breathability just make it easy to get things going. This is the reason why it is my go-to shoe for daily training. I often include short-speed work (such as strides) in my daily runs. Velocity Nitro 2, does an equally good job when you speed up. It does have enough bounce and is light enough to support speed work.
I have used the shoe for short and tempo intervals. It is definitely not great at speed, and don't expect a bounce like one. But it works reasonably well as a speed trainer, given its primary job is a daily trainer.
I have used it for a few long runs of about 20km. The shoe has enough cushioning and more to take you that distance. While I haven't tried it for distances beyond 20km, I have no doubts that it can handle them well. In summary, this is the most versatile shoe that is available in the market right now.
Fit and Comfort
The fit of the shoe is one of the best I've ever experienced. It hugs your feet the right way and gives plenty of confidence in tackling your run workout. The breathable mesh is better than the previous edition. There is plenty of toe-room to wiggle the toes and is extremely comfortable over long distances.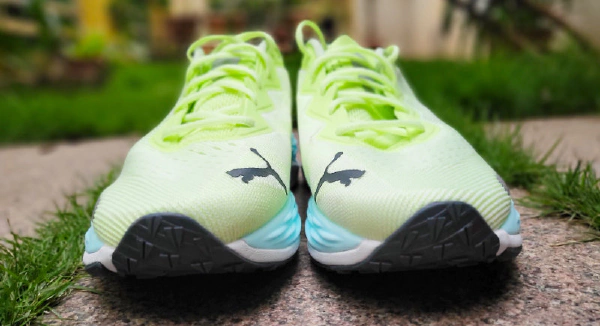 Stability
Like the previous edition, it has very good stability and works for most runners with neutral and even slight over-pronation. I was worried about that given the increased stack height, but the landing is very stable even on uneven surfaces, probably a tad better than the previous edition.
Road Grip
No review of Velocity Nitro is complete, without mentioning its legendary road grip. The first edition of the PUMAGRIP outsole has got rave reviews, and the second edition is even better. It is my go-to shoe to run on the mud-filled roads of Bangalore.
Aesthetics & Ergonomics
The upgraded upper has not only increased the function, but also its aesthetics. The dual-colored midsole is a nice touch. There are reflective elements at the back of the heel, on the lateral side, and also on the tongue, making it one of the safest shoes to wear in the dark. The Fizzy Light/Nitro Blue colorway that I have while looks great, it collects dust fairly easily, and is not so easy to clean. That is my only gripe.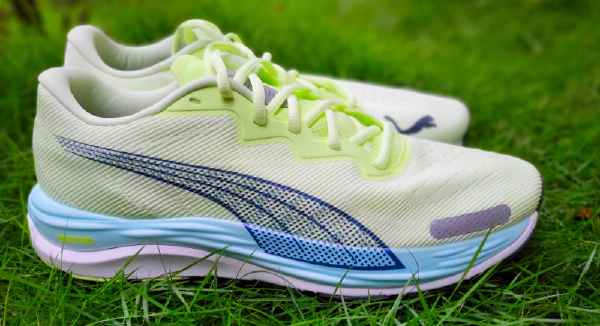 Review Summary
PROS
Added cushioning is softer and balanced and works well for any run
Excellent fit that is both comfortable and makes you feel confident for any run
Well padded heel supports the rear foot very well
Bottomsole's road grip is legendary and works well for any surface
While there is plenty of cushioning, it's on the lighter side of the weight
CONS
Heel-to-toe drop of 10mm may not work for everyone.
Velocity Nitro 2 is the most versatile daily trainer currently on the market. It has set high standards for what a daily trainer should be; the fit, cushioning, comfort, and durability.
If you are looking for an all-in-one daily trainer, Velocity Nitro 2 is highly recommended and is a worthy upgrade from its predecessor.
---

Aravind is a techie, running geek, and a marathoner. He is a CrossFit Level 1 Trainer. He loves all things technology and technology in running, with special interest in running form analysis.